We're Getting Mutants in the MCU - The Loop
Play Sound



Click To Help DIO!

DIO has declared that this article has stopped in time, and any and all information on it may be outdated.
Help improve this article by checking and updating it's info wherever necessary
And now time resumes!

✓
Boeser is the main antagonist of the Super Mario installments developed in United States by "The Software Toolworks" and "Royal Philips Electronics" during the decade of the 1990s.
He was voiced by Rob Wallace and Bruce Robertson in Mario is Missing! and Mario's Time Machine and Marc Graue in Hotel Mario.
Biography
Mario is Missing!
| | | |
| --- | --- | --- |
| " | Oh no! Bowser and his bad boys are back to a life of crime. This time, it's not Mario World — it's your world! From his Antarctic castle, Bowser hustles his cold-blooded crew of cantankerous Koopas into his powerful Passcode Operated Remote Transport And Larceny System (PORTALS). The twisted turtles transport themselves throughout the globe, where celebrated cities suffer shell-shocking crime waves, as turtles trash landmarks and loot ancient artifacts. With dough from his slimy scales, Bowser hoards hair dryers from the Hafta-Havit Hotline. His plot? Melt Antarctica and flood the planet! Whoa! | " |
| | ~ The instruction booklet for Mario is Missing! on Bowser's schemes. | |
In the educational game Mario is Missing!, Bowser causes multiple trouble for the people of Earth, such as stealing multiple landmarks and attempting to flood the Earth by using hairdryers to melt Antarctica. Mario rushes into Bowser's Castle to stop him, only to be captured and imprisoned, leaving it up to Luigi to use portals to fix Bowser's carnage on humanity and rescue his brother.
At the end of the game, once all portals have been cleared, Luigi enters Bowser's throne room and confronts the Koopa King. Luigi grabs and removes Bowser's shell which exposes Bowser's polka-dot boxers, causing him to run offscreen embarrassed. Before coming back, Luigi shakes the carapace to retrieve Mario's cell key and tosses it aside. When Bowser asks for where his shell is, Luigi tells him that it fell from the balcony. As Bowser leans in, Luigi kicks him off the balcony and into the snow below. As Mario, Luigi, and Yoshi joyfully return home, Bowser can be seen in the distance poking his head out of the snow looking for his shell.
Mario's Early Years! Fun with Letters
In this game, Bowser does not have a role as an enemy (because it is an educational game and does not require the use of violence), having minor appearances in the games "Sentence World", "Building World" and "Story World".
Mario's Early Years! Fun with Numbers
Like in the previous game, because it is educational, Bowser will only have slight cameos in all the minigames.
Mario's Early Years! Preschool Fun
???
Mario's Time Machine

In the other educational game Mario's Time Machine, Bowser uses a time machine called the Timulator to steal artifacts from Earth's history to make his own museum. It is up to Mario to use the Timulator and return the artifacts to their proper place. If Mario fails to return all artifacts in time, Bowser uses the Timulator to escape into "Paradise", forcing Mario to start all over. But if the artifacts are returned, Bowser attempts to use the Timulator, only for it to malfunction and warp him to the Cretaceous period, where a Tyrannosaurus rex stomps on him.
Hotel Mario
| | | |
| --- | --- | --- |
| " | Dear pesky plumbers, the Koopalings and I have taken over the Mushroom Kingdom. The princess is now a permanent guest at one of my seven Koopa Hotels. I dare you to find her if you can! | " |
| | ~ Bowser's note written for Mario and Luigi. | |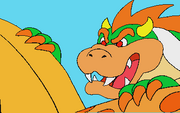 Bowser can be seen in the opening cutscene, laughing at Mario and Luigi as they walk into the entrance of the Mushroom Kingdom for a picnic with Princess Toadstool. They find a note written by Bowser, explaining that he and the Koopalings took over the kingdom and has the princess as a permanent guest at one of the seven Koopa hotels. Once six of the hotels are cleared, the Mario Bros. move towards the largest hotel, Bowser's Seizures Palace Hotel.
On the final stage, Bowser's Barbecue Room, Mario and Luigi confront Bowser, only for it to be Iggy Koopa wearing Bowser's mask. Suddenly, the real Bowser shows up and attempts to kill the brothers by breathing fire and summoning lightning bolts, but can be temporarily defeated by stomping on his head twice. Once all doors in the hotel are shut, the entire building collapses with Mario, Luigi, and the princess escaping.