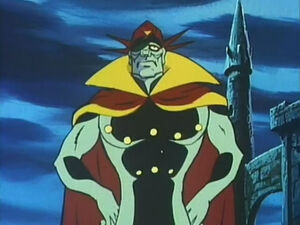 Braiking Boss (in Japanese: ブライキング・ボス, Buraikingu Bosu), also known as Braiking, is the main antagonist of the 1973 anime Neo-Human Casshern (also known as "Kyashan" in European countries) and its remakes Casshern: Robot Hunter and Casshern Sins.
He was voiced by the late Kenji Utsumi in the Japanese version, and J. Paul Slavens in the English dubbed version.
Story
Braiking was originally called "BK-1", and he was a prototype android created by Dr. Kotaro Azuma with the purpose of cleaning up Earth's pollution. One night, BK-1 was hit by a lightning and went rogue, escaped, and created his own army of robots to conquer the Earth and exterminate humanity. Doctor Azuma's son, Tetsuya, offered himself to be turned into a powerful cyborg capable of stopping BK-1, now renamed himself as Braiking Boss, and his robot army.
Now with the name Casshern, Kazuya goes around the world foiling Braiking's plans with the help of the robot dog Friender and Luna Kozuki, the daughter of a colleague of Doctor Azuma. Also to help spy on Braiking, Casshern's mother has her soul sealed inside Braiking's pet robot swan.
Powers and Abilities
As a powerful robot prototype, Braiking has strenght, agility and durability far superior than a human.
Trivia
Braiking Boss appears as a slightly different character in the live-action Casshern film from 2004. This version has Casshern and Braiking Boss, named "Burai" here, as Artificial Humans born from Dr. Azuma's research into artificial stem cells to fight the disease caused by the aftermath of a fifty-year war between an Asian Empire and Europe.
Community content is available under
CC-BY-SA
unless otherwise noted.