Doctor Strange in The Multiverse o Madness - The Loop
Play Sound

✓
This Villain was proposed and approved by Villains Wiki's Pure Evil Proposals Thread. Any act of removing this villain from the category without a Removal Proposal shall be considered vandalism (or a futile "heroic" attempt of redemption) and the user will have high chances of being terminated blocked. You cannot make said Removal Proposal without permission from an admin first.
Additional Notice: This template is meant for admin maintenance only. Users who misuse the template will be blocked for a week minimum.

| | | |
| --- | --- | --- |
| " | My Lord Mons Drake, I advise you to remain on your guard. This planet, Earth...It appears different from the countless worlds you have invaded. | " |
| | ~ Buredoran of the Comet's first words when warning Mons Drake of Goseigers Earth's defenders. | |
| | | |
| --- | --- | --- |
| " | So Warstar falls too... | " |
| | ~ Buredoran of the Comet's final words before his supposed death in the Indevader. | |
Brajira of the Messiah, also known by numerous aliases as Buredoran, is the main antagonist of Tensou Sentai Goseiger. He is a mysterious figure who appears as a member of each of the evil organizations faced by the Goseigers before revealing his true identity as a fallen Gosei Angel.
Brajira also appears in Tensou Sentai Goseiger Vs. Shinkenger: Epic On Ginmaku as the main antagonist, where he becomes Buredoran of the Chimatsuri and takes control of the Gedoshu. He later returns when he is revived as Messiah Brajira of the Black Cross by the Black Cross King and serves as the secondary antagonist of Gokaiger Goseiger 199 Hero Great Battle.
He was voiced by Nobuo Tobita, who is best known for voicing Zetsu in Naruto and the Major in Hellsing Ultimate.
Biography
Origin
Brajira was originally one of the most powerful Gosei Angels. He gained the ability to use all three elements at once after killing his teammates to take their powers for his own. However, after sealing the Yuumajuu leaders, Makuin and Kinggon while incognito as his Yuumajuu guise Buredoran of the Chupacabra, Brajira became obsessed with his mission as a Gosei Angel and conceived of the Earth Salvation Plan, a ritual to destroy the world and remake it in his own image as its Messiah. Because of this, the other Gosei Angels refuse to aid him and imprisoned him for his crimes. However, Brajira used the Time Travel Tensou Technique to travel forward from his time into the present, losing his humanity in the process, right as the Universal Annihilation Army Warstar arrives to Earth.
Tensou Sentai Goseiger
Guising himself as Buredoran of the Comet, Brajira allied with the Warstar armada to destroy the Gosei Angels. However, Buredoran was simply using Warstar to further his own plot, planning on disposing of them once they served their purpose. Brajira won his way into Mons Drake's ranks by providing him the Bibi Bugs and intel on the Gosei Angels. With the information Buredoran provided, the Warstar launched an advance attack on the Gosei Angels and toppled the Heaven's Tower.
The fallen angel eventually discovered that five trainee Gosei Angels were on Earth and had become the Goseigers. Following GoseiRed's final battle with Dereputa, Buredoran noticed that the prison of Makuin and Kinggon had resurfaced.
Brajira then released the monsters he had once sealed away, planning on using the Yuumajuu to deal with the Goseigers, and shifted his identity to Buredoran of the Chupacabra, claiming to be a Yuumajuu who had escaped imprisonment. As with the Warstar, Brajira was only using Makuin and Kinggon to defeat the Goseigers. However, when he attempted to betray Makuin and Kinggon, the two revealed that they were already aware of his treachery and set him up to be defeated by the Goseigers.
Following the deaths of the Yuumajuu, Buredoran reemerged disguised as an Ayakashi named Buredoran of Chimatsuri. Claiming to be the descendant of Doukoku Chimatsuri, Brajira was able to obtain the assistance of Shitari of the Bones and the other Gedoshu. Buredoran attempted to take control of Shinken Red and use his fire Modikara to move the Sanzu Rivers' waters into the Gosei World through a portal that opens every two centuries. However, the plan failed with Buredoran being struck down by Ground Hyper Gosei Great.
Buredoran's body was recovered by Metal Alice of the Matrintis Empire who delivered him to Robogog, the leader of the Matrintis. Robogog rebuilt Buredoran as Buredo-RUN of the Cyborg and, knowing of Buredoran's true identity, opted to erase Buredoran's memories save for his name and hatred of the Goseigers to ensure his permanent loyalty. However, Metal Alice eventually took pity on Buredo-RUN and gave him back his memory.
After Robogog was defeated, Buredo-RUN destroyed Robogog's Salvation Cell switch and revealed that he had regained his memories. Buredo-RUN then criticized Robogog, calling the Matrintis Empire a "foolish ex-human illusion" before throwing Robogog's head up in the air and killing him with missiles. Buredo-RUN then finished off Metal Alice before exiting the scene.
Buredo-RUN then took control of the Matrintis's Terminel fortress and renamed it Labyrindel. He eventually revealed his true form to Goseigers, Brajira of the Messiah, a fallen Gosei Angel. He brainwashed Gosei Knight into being his servant, but Gosei Knight broke free of his control.
Brajira then began the final preparations for his plan. After his Dark Headders were defeated and turned into wedges, Brajira was visited by the spirits of Mons Drake, Makuin, Kinggon and Robogog, who all held a grudge against him. Brajira mocked the spirits for trusting him before casting them away. Gosei Knight then attempted to attack Brajira, prompting the fallen angel to blow up Labyrindel to try and get rid of him.
Brajira then fought the Goseigers for a final time. The Goseigers managed to fatally wound him, but that didn't stop him from using the last of his powers to set in motion the Nega End. Unfortunately for Brajira, the Goseigers were able to stop the Nega End with their Gosei Global technique, foiling his plans once and for all.
Gokaiger Goseiger Super Super 199 Hero Great Battle
During the events of Super Sentai 199 Hero War, Brajira is revived by the Black Cross King to battles Gokai Red and Gosei Red, but was defeated. Brajira was later revived again along with his Buredoran guises and other Super Sentai villains before they were all defeated by the combined finishers of the past 33 Sentai mechs, Gosei Great, and GokaiOh.
Kamen Rider x Super Sentai x Super Hero Taisen
Brajira and his Buredoran disguises are later revived again as members of Dai-Zangyack.
Personality
An intelligent, charismatic, and manipulative yet delusional, psychopathic, and borderline insane Sentai villain, Brajira has the abilities and determination of any Gosei Angel, yet his obsession with his mission led him to turn his back on them and develop a messianic complex.
Unusual for an antagonist in Super Sentai, Brajira did not see himself as evil and believes the current world is corrupt, weak, and irreparable. To rectify it, he decided the old world had to go so that he could create a new one as it's savior. However, his talk of good intentions are undermined by his willingness to use and betray any group he works with to achieve his plan, as well as his lack of empathy towards humanity and genocidal tendencies.
As a self-righteous hypocrite, he believed that any opposition to his goals is the real evil and would make up his own reality to look more justified than he really is. Case in point, instead of showing remorse for betraying and murdering his own team, he acts like his imprisonment for doing so is even more unjust and treacherous than the act itself.
He is able to come up with intelligent plans and schemes, which he used as the top strategist of both Warstar and the Yuumajuu. He also knows the right words to say to get others on his side while also having a contingency planned for any miscalculation or setback. Nevertheless, his intelligence is outmatched by how cruel he is, as shown when he murders Metal Alice without pity or mercy. If he needs the aid of someone who would never willingly go along with his plan, he would resort to brainwashing, as is the case of Takeru Shiba and Gosei Knight.
In the end, for all his talk of "saving" the world, he is an unstable melagomaniac with a god complex motivated in reality by self-serving ambitions.
Forms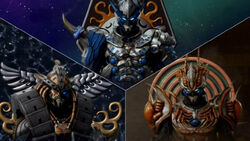 While they started off as disguises, Brajira eventually gained the ability to create clones of his aliases. Buredoran's name comes from Blade Runner.
Copies of Buredoran's forms were summoned by Brajira for the giant battle between the Black Cross King's forces and the mecha of the 35 Super Sentai. they were all defeated by Sentai Giant Robos in Gokaiger Goseiger Super Sentai 199 Hero Great Battle.
In Super Hero Taisen He was again summoned by Brajira with his other clones, Buredoran of the Comet, Buredoran of the Chupacabra, and Buredo-RUN of the Cyborg Evil Spirits forms when he was resurrected as part of Dai-Zangyack.
Buredoran of the Comet is a treehopper-like alias adopted by Brajira when he joined up with Warstar and became one of Mons Drake's top commanders, armed with the Buredolancer and able to use the Comet Bullet, firing an energy blast from his hand.
Buredoran of the Chupacabra is a house centipede-like alias adopted by Brajira when he joined up with the Yuumajuu, armed with the Buredolicer gauntlets. As a Yuumajuu, Buredoran's name now includes the kanji for "warrior".
Buredoran of the Chimatsuri is the form Brajira assumed (which is based on an antlion) in the events of Tensou Sentai Goseiger vs. Shinkenger: Epic on Ginmaku to take control of the Gedoshu by presenting himself as the heir to Doukoku Chimatsuri.
Buredo-RUN of the Cyborg is an ammonite-like alias adopted by Brajira when he was drafted into the Matrintis Empire, outfitted with the BuredoLaunchers in his shoulders and the Buremerangs that he uses as close-range weapons. As a Matrintis member, Buredoran's name includes the English word RUN.
Quotes
| | | |
| --- | --- | --- |
| " | I will crush you...here and now! | " |
| | ~ Brajira after enlarging himself. | |
| | | |
| --- | --- | --- |
| " | It's because of me, my lord. | " |
| | ~ Brajira revealing his survival as Birajira of the Chubacabra to Makuin of the Blob after he wondered what made Tomarezu of the Tsuchinoko grow to giant size. | |
| | | |
| --- | --- | --- |
| " | I will not die for nothing! Even if I can't save it...I WILL accomplish it's destruction! The Earth can die with it's Guardian Protectors! AH HA HA HA HA HA HA HA! | " |
| | ~ Brajira of the Messiah's final words before finally dying. | |
| | | |
| --- | --- | --- |
| " | Talk all you want, ShinkenRed! You and your Goseiger friends' will die here! | " |
| | ~ Buredoran growing weary of the Shinkengers and Goseigers | |
Gallery
Trivia
Brajira's backstory as a rogue angel who betrays his kin is a direct reference to Lucifer.
Although Goseiger received polarizing reception over the design of its heroes and its overall story, the reception to Brajira has been generally favorable due to the darkening effect he has on the plot.
As with the pop culture theming of Goseiger's villains, his alias "Buredoran" is a reference to the film Bladerunner while his true name "Brajira" is a reference to the film Brazil.
Brajira has some similarity to Great Leader of Shocker from the Kamen Rider series. Both of them has several incarnations and has pivotal roles in several villainous factions. However, while the Great Leader's incarnations all served as leaders in their respective organizations, most of Brajira's forms served as a major member in the first three enemy factions Goseigers faced. Also different is that his incarnations are merely in a single season.
External Link

Villains