House of the Dragon Trailer - The Loop
Play Sound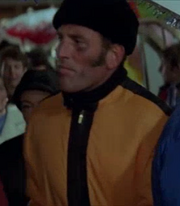 Braun is a minor antagonist of the 1969 James Bond film On Her Majesty's Secret Service. He is a guard at Ernst Stavro Blofeld's Piz Gloria clinic, and is notable for his distinctive sideburns.
He was portrayed by George Lane Cooper.
Biography
Braun is first seen when Irma Bunt escorts James Bond through the Piz Gloria clinic, as he helps Bond and Bunt out of the helicopter they arrive in. He later helps Bunt and Felsen chase Bond after he flees the clinic. Felsen and Braun manage to corner Bond in a shed but are overcome and knocked out by him, eventually being found and awoken by Bunt to continue the search. Patrolling in their car, the three manage to find Bond calling MI6 in a phone booth and fire on him but miss, allowing him to get to his car and escape. They pursue him onto a race track, where Braun manages to get a shot at Bond's car just before his is wrecked in a collision with a contestant. Braun, Felsen and Bunt all manage to evacuate before the car explodes, slightly catching Bunt in the blast.
During the final battle at Piz Gloria, Braun runs up a staircase and tries to shoot at Bond while he reunites with his girlfriend Tracy Di Vicenzo, but is quickly killed when Bond shoots him several times in the abdomen.