(Adding categories)

Line 28:
Line 28:
 

[[Category:Serial Killers]]

 

[[Category:Serial Killers]]

 

[[Category:Faux Affably Evil]]

 

[[Category:Faux Affably Evil]]

 
+

[[Category:Status dependent upon Player choice]]
---
Revision as of 22:16, 5 December 2018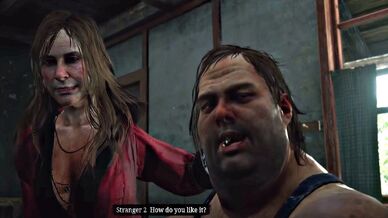 Bray and Tammy Aberdeen are two minor villains in the Rockstar video game Red Dead Redemption 2.  They are an incestuous couple that live on a pig farm that may be encountered by Arthur Morgan during the course of the game.
Role in the game
When Arthur encounters the Aberdeens, they invite him in for dinner, and Tammy implies that she will perform sexual favors for him as well.  During dinner, she will give Arthur shots of alcohol.  After three shots, he passes out and awakes in a shallow grave near their farm, with all his money stolen.  The player can then choose to take revenge on the Aberdeens and retrieve their money in a safe behind a painting in their living room.
Trivia
- It is implied that the Aberdeens killed their parents and may be cannibals
- The Aberdeens are based loosely on a real-life 19th century killer couple, John and Kate Bender
Community content is available under
CC-BY-SA
unless otherwise noted.