Brett Wyden is the secondary antagonist of the 2018 science fiction action film Rampage, based on the 1986 classic arcade game of the same name. He is the dimwitted younger brother of Claire Wyden.
He was portrayed by Jake Lacy, who also played Jason Volta in Johnny English Strikes Again.
Biography
Brett Wyden was the dimwitted younger brother of Claire Wyden serving as the latter's assistant in her research for Energyne. The company specializes in genetic editing, which they would then sell as bioweapons to the highest bidder. When canisters containing evidence of genetic editing crash to Earth, it causes three animals - an albino gorilla named George, a wolf named Ralph and a crocodile named Lizzie respectively - to mutate into gigantic monsters, Brett become worried by this because of the chance of him and his sister being found out for their research. While he was nowhere near his sister as being genuinely evil and malicious, Brett goes along with her plan of using a transmitter that would emit specific sound frequencies to lure the three gigantic animals to the city. After several civilians would inevitably end up killed by the beasts' rampage, Claire would swoop in and collect samples of the pathogen after the animals were killed by the military. Brett also contributes in the plane that Davis and Kate were on crashing by using the sound waves to awaken George.
The three animals arrive to the city and start to destroy everything in their path whilst trying to find the source of the sound frequencies. Unlike what Claire and Brett hoped for, the U.S. Army fails to stop the animals' rampage. When Davis and Kate infiltrate Energyne in search of the antidote, Brett feebly holds the two at gunpoint, threatening to shoot them, but ultimately, Claire is the one who shoots Davis in the leg because of her brother's incompetence. Claire then forces Kate to come with her and Brett in a helicopter so that Claire can force Kate to reverse-engineer the pathogen, but then George climbs up to the helipad and roars at the humans. Brett runs for his life ignoring his sister's demands to come back as while George kills the helicopter pilot and damages the helicopter. Kate manages to sneak a sample of the antidote into Claire's bag, and she pushes Claire in the direction of George who then swallows her alive.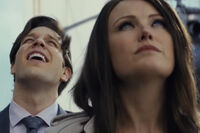 Brett races all the way from the roof down the first floor to escape with the incriminating evidence and Claire's pet rat, only to be stopped by Agent Russell. Russell convinces him to hand over the laptop containing the incriminating evidence (and the pet rat) in return for his chance to escape without getting arrested. Brett eagerly takes him up on his offer and races out of the building only to be killed upon impact by falling debris. It is also revealed that Russell was setting him up to be killed by the debris. Russell reacts to his death "That was a lot." before escaping with the rat through another exit.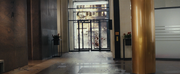 Trivia
Johnny English Strikes Again and Rampage, both of which Jake Lacy starred in, came out in 2018.

Villains
Animated Features
Meowrice | Meowrice's Henchmen | Mouse King | Mouse Queen | Joker | Phantasm | Salvatore Valestra | Arthur Reeves | Chuckie Sol | Buzz Bronski | Grundel Toad | Berkeley Beetle | Mr. Mole | Mrs. Toad | Ms. Fieldmouse | Queen Gnorga | King Llort | Darla Dimple | Max | Mrs. Prysselius | Thunder Karlsson and Bloom | Ruber | Griffin | Ruber's Minions | Bladebeak | Kent Mansley | Kralahome | Master Little | The Jokerz (Dee Dee Twins, Chucko & Woof) | Count Grisham | Cheswick | Mojo Jojo | Gangreen Gang | Anubis | Dark Yugi | Seto Kaiba | Mokuba Kaiba | Pegasus J. Crawford | Ebenezer Scrooge Puppet | Barkis Bittern | Maudeline Everglot | Stan Beals | Noah the Elder | Leopard Seal | Aguila | Stone Generals (Gato & Mono) | Karai | Foot Clan | Eddy's Brother | Kanker Sisters | Kevin | Surtr | Nyra | Kludd | Pure Ones | Lord Business | Super Secret Police (Bad Cop & Sheriff Not-A-Robot) | Duplo Aliens | Mr. Ross | Future Mordecai | Mordecai | Rigby | Benson Dunwoody | Muscle Man | Hunter | Pigeon Toady | Wolf Pack | Penguins | Joker (Lego) | Harley Quinn (Lego) | Phantom Zone Criminals | Catwoman (Lego) | Poison Ivy (Lego) | Two-Face (Lego) | Lord Garmadon | Slade (Teen Titans Go!) | Balloon Man (Teen Titans Go!) | Lex Luthor (Teen Titans Go!) | Stonekeeper | Rex Dangervest | Velociraptors (Lego) | Foot Clan (Shredder & Baxter Stockman) | League of Assassins (Ra's al Ghul (Batman vs. TMNT), Ubu (Batman vs. TMNT) & Talia al Ghul (Batman vs. TMNT)) | Joker (Batman vs. TMNT) | Harley Quinn (Batman vs. TMNT) | Scarecrow (Batman vs. TMNT) | Mr. Freeze (Batman vs. TMNT) | Poison Ivy (Batman vs. TMNT) | Bane (Batman vs. TMNT) | Two-Face (Batman vs. TMNT) | Penguin (Batman vs. TMNT) | Hexagon (Trigon (TTG) & Trigon (Original)) | Spinel | Pink Diamond | Dick Dastardly (2020) | Muttley (2020) | Rotten Robots | Dusty | Cerberus
Live Action Films
Jack Torrance | Hotel Caretaker | Lorraine Massey | Socs (Bob Sheldon, Randy Adderson, Paul Hoden & David) | Mrs. Cade | Scut Farkus | Grover Dill | Gremlins (Stripe) | Ruby Deagle | Mama Fratelli | Audrey II | Orin Scrivello | Mr. Igoe | Max | David | Beetlejuice | Sandworms | Witches (Grand High Witch, Susan Irvine, Nicola Cuttle, Pamela, Lois Leffour, Mildred, Elizabeth, Henrietta, Jacqueline & Beatrice) | Brain Gremlin | Daffy | George | Lenny | Bat Gremlin | Electric Gremlin | Cushing Catheter | Clarice Kensington | Lawrence Van Dough | Lestat | Ferguson | Miss Minchin | Mr. Swackhammer | Monstars | Martians (Martian Leader, Martian Ambassador & Martian Girl) | John Wesley | Susan McAlester | Jim Whitlock | Mako Sharks | Mr. Tinkles | Thrax | Mayor Phlegmming | Bruiser | Joe Cramp | Thrax's Henchmen | Scrappy-Doo | N' Goo Tuana | Zarkos | Demons | Luna Ghost | Akasha | Spiders (Consuela & Tank) | Mr. Chairman | Bob Smith | Jonathan Jacobo | Arthur Slugworth | V | Adam Sutler | Lewis Prothero | Norsefire | Peter Creedy | Colonel Coetzee | Captain Poison | Zodiac Killer | Arthur Leigh Allen | Xerxes | Agent 23 | Siegfried | Dalip | Principal Deedle | Ezekial Gallows | Prudence Prufrock | Decoy Queen | Kitty Galore | Paws | Mayor Brown | Wanda Grubwort | Lake Monster | Mal Cobb | Blue Jones | Angelique Bouchard | Dr. Julia Hoffman | Tom Buchanan | Jay Gatsby | Myrtle Wilson | George Wilson | Daisy Buchanan | Precursors | Kaiju (Trespasser, Knifehead, Mutavore, Otachi, Leatherback, Raiju, Scunner & Slattern) | Artemisia | M.U.T.O. | Dr. Mann | Victoria Vinciguerra | Léon Rom | Skullcrawlers (Skull Devil) | Preston Packard | IT | Bowers Gang (Henry Bowers, Patrick Hockstetter, Belch Huggins & Vic Criss) | Alvin Marsh | Butch Bowers | Mathias Vogel | Ana Miller | Nolan Sorrento | Innovative Online Industries (I-R0k, F'Nale Zandor & Sixers) | Claire Wyden | Brett Wyden | George, Ralph and Lizzie | The Meg | Jack Morris | Shere Khan | Tabaqui | Howard Clifford | Ditto | Sebastian | Ann Laurent | King Ghidorah | Rodan | Alan Jonah | Asher Jonah | Emma Russell | The Banana Splits (Fleegle, Drooper, Snorky & Bingo) | Poppy | Karl | Leo | Cry Baby | Kelly | The Principal | The Biology Teacher | Rose the Hat | The True Knot |
Shorts
Daffy Duck | Sylvester | Tasmanian Devil | Wile E. Coyote | Elmer Fudd | Yosemite Sam | Marvin the Martian | Instant Martians | Gossamer | Tom | Jerry | Spike
Television
The Grinch | Cousin Mel | Snow Miser | Heat Miser | North Wind
Community content is available under
CC-BY-SA
unless otherwise noted.