Jurassic World: Dominion Dominates Fandom Wikis - The Loop
Play Sound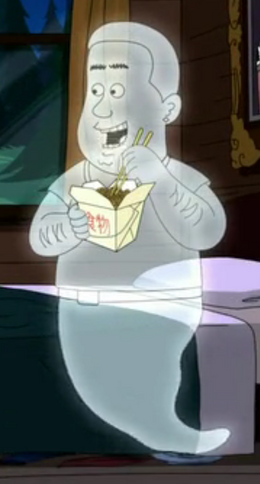 The Brickleberry Ghost is a minor antagonist in Brickleberry, only appearing in the episode "The Comeback". He is an evil ghost who completely ruined Steve Williams' life.
Biography
In "The Comeback", Steve noticed that Denzel Jackson ate all of his Chinese food, Ethel Anderson vandalized his portrait, and Connie Cunaman took a shit on his toothbrush. Instead of him assuming his friends were the culprits, he assumed that The Brickleberry Ghost did it.
When asked who The Brickleberry Ghost was, Steve said that ever since he was a child, The Brickleberry Ghost has been torturing him. When he had no presents on Christmas day, his dad said the ghost took them. Steve's dad also told him that the ghost gambled away his college fund. When Steve found his pet dog's corpse under his dad's parked car, his dad said the ghost stole his car and drove it. On Steve's birthday, Steve's battered mom had two black eyes and Steve's dad said the ghost did it. Denzel assumed that Steve's dad was just an abusive asshole and that he was lying to Steve about the ghost.
Steve started to believe that maybe it was his dad who did all this stuff and just then The Brickleberry Ghost appeared in person, eating his Chinese food and telling him that he actually did do all that horrible stuff, proving that his dad was actually telling the truth. The Brickleberry Ghost reminisced about how he stole Steve's Christmas presents and made the bank foreclose on his house. The Brickleberry Ghost gave Steve two black eyes before leaving.
Villainous Acts
Stole all of Steve's Christmas presents.
Gambled away Steve's college fund.
Stole Jonah's car.
Drove over Steve's dog and killed it.
Physically abused Mrs. Williams.
Made the bank foreclose on The Williams House.
Stole Steve's Chinese food.
Physically abused Steve.

Villains