The Sandman Will Keep You Awake - The Loop
Play Sound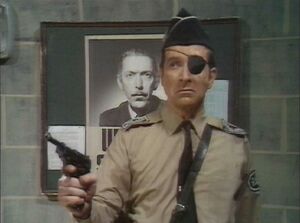 Brigade Leader Lethbridge-Stewart is the secondary antagonist of the Doctor Who story "Inferno". He is the parallel universe counterpart of the Doctor's friend Brigadier Lethbridge-Stewart.
He was portrayed by the late Nicholas Courtney.
Biography
The Brigade Leader was a member of the Republican Security Force in a parallel world where Great Britain had become a fascist republic around 1943. Like his counterpart on the Doctor's Earth, he was in charge of security at Professor Stahlmann's Project Inferno, an attempt to drill to the Earth's core in order to tap a gas located there as an energy source. The Brigade Leader was a brutal sadist and, when the Doctor was accidentally transported to his Earth, immediately suspected him of being a spy and saboteur and planned to have him shot. He dismissed his claims to come from another world but was concerned when their meticulous records found no trace of anyone matching the Doctor's description.
Despite the Doctor trying to warn them, the project penetrated the Earth's crust and released powerful forces. Not only were Stahlmann and several technicians turned into Primords but they only had a limited time before the world was destroyed. The Doctor insisted that the world could not be saved but asked the survivors to help him repower the TARDIS console so he could return to his own world and warn them. Since their counterparts were already there, he was unable to take anyone with him.
While the Brigade Leader's deputy Section Leader Elizabeth Shaw and project staff Greg Sutton and Petra Williams were willing to give up their lives to help the Doctor, the Brigade Leader was only concerned with his own escape and became increasingly nervous as the area came close to being destroyed. When they finally succeeded in fending off the Primords long enough to get power through to the TARDIS, the Brigade Leader held the Doctor at gunpoint and tried to force him to take them with him, being prepared to shoot the Doctor and try and work the console himself, but was killed by Section Leader Shaw.