We're Getting Mutants in the MCU - The Loop
Play Sound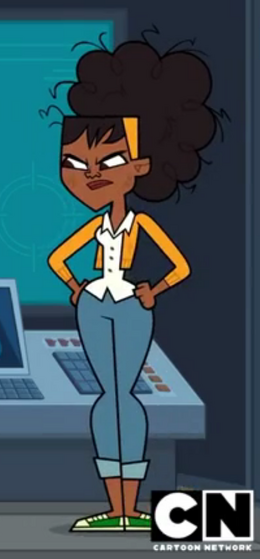 Brightly is a minor antagonist from Total Dramarama, only appearing in the episode "Cartoon Realism". She is a corrupt cartoonish who held a cartoon character named Chinchilly Chinchilla hostage at her animation studio. She became redeemed at the end of the episode.
She is voiced by Stephanie Anne Mills.
Biography
In "Cartoon Realism", Total Drama Daycare went on a field trip to the animation studios, where Chinchilly Chinchilla was made and Brightly was their tour guide. When Beth asked if Chinchilly was real, Brightly acted very suspicious when denying it, acting like she was trying to hide something. Beth and Gwen broke into the room where the real Chinchilly Chinchilla was, finding out that he was actually real. They found out that Chinchilly was being held hostage in the animation studio, where he was being forced against his own will to work for free, making a fool of himself on television in the form of a cartoon to entertain kids and bring money to the studios. Every single day, his slavedrivers told him that this was his last day at work and if he was good today, he'd get to leave. However, this was a false promise just to keep him optimistic so Beth and Gwen helped him escape and go back into the interdimensional portal to the cartoon universe to send him back home. Brightly busted the kids and told them to give Chinchilly back. Beth appealed to her humanity and asked for her to set Chinchilly free. Brightly was moved by the speech and then fought against the rest of the corrupt studios to send Chinchilly back to the cartoon universe. Brightly realized that if they left the portal open, the company would just open another cartoon universe and kidnap another character so they destroyed it. In the process, they accidentally got themselves sent into the cartoon universe, where they were all trapped with Chinchilly forever.