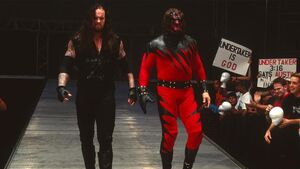 The Brothers of Destruction, sometimes called the "Brotherhood of Destruction", are an organization gimmick tagged by The Undertaker and Kane in the History of WWE.
The Brothers of Destruction was first seen in 1998, when The Undertaker and Kane coming together make their entrances when they fighting The Rock and Mankind.
History
On July 23, 2012 during Raw 1000, the brothers reunited against Jinder Mahal, Curt Hawkins, Tyler Reks, Hunico, Camacho and Drew McIntyre when they were planning to attack Kane. This led to the return of The Undertaker, who assisted Kane in fighting off the six attackers (hinting that Taker forgave Kane for his betrayal), reuniting The Brothers of Destruction. They cleared the ring before delivering simultaneous chokeslams and Tombstone Piledrivers to Hawkins and Hunico. After that the brothers did their signature pose.
Undertaker and Kane were once again reunited on the March 11, 2013 episode of Raw following the real-life death of Paul Bearer. As Undertaker was attempting to pay tribute to Bearer, he was interrupted by his WrestleMania 29 opponent CM Punk. This caused an irate Kane to attack CM Punk, leading to a match between the two later in the night. Kane was victorious in the match thanks to interference from The Undertaker and the two then once again tried to pay tribute to Bearer, however they were again interrupted by Punk who attacked Kane with Bearer's urn and then left the arena with it, at WrestleMania both Undertaker and Kane were victorious, extending The Streak to 21-0 and retaining the Tag Team Championship respectively.
The brothers reunited once again the night following WrestleMania 29 on the April 8, 2013, edition of Raw, when Kane and his Team Hell No tag partner Daniel Bryan rushed to the Undertaker's aid as he was about to be attacked by The Shield. The Shield members then exited, performing their signature pose. Two weeks later on the April 22 edition of Raw, there was a six-man tag match: The Brothers Of Destruction/Team Hell No (Undertaker, Kane, and Daniel Bryan) vs. The Shield (Dean Ambrose, Seth Rollins, and Roman Reigns). The Shield emerged victorious in the encounter, able to separate Bryan from his teammates.
In the 2015, Kane and The Undertaker make their return together to defeat Bray Wyatt and Luke Harper who had kidnapped them previously, as a result, the feuds between the Brothers of Destruction and The Wyatt Family come to an end after Bray Wyatt and Luke Harper are seriously defeated by them.
Community content is available under
CC-BY-SA
unless otherwise noted.