Wiki Targeted (Entertainment)
Play Sound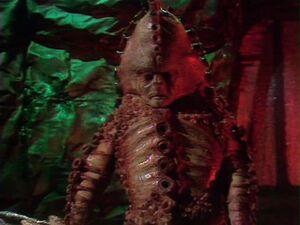 Broton is the main antagonist of the Doctor Who story "Terror of the Zygons", the Zygons' only appearance during the show's original run.
He was portrayed by the late John Woodnutt.
Biography
Broton was the commander of a Zygon spaceship which crashlanded on Earth during the 17th century. He described himself as "Warlord of the Zygons". He and his small crew took refuge in their crippled spaceship on the bed of Loch Ness. The Skarasen, a creature they had brought with them as an embryo and on whose lactic fluid they depended, inhabited the loch and became the basis for the Loch Ness Monster.
Broton and his crew learned that their planet had been destroyed in a stellar explosion. Aware that a refugee fleet had survived, Broton decided Earth could be a new home for them and made plans to conquer the planet and use slave labour to alter it to be more suitable for the Zygons', recreating their home there. He made his move in the 20th century, testing the Skarasen by having it attack and destroy several North Sea oil rigs, attracted to them by signalling devices. As part of the plan, Broton and some of his crew used technological shape-shifting abilities to disguise themselves as locals after kidnapping the originals. Broton himself assumed the identity of the local laird, the Duke of Forgill.
Monitoring UNIT's investigation at their temporary base of the Fox Inn, Broton identified the Doctor as a threat and made several attempts to kill him, such as having one of his men trap the Doctor and Sarah in a decompression chamber and sending the Skarasen after a signalling device that UNIT had retrieved. He eventually captured the Doctor and took him down to his spaceship. By now, the ship had been repaired enough that it was able to make a short journey to a quarry near Brentford, although the Doctor managed to disrupt its attempts to shield itself from radar, allowing UNIT to locate it.
As a demonstration of strength, Broton planned to have the Skarasen attack the World Energy Conference in London, being attended by several VIPs including the Prime Minister. Broton, disguised as the Duke, infiltrated the conference in order to plant the signal device. He was confronted in the cellar by the Doctor and UNIT but even the revelation that his spaceship had been destroyed and his crew killed, leaving him as the last Zygon on Earth, failed to convince him to change his plan, as he still dreamed of using the Skarasen to rule the world. He fought with the Doctor and killed UNIT Private Moore before being shot dead by the Brigadier.