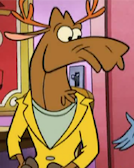 Buck Huckster is the main antagonist of the Danger Rangers episode "Safe and Sound".
He was voiced by Charlie Adler, who also played Gazeem in Disney's Aladdin, Snively in the Sonic the Hedgehog SatAM TV show, the Red Guy in Cow & Chicken, Ed Bighead in Rocko's Modern Life, Panza in the 1996 animated film version of The Prince and the Pauper, Hamilton in Disney's Tarzan, I.R. Baboon in I Am Weasel, and Starscream in the Transformers film series.
Biography
Buck Huckster is the moose manager of Ranger Sully's favorite band the Decibulls. He also has the boar bodyguard named Knuckles.
The villainy of this moose is that he makes the Decibull record so loud that no decrease in volume can work, making the Decibulls look bad because it is their music.
Whenever Sully (not to mention Kitty, Burble, and Squeeky) arrives with backstage passes (and although Knuckles still forbids them to see the Decibulls), Buck offers him the opportunity to be the band's opening act, and Sully eventually decides to quit the Danger Rangers.
When Sully busts a guitar string, he goes into a trailer to try to replace it, only to find out about the super increase of volume: the whole studio being in an adjacent trailer. So Knuckles locks him in a big, loud speaker.
After this, Buck and Knuckles are arrested (initially by Sully and Kitty, and then by a policeman) for causing public damage with sound and kidnapping.
Trivia
He is only credited as "Record Executive", but that character is not the same.
Community content is available under
CC-BY-SA
unless otherwise noted.