The Sandman Will Keep You Awake - The Loop
Play Sound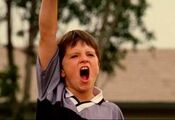 Bucky Weston is the secondary antagonist in Kicking and Screaming. He is the son of Buck, younger brother to Phil and the nephew of Sam (who was born on the same day as Bucky). He is portrayed by Josh Hutcherson.
Events of Kicking and Screaming
Born on the same day as Sam, the two were placed onto the Gladiators (best team in district) in which Bucky is the #1 player due to scoring lots of goals while Sam is benched again and again. On Sam's first game with the Tigers (worst team in district), Buck dominates them by scoring unlimited goals.
In the finale between Gladiators and Tigers, Bucky helps the team come from 1-0 down to score two more goals, before scoring a hat-trick that would've won 3-1 for his team. When the Tigers pull back to make it 3-3 however, Bucky and Sam have a standoff in which Bucky taunts Sam on his next movements. In response, Sam shows his uncle his skills, which was something that his dad never taught him years beyond, before scoring the winning goal that finishes the match Tigers 4-3 Gladiators. Bucky congratulates his older brother for winning the game before Sam is praised by Buck.
Trivia
Very much like his father, Bucky is not truly evil or much of a villain. He is the secondary antagonist due to being the best player of the Gladiators, being the son of Buck (the main villain) and having a rivalry with Sam (the deuteragonist).