Wiki Targeted (Entertainment)
Play Sound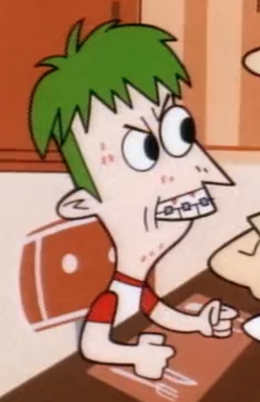 | | | |
| --- | --- | --- |
| " | You know what? I hate everything! | " |
Bud Smith is the son of Harold and Marianne Smith. He is the son of The Smith Family. He has appeared as a villain in the Cartoon Network animated series, "The Powerpuff Girls" in the episodes "Supper Villain" and "Just Desserts".
He is voiced by the late Christine Cavanaugh.
Biography
In "Supper Villain", before becoming a villain, Bud was just a regular teenage boy, who hated his family. He didn't have much of a major role in this episode. All he did was make random, out of nowhere comments about how much he hated his life, his family, and everything around him, that weren't provoked by anything. Notably, he randomly told his dad that he hated him, for no reason, when he sat down next to him on the couch. When The Utonium Family came over to visit, Bud commented on how amazing the three were and praised them for beating up Mojo Jojo and saving The Mayor. All of a sudden, Harold couldn't take it anymore, and he sprung into action as a villain, threatened to vaporize The Professor, and attacked The Powerpuff Girls. Harold earned Bud's respect for this, because Bud thought it was very cool, what he did. A big food fight broke out at the table and Bud joined right in. This happened for a while, before the police showed up and arrested Harold.
In "Just Desserts", Harold came back from prison and Marianne told him that because of them ruining her dinner, she hated The Powerpuff Girls too. Not only did Julie get on board this bandwagon, but so did Bud, and his reason was because he hated everything. Bud and his family got into the Smith family minivan and they drove over to The Utonium House, while Professor Utonium and The Powerpuff Girls were away. They broke into their house and completely destroyed everything. Marianne got into the family van, with the kids in the back and she drove right through the wall of The Utonium Residence, attempted to murder The Powerpuff Girls and Professor Utonium and completely destroyed everything else in the house, that wasn't already destroyed to begin with. Eventually, The Powerpuff Girls stopped them and put them all in jail.
Personality
Bud is a very hateful teenage boy, who seems to have no reasons for his spiteful behavior, whatsoever. He does bad things and makes rude comments, without any justification. These horrible things range from making rude comments, to villainous destroying people and wrecking their homes.
Gallery