She-Hulk Trailer Dropped - The Loop
Play Sound

✓



Click To Help Dr. Wily!

Dr. Wily has declared that this article is still under construction.
Please don't delete or edit this article yet, it may contrast with the original author's edits.
After I finish this article, the world will be mine! MWAHAHAHAHA!
Jafar says: Read my lips and come to grips with the reality!


This article is a stub and is in need of expansion. You can help Villains Wiki by expanding it.                       
Bud and Lou are the two pet spotted hyenas of the Joker and Harley Quinn. They accompanied him in his crimes and are fed by Harley. Harley refers to the hyenas as her babies.
History
Post-Crisis
Like Harley Quinn, Bud and Lou were eventually adapted to the comics. During the Last Laugh arc, it is revealed that Harley knew how to make a cure to a unique strain of Joker Toxin that had infected an army of supervillains because she treated Bud and Lou after they received poisoning from eating a Joker Fish. She was later forced to give Bud and Lou away to the Gotham Zoo after she discovered that the hyenas were eating other pets in a city neighbourhood.
Post-Flashpoint
During the New 52, Joker infected Bud and Lou with with rabies and let them loose on Harley Quinn in an attempt to have her reject her humanity. But Harley fought off the hyenas and was forced to put them down by snapping their necks, much to her grief. However Bud and Lou's deaths were eventually reversed, presumably because of the events of DC Rebirth which altered the timestream.
Personality
Despite the fact that the Joker is their original owner, Harley Quinn is the one who really cares about them. Indeed, Bud and Lou like her better than the Joker, if it comes to that; because Harley feeds them, keeps them company, and often sits around and lets them lick her.
In Batman: The Animated Series, It is shown that the Joker doesn't care about Bud and Lou. When he rigs a bomb to destroy Gotham, he forgets to bring them on the plane, so he decides to leave them. However, Harley refuses to leave the hyenas behind and kicks Joker out of the plane when tries to make his escape.
Bud and Lou often get cranky when Harley isn't around, as is demonstrated when the Joker gets angry at Harley and (quite literally) kicks her out. The Joker regrets this, because not only does his lair fall into chaos without Harley around to keep it organized, but Bud and Lou become hostile toward him.
Despite the fact Bud and Lou seem harmless and incompetent, they actually aren't. They will attack (and sometimes kill) Harley on the Joker's command. They have also proven to be intelligent; for no matter how many times their masters are separated from them, Bud and Lou find them eventually.
Other Media
Krypto the Superdog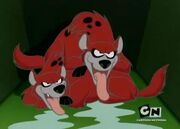 Bud and Lou serve as recurring villains in the Cartoon Network series Krypto the Superdog. In the series, they battle against Batman's dog, Ace, Superman's dog, Krypto, and Streaky the Supercat.
The Batman
TBA
Batman: Arkham City
TBA
Injustice 2
TBA
Justice League Action
TBA
DC Extended Universe
TBA
Gallery
New Earth
Prime Earth
Other Media
Trivia
They are a reference to the famous comic duo Bud Abbott and Lou Costello, creators of the famous "Who's On First?" Skit.
In Batman: Arkham City the Penguin shot them and put them on display in his museum.
Villains
Comics
Amanda Waller | Basilisk | Black Mask | Bud and Lou | Catwoman | Calendar Man | Clock King | Dark Knights | Deadshot | Egg Fu | The Enchantress | Female Furies | Floronic Man | Gotham Sirens | Granny Goodness | Harley Quinn | Hugo Strange | James Gordon, Jr. | Joker | Joker's Daughter | King Shark | Lord Death Man | Mercy Graves | Penguin | Poison Ivy | Punchline | Riddler | Scarecrow | Sportsmaster | Suicide Squad | Two-Face | Zod
Movies
Suicide Squad: Eyes of the Adversary (Enchantress & Incubus) | Suicide Squad (Deadshot, Harley Quinn, Captain Boomerang, El Diablo, Killer Croc, Slipknot & Amanda Waller) | Joker's Gang (Joker, Jonny Frost, Panda Man & Monster T) | Griggs
Batman and Harley Quinn: Harley Quinn | Poison Ivy | Floronic Man
Suicide Squad: Hell To Pay: Professor Zoom | Suicide Squad (Amanda Waller, Deadshot, Harley Quinn, Captain Boomerang, Bronze Tiger, Copperhead, Punch, Jewelee, & Count Vertigo) | Killer Frost | Blockbuster | Silver Banshee | Vandal Savage | Scandal Savage | Professor Pyg | Tobias Whale | League of Assassins (Deathstroke) | Two-Face
Birds of Prey (and the Fantabulous Emancipation of One Harley Quinn): Harley Quinn | Huntress | Black Mask | Victor Zsasz | Stefano Galante | Carlo Rossi | Happy | Joker
The Suicide Squad: The Thinker | Starro | Silvio Luna | Corto Maltese Armed Forces (Mateo Suarez & Vera) | Suicide Squad (Bloodsport, Ratcatcher 2, Harley Quinn, Peacemaker, King Shark, Polka Dot Man, Captain Boomerang, Blackguard, Mongal, Javelin, The Detachable Kid, Weasel, Savant & Amanda Waller) | Kaleidoscope | Calendar Man | Double Down | Karma | Ratcatcher | Polka Dot Man's Mother | Bloodsport's Father
Television
Harley Quinn | Poison Ivy | Clayface | King Shark | Joker | Scarecrow | Queen of Fables | Penguin | Killer Croc | Man-Bat | Doctor Psycho | Riddler | Two-Face | Catwoman | Bane | Mr. Freeze | Deadshot | Solomon Grundy | Calendar Man | Condiment King | Felix Faust | Lex Luthor | Toyman | Metallo | Livewire | Parasite | Black Adam | Captain Cold | Gorilla Grodd | Black Manta | Cheetah | Giganta | Sinestro | Maxie Zeus | Eris | KGBeast | Bud and Lou | Nora Fries | Sy Borgman | Doctor Trap | Frank the Plant | Kite Man | Nick Quinzel | Sharon Quinzel | Darkseid | Parademons
Video Games
Batman: Arkham Knight: Harley Quinn: Harley Quinn | Poison Ivy | Penguin
Injustice: Superman | Poison Ivy | Deadshot | Scarecrow | Wonder Woman | Joker
Villains
Comics
Alex Luthor | Amanda Waller | Amazo | Anomaly | Anti-Monitor | Atlas | Atomic Skull | Ballser | Bane | Barbatos | Bernadeth | Bertron | Bizarro | Black Adam | Black Banshee | Black Mercies | Black Zero | Blanque | Blackrock | Blaze | Bloodsport | Bloody Mary | Brainiac | Bruno Mannheim | Boss Moxie | Bug-Eyed Bandit | Captain Boomerang | Captain Cold | Catwoman | Cheetah | Chemo | Chessure | Circe | Clayface | Coldcast | Commander Gor | Composite Superman | Cyborg Superman | Cythonna | Dabney Donovan | Dark Knights | Darkseid | Dax Novu | Deathstroke | Desaad | Deuce & Charger | Dev-Em | Devilance | The Devastator | Doctor Light | Doctor Manhattan | Doctor Polaris | Donna Troy | Doomsday | Earth-Man | Eclipso | The Enchantress | Epoch | Equus | Eradicator | Eradicator (Dark Multiverse) | Ernest Smalley | Eve Teschmacher | Faora Hu-Ul | Fastbak | Female Furies | Fifth-Dimensional Imps | Forgotten Villains | Francis Redhorn | Funky Flashman | Galactic Golem | Gilotina | Gorilla Grodd | Granny Goodness | Green Man | Glorious Godfrey | Gzptlsnz | H'El | Heat Wave | Hector Hammond | Hellgrammite | Helspont | Hfuhruhurr | Imperiex | Intergang | Jax-Ur | Joker | Jon Lane Kent | Justice League of Earth | Kaizen Gamorra | Kalibak | Kanto | Karkull | Killer Croc | King Shark | Kobra Cult | Ku Klux Klan | Lashina | Last Sun | Legion of Super-Villains | Lex Luthor | Livewire | Lobo | Mad Harriet | Magpie | Major Disaster | Major Force | Malice Vundabar | Manchester Black | Mandrakk | Mantis | Master Jailer | Masters of Disaster | Match | Maxima | Maxwell Lord | Mercy Graves | Metallo | Mister Oz | Mongal | Mongul | Mongul II | Morgaine Le Fey | Morgan Edge | Mr. Freeze | Mxyzptlk | Neron | Neutron | Nick O' Teen | Nimrod The Hunter | Overman | Parademons | Parallax | Parasite | Phantom Zoners | Planeteer | Plasmus | Plastique | Prankster | Preus | Princess Zala Jor-El | Prometheus | Psycho-Pirate | Queen Bee | Queen of Fables | Rampage | Rogol Zaar | Reverse-Flash | Royal Flush Gang | Samuel Lane | Scarecrow | Secret Society of Super Villains | Shockwaver | Shrapnel | Silver Banshee | Sinestro | Sleez | Solomon Grundy | Subjekt-17 | Suicide Squad | Superboy-Prime | Superdoom | Superman Revenge Squad | Superman (Earth-2) | Superman (The Dark Side) | The SuperMan | Spellbinder | Steppenwolf | Stompa | Talia al Ghul | Tarantula | Thaddeus Killgrave | Thunder & Lightning | Titano | Tobias Whale | Toyman | Two-Face | Ultra-Humanite | Ultraman | Ursa | Vincent Edge | Virman Vundabar | Vyndktvx | Weather Wizard | Whirlicane | Whisper A'Daire | William Dunn | Xa-Du | Zod
Theatrical Movies
Superman: Lex Luthor | Otis | Eve Teschmacher | General Zod | Non | Ursa | Brad Wilson
Superman II: General Zod | Non | Ursa | Lex Luthor | Otis | Eve Teschmacher | Rocky
Superman III: Ross Webster | Corrupted Superman | Vera Webster | Lorelei Ambrosia | Gus Gorman | Brad Wilson
Superman IV: The Quest for Peace: Lex Luthor | Nuclear Man
Superman Returns: Lex Luthor
Man of Steel: Sword of Rao (Dru-Zod, Faora-Ul, Nam-Ek, Jax-Ur, Tor-An, Car-Vex, Nadira, & Dev-Em II)
Batman v Superman: Dawn of Justice: Lex Luthor | Doomsday | Anatoli Knyazev | Mercy Graves | Cesar Santos | Amajagh | Joe Chill | Zod | Steppenwolf
Direct-to-video Movies
Superman: Brainiac Attacks: Brainiac | Lex Luthor | Mercy Graves | Mister Mxyzptlk
Superman: Doomsday: Lex Luthor | Superman Clone | Doomsday | Toyman | Mercy Graves
Superman/Batman: Public Enemies: Lex Luthor | Major Force | Metallo | Amanda Waller | Toyman | Solomon Grundy | Gorilla Grodd | Killer Frost | Lady Shiva | Giganta | Mongul | Captain Cold
Superman/Batman: Apocalypse: Darkseid | Female Furies (Granny Goodness, Gilotina, Mad Harriet, Lashina & Stompa) | Doomsday
Superman/Shazam!: The Return of Black Adam: Black Adam
All-Star Superman: Lex Luthor | Solaris | Parasite | Nasthalthia Luthor | Bar-El & Lilo-El
Superman vs. The Elite: The Elite (Manchester Black, Coldcast, Menagerie & Hat) | Atomic Skull
Superman: Unbound: Brainiac
The Death Of Superman: Doomsday | Lex Luthor | Intergang (Bruno Mannheim) | Mercy Graves | Cyborg Superman
Reign Of The Supermen: Cyborg Superman | Darkseid | Parademons | Lex Luthor | Mercy Graves
Superman: Red Son: Superman | Brainiac | Lex Luthor | Batman | Superior Man
Superman: Man of Tomorrow: Parasite | Lobo | Lex Luthor
Television
1940's Superman: Bulleteers | Inventor | Mechanical Monsters | Mad Scientist
Superman: The Animated Series: Lex Luthor | Brainiac | Darkseid | Metallo | Toyman | Intergang (Bruno Mannheim, Spider Spinelli, & Blaine) | Mercy Graves | Joey | Parasite | Dr. Vale | Lobo | Gnaww | Preserver | Kanto | Earl Garver | Jax-Ur | Mala | Prometheon | General Hardcastle | Weather Wizard | Livewire | Bizarro | Kurt Bowman | Luminus | Mister Mxyzptlk | Superman (Brave New Metropolis) | Lex Luthor (Brave New Metropolis) | Titano | Desaad | Kalibak | Joker | Harley Quinn | Karkull | Corey Mills | Suit | Maxima | De'Cine | Steppenwolf | Parademons | Female Furies (Granny Goodness, Stompa, Mad Harriet, & Lashina) | Volcana | Kurt | Starro | Roxy Rocket | Penguin | Bane | Riddler | Mad Hatter | Darci Mason | Sinestro | Unity | Reverend Amos Howell | Society of Shadows (Ra's al Ghul, Talia al Ghul, & Ubu)
Krypton: Brainiac | Zod | Doomsday | Lobo | Jax-Ur | Kol-Da | Lis-Ser | Daron-Vex | Araame | Lyta-Zod Clone
Superman & Lois: Tal-Rho | Ally Allston | John Henry Irons | Leslie Larr | Mitch Anderson | Bizarro | Zeta-Rho | Superman (John Henry Irons' Earth) | Reno Rosetti | David Fuglestad | Atom-Man | Zod | Phillip Karnowsky | Kit Faulkner | Intergang (Thaddeus Killgrave)
Video Games
Superman Arcade: Emperor Zaas | Lex Luthor | Metallo | Parasite
Superman: Shadow of Apokolips: Lex Luthor | Darkseid | Metallo | Livewire | Parasite | Kanto | Mercy Graves | Volcana
Mortal Kombat vs. DC Universe: Dark Kahn | Lex Luthor | Scorpion | Shang Tsung | Darkseid
Injustice: Superman | Brainiac | Doomsday | Aquaman | Black Adam | Sinestro | Lex Luthor | Joker | Darkseid
See Also
Legion of Super-Heroes Villains | Lobo Villains | Smallville Villains | Steel Villains | Superboy Villains | Supergirl Villains | Superwoman Villains
Villains