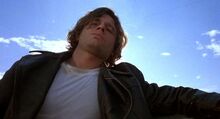 Buddy Revell
is the main antagonist of the 1987 film
Three O'Clock High
.
He's portrayed by Richard Tyson.
Biography
Buddy Revell is a violent delinquent and a bully. He is the new student of Weaver High School who was transferred in from a continuation high school. Jerry Mitchell (Casey Siemaszko) bumps into Buddy and tries to introduced himself, but inadvertently makes Buddy angry. Buddy tosses jerry through a wall and challenges him to a fight at 3:00.
Jerry tries to befriend Buddy to get out of the fight, and offers him money to call it off. Buddy takes the money, but scornfully calls Jerry "the biggest pussy I ever met in my life." Jerry decides to confront Buddy and demands his money back. When Buddy refuses, Jerry declares that the fight is on.
The fight begins in a parking lot, with hundreds of eager students observing. Jerry takes Buddy's brass knuckles from him, and uses them to knock him out and win the fight.
Gallery
Community content is available under
CC-BY-SA
unless otherwise noted.