Jafar says: Read my lips and come to grips with the reality!


This article is a stub and is in need of expansion. You can help Villains Wiki by expanding it.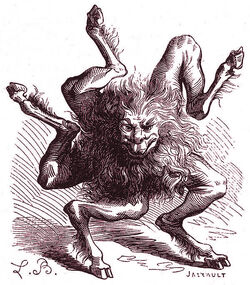 Buer is a Goetic Demon, specifically the 10th spirit of the Ars Goetia, which appears in the 16th century from the text-book Pseudomonarchia Daemonumzm (The False Kingdom of the Demons), written by the Dutch physician Johann Weyer - which is part of the much larger demonology movement, a branch of the occult devoted to the study of demons, as well as how to summon them (or in some cases how to banish them).
History
Buer appears to be a lion-like creature. In the middle Buer's head appears. While around Buer, it appears that Buer has five legs surrounding his head. Buer is also known by the name Persident of Hell, because he has fifty legions of various demons serving him. Buer only appears when the Sun is in Sagittarius and teaches various philosophies. He also has the ability of healing anyone, since Buer also has the knowledge on various herbs and plants. 
According to some sources Buer is a president of hell and a demon of the second order who commands 50 legions.
Gallery
Trivia
Buer was illustrated by the late Louis Le Breton.
Buer appears to be very similar with the Japanese creature known as Wanyūdō. 
Community content is available under
CC-BY-SA
unless otherwise noted.