Jurassic World: Dominion Dominates Fandom Wikis - The Loop
Play Sound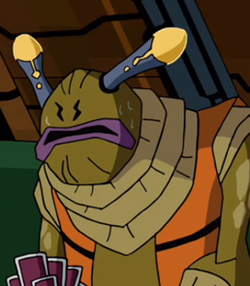 Bug-Lite is an antagonist in Ben 10. He is an alien criminal who serves as a member of Psyphon's Gang.
Biography
Original Series
Bug-Lite first appeared in "Grudge Match" as one of the gladiators aboard the Megacruiser. When Ben and Kevin were teleported in, he explained to them how Slix Vigma captures various aliens and forces them to fight for their lives. He also introduces them to Technorg, the ultimate fight champion of the Megacruiser. He was one of the many prisoners who assisted Ben in reaching the escape pods and they all managed to escape after Ben used Upgrade to merge with Slix in order to unlock the gates.
Bug-Lite made a cameo in "Back With a Vengeance", having been somehow recaptured by Kevin once he took over the Megacruiser following Slix Vigma's death. He was standing in the background watching as Kevin teleports in a frozen Vilgax, although he likely escaped again after both Kevin and Vilgax were sent to the Null Void. Bug-Lite reappeared in Ben 10: Secrets of the Omnitrix, having ended up in Incarcecon for unknown reasons. He was first seen when Gwen was exposed to the prisoners after Ben transformed into Perk Upchuck to attack Myaxx (whom he thought was Vilgax due to them being the same species). He was seen again being punched away by Tetrax along with other prisoners as the trio make their way to the Resolute.
Omniverse
Bug-Lite makes his Omniverse debut in the episode "The More Things Change: Part 2", where he is now a member of Psyphon's Gang. He and many others of the gang (including Tummyhead, Liam and the Pickaxe aliens) were blasting at Ben before Zed as Buglizard intervened. Like the rest of the gang, Bug-Lite was apprehended by the Plumbers at the end of the episode. In "Special Delivery", Bug-Lite attended Psyphon's auction. In "Rad", Bug-Lite and Thunderpig were thrown out of the Black Hole bar in Undertown.