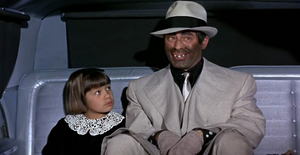 Bugsy Peyton is the main antagonist in the Jerry Lewis film, The Family Jewels.
He was portrayed by Jerry Lewis, who also palyed Buddy Love in fellow Jerry Lewis film, The Nutty Professor.
Role in the film
She is one of Donna's six uncles, (the others five also all played by Lewis includes James the sea captain, Everett the kid hating retired clown who moved to Switzerland so he wouldn't pay taxes, Julius the photographer who photographs women, Eddie the pilot and Skylark the Sherlok Holmes detective). He wasn't included in the will of Donna's late father for everyone thought he was killed by a mob. He first appeared trying to pull a heist, but was defeated by Willard Woodward (also played by Lewis), Donna's cheffaur. When he heard about Donna inherting her Fathers $30,000,000 fortune and chosing one of her uncles for a father, he plots to kidnap Donna so she can pick him and he can have the fortune. To make sure he wouldn't stand in his way and also getting revenge on him for foiling his heist, Bugsy tried to kill Willard but failed: like trying to throw many knives at him but missed and then fell off a ladder and trying to stab him while he's in the limo, but Willard pulled up the window and turned from a manhole which Bugsy felle into for the car door was broken. Bugsy managed to kidnap Donna when she and Willard came to the house of Skylark and called Willard for Ransom. But he failed when Donna revealed to Willard they were in an apartment above the Waterfront poolhouse. He tricked Bugsy that he was surrounded by armed soldiers, which had Donna escaped and Bugsy arrested. Since he was revealed to be alive, he did managed to appear Donna's chosing of one of her uncles to be his father. And he didn't get choosed for Donna choosed Everett who was really Willard.
Community content is available under
CC-BY-SA
unless otherwise noted.