Click To Help DIO!

DIO has declared that this article has stopped in time, and any and all information on it may be outdated.
Help improve this article by checking and updating it's info wherever necessary
And now time resumes!

✓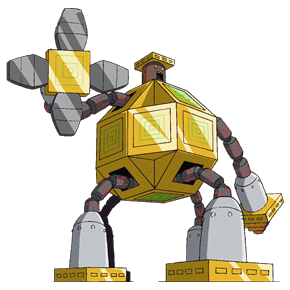 Bulbmon is a minor villain in Digimon Xros Wars.
Appearance
Bulbmon is an Ultimate Level Digimon that looks like a gigantic robot monster with a bulb-like body and four legs.
Digimon Xros Wars
Blastmon summoned a Bulbmon in the Disc Zone to attack Xros Heart. Knightmon and his PawnChessmons tried to attack Bulbmon, but were no match for the giant robot. Taiki Digi-Xrosed Shoutmon, Ballistamon, Dorulumon, Starmons, Knightmon, and the PawnChessmons to become Shoutmon X4K to fight Bulbmon. However, with Greymon's help, Shoutmon X4K tossed Bulbmon into the sky and destroyed him with a Victorize Boomerang attack.
Attacks
Mad Pump.
Octagon Attack.
Community content is available under
CC-BY-SA
unless otherwise noted.