Bushmaster is a snake-like supervillain in Marvel comics and a member of the Serpent Society. Quincy McIver was a quadriplegic who was given bionic arms and a bionic snake-like tail in place of legs by the Roxxon Oil Company, and worked for them. He later joined the Serpent Society.
In his first mission with the Serpent Society, he was hired by A.I.M. to hunt down M.O.D.O.K.. M.O.D.O.K. severed Bushmaster's artificial appendages, and Diamondback saved Bushmaster's life. He soon received new bionic arms.
Civil War
Alyosha Kravinoff began collecting a zoo of animal-themed superhumans, including Gargoyle, Tiger Shark, Kangaroo, Aragorn, Vulture, Mongoose, Man-Bull, Dragon Man, Swarm, Mandrill, Grizzly, Leap-Frog, and Rhino. Bushmaster was apparently killed by Kraven and left face down in the water aboard the sinking ship. In the end, the Punisher managed to sabotage this zoo; though Kraven himself escaped to the Savage Land.
Television History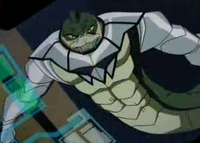 Bushmaster appears in
The Avengers: Earth's Mightiest Heroes
episodes "Ultron-5", "Along Came a Spider...", and "Yellowjacket", as a member of the Serpent Society and has no dialogue.
Marvel Cinematic Universe
Main article: Bushmaster (Marvel Cinematic Universe)
Bushmaster (real name: John McIver) appears as the secondary antagonist of the second season of Netflix's Marvel's Luke Cage. He was portrayed by Mustafa Shakir.
Gallery
Community content is available under
CC-BY-SA
unless otherwise noted.