NOTE: This article is about the incarnation of Bushmaster from the Marvel Cinematic film series. The mainstream version can be found here: Bushmaster.

This article's content is marked as Mature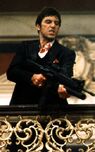 The page Bushmaster (Marvel Cinematic Universe) contains mature content that may include coarse language, sexual references, and/or graphic violent images which may be disturbing to some. Mature pages are recommended for those who are 18 years of age and older.
If you are 18 years or older or are comfortable with graphic material, you are free to view this page. Otherwise, you should close this page and
view another page
.
| | | |
| --- | --- | --- |
| " | Life has taught me this. You can't drown sorrow with tears. If you want to erase sorrow, you must burn it. | " |
| | ~ Bushmaster. | |
| | | |
| --- | --- | --- |
| " | Ya told me, stay outta ya yard. Harlem, is not ya yard boy, it's mine. | " |
| | ~ Bushmaster tells Luke Cage after publicly beating him. | |
John McIver, also known as Bushmaster, is the charismatic enhanced individual who had previously witnessed his family being murdered by Mama Mabel as he vowed revenge on the Stokes family. With a mission of vengeance, Bushmaster soon arrived in Harlem to kill Mariah Stokes, the last member of the Stokes family, only to be challenged by Luke Cage, who stood in the way of Bushmaster's revenge mission. He is one of the two main antagonists of Season 2 (the other being Mariah Dillard) of Marvel's Luke Cage.
Bushmaster's continued attempts to kill Stokes resulted in him becoming mortally wounded, as he sought Tilda Johnson's aid for his recovery. However, Stokes took the opportunity to massacre the remaining members of Bushmaster's family, forcing him to make an uneasy alliance with Cage to stop Stokes's rampage before more innocent people got killed. Eventually however, Bushmaster was forced to return to Jamaica to recover from his near fatal wounds, having failed to kill Stokes himself.
He is portrayed by Mustafa Shakir.
Biography
In his youth, John McIver's family was betrayed by their friends, the Stokes family, and cheated out of their business, the Bushmaster rum factory. After John's father was murdered, he and his mother were forced to flee to Jamaica where John grew up. However, having witnessed his mother murdered at the hands of the Stokes family and nearly dying at their hands himself, John became determined to get revenge on the Stokes family.
Fueled by a mystical herb known as Nightshade, which enhanced his strength and stamina and made him bullet-proof, John donned the name "Bushmaster" after the lost empire of his family and returned to New York in order to destroy the last remnant of the Stokes family, Mariah Dillard.
His obsession with vengeance has driven Bushmaster to insanity and became willing to eliminate Mariah by any means necessary, even hurting the civilians of Harlem if he must, which the rest of his family disapprove him doing. In his quest for vengeance he has come into multiple confrontations with Harlem's Hero Luke Cage. Bushmaster tried and failed at each turn to eliminate Luke Cage as he is the only person standing between him and Mariah Stokes. Furthermore, the prolonged use of Nightshade destroys both Bushmaster's mind and body, forcing him to flee back to Jamaica in order to regenerate his former strength. As a result, Bushmaster is forced to leave the safety of Harlem in the hands of Luke Cage.
Despite him abandoning his plan of revenge, Bushmaster ultimately gets the vengeance he was aiming for when Mariah is killed by her own daughter, Tilda Johnson.
Personality
| | | |
| --- | --- | --- |
| " | She knew, that I was fighter, a warrior. I'd always be free. A McIver like me fada. Never a puppet or a slave. So I won't let go until we get everything that belong to we. And nothing less. | " |
| | ~ Bushmaster to Anansi | |
After witnessing the death of his mother and barely surviving an attempt on his own life, John McIver became heavily fixated on revenge against the Stokes family. His vendetta against the Stokes, Mariah in particular, was so strong he frequently insisted on referring to her by her maiden name whenever mentioned. Despite his obsession with revenge and brutal methods, he had a great deal of respect for his close friends and remaining family, namely his aunt Ingrid and uncle Anansi.
He was also very proud of his Jamaican heritage, being particular defensive of Usain Bolt after it was commented that Luke Cage was faster than Bolt. He even implied that he had attacked Cage purely to prove his inferiority for the comment.
Regardless of his rage and ruthless demeanor, John shows both an envious side and respectful side in regards to his rival Luke Cage. He dislikes Luke Cages reputation in Harlem, stating he wants to win Harlem's heart which Luke Cage has. However, he is not unwilling to co-operate with Luke Cage, even stating they could've been friends, pointing out parallels between them and even having mutual understanding over wanting to stop gangs using their names as branding for street drugs.
Despite this, he is shown to be willing to use underhand tactics to beat Luke Cage such as paralyzing him with a drug and despite his apparent willingness to not kill any triads due to teaming up with Cage, he did attempt a lethal blow on one, but was blocked by Cage. He also show gratitude towards Cage for saving his Aunt Ingrid and towards Tilda Johnson for saving him. In fact, Sheldon and him once considered killing Tilda upon discovering her relation to the Stokes family, but their mutual hatred of Mariah had created a friendship between the two where John thanked her for her help and requested that she waits for him when he attempts to assassinate Mariah.
Powers and Abilities
| | | |
| --- | --- | --- |
| " | I'm just saying, anyone who can take you on barehanded can't be good for Harlem. | " |
| | ~ Bobby Fish to Luke Cage | |
Nightshade Enhancement: After going though an Obeah ritual, performed on him by a Jamaican bushwoman, Bushmaster gained superhuman abilities due to inhaling a lucid compound called Nightshade. Despite being granted with physically enhanced abilities, nightshade's healing properties are not ever lasting, meaning Bushmaster must take nightshade, if he suffered severe injuries.

Superhuman Strength: Bushmaster possesses physical strength sufficient to knock down and injure Luke Cage, and even cause internal damage to his body. After taking an enhanced strain of nightshade, Bushmaster was able to break down a steel door with multiple blows that damaged it severely from the outside.
Superhuman Durability: After inhaling his first nightshade, McIver's skin was hardened, making him far more resilient than a normal human. While not as durable as Cage, he is bulletproof to some extent, with bullets embedding into his skin rather than bouncing off him. He was able to survive a point blank explosion inside a police van, which had enough force two kill two guards and demolish the van; although it should be noted that he was left in a critical state, and required Tilda Johnson's help to heal him.
Superhuman Speed: Bushmaster can move at speeds exceeding that of the finest human athlete. He was able to fight Luke Cage in close combat, outmaneuvering his attacks as fast as possible and even dodging bullets that are aimed at him. Cage described him to Bobby Fish as unnaturally fast.
Superhuman Agility: Bushmaster is able to perform athletic feats that make him agile, using his acrobatic abilities to excel at close combat and survive from great heights with a simple jump and a roll.
Superhuman Reflexes: Bushmaster was able to evade a bullet shot at him from close distance by Shades.
Regenerative Healing Factor: After inhaling the herb of smoke during the Obeah ceremony, his bullet wounds had completely healed in mere seconds. When near death, Bushmaster suffered tearing and scars on his skin, after having nightshade spread onto him, Bushmaster's wounds were fully healed in a short amount of time.
Abilities
Master Martial Artist: McIver is an extremely skilled martial artist and combatant, able to easily incapacitate Nigel Garrison and kill him. He also utilizes Judo, Taekwondo, Capoeira, and Boxing in his fighting style. McIver is skilled enough to take down multiple men and Luke Cage, a highly skilled combatant. McIver also went head to head with Cage and Misty Knight at the same time, though he eventually lost due to Cage's superior durability.
Master Acrobat: McIver is extremely skilled in acrobatics, able to take down Luke Cage with a flip kick and utilize his acrobatics in his fights.
Master Tactician: Mclver is an extreme, highly effective planner. Before his battle with Cage, he used numerous opponents to attack the hero, only to have Sheldon recording the fight so that he could observe Cage's fighting style and make preparations.
Bilingualism: McIver is fluent in both English and Jamaican Patois, often interspersing the two languages in conversation with other Patois speakers.

Cinematic Universe Villains
Movies
Iron Man: Iron Monger | Ten Rings (Raza Hamidmi Al-Wazar, Abu Bakaar, Ahmed & Omar)
The Incredible Hulk: Emil Blonsky | Strategic Operations Command Center (Thunderbolt Ross & Kathleen Sparr) | Samuel Sterns | Tough Guy Leader
Iron Man 2: Whiplash | Hammer Industries (Justin Hammer, Jack & Hammer Drones) | Ten Rings (Ten Rings Agent) | Senator Stern | Black Widow | Anton Vanko
Thor: Loki Laufeyson | Frost Giants (Laufey, Grundroth, Hailstrum, Raze & Jotunheim Beast) | The Destroyer | Jasper Sitwell
Captain America: The First Avenger: HYDRA (Red Skull, Arnim Zola, Heinz Kruger, HYDRA Lieutenant & Velt) | Adolf Hitler | Roeder | Hutter | Schneider
The Avengers: Loki Laufeyson | Chitauri (The Other & Leviathans) | HYDRA (Gideon Malick & Jasper Sitwell) | Georgi Luchkov | Thanos
Iron Man 3: A.I.M. (Aldrich Killian, Eric Savin, Trevor Slattery, Ellen Brandt, Sweat Shop Agent, Maya Hansen & Extremis Soldiers) | Vice President Rodriguez
Thor: The Dark World: Dark Elves (Malekith the Accursed & Kurse the Strong) | Loki Laufeyson | Marauders (Duhg & Kronan Marauder) | Jotunheim Beast | The Collector
All Hail the King: Trevor Slattery | Herman | Ten Rings (Jackson Norriss & The Mandarin) | White Power Dave | Justin Hammer
Captain America: The Winter Soldier: HYDRA/STRIKE (Alexander Pierce, Winter Soldier, Brock Rumlow, Jack Rollins, Jasper Sitwell, Russo, Senator Stern, Arnim Zola, Wolfgang von Strucker, List, Scarlet Witch & Quicksilver) | Georges Batroc | Ferdinand Lopez | Gerald Durand
Guardians of the Galaxy: Kree Empire (Ronan the Accuser, Nebula, Korath the Pursuer, Sakaaran Mercenaries & Exolon Monks) | Yondu Ravager Clan (Yondu Udonta, Kraglin Obfonteri, Horuz & Vorker) | Garthan Saal | Eson the Searcher | Chitauri (The Other) | Moloka Dar | Monstrous Inmate | The Collector | Dark Elf | Thanos
Avengers: Age of Ultron: Ultron | Ultron Sentinels | HYDRA (Wolfgang von Strucker, List, Scarlet Witch & Quicksilver) | Ulysses Klaue | Madame B | Chitauri (Leviathans) | Thanos
Ant-Man: Yellowjacket | HYDRA (Mitchell Carson & HYDRA Buyer) | Winter Soldier
Captain America: Civil War: Helmut Zemo | Thunderbolt Ross | Winter Soldier | Scarlet Witch | HYDRA (Vasily Karpov, Josef & Winter Soldiers) | Hero Mercs (Crossbones)
Doctor Strange: Zealots (Kaecilius & Lucian) | Karl Mordo | Dormammu
Guardians of the Galaxy Vol. 2: Ego | Sovereign (Ayesha, Sovereign Admiral, Zylak & Sovereign Chambermaid) | Yondu Ravager Clan (Yondu Udonta, Kraglin Obfonteri, Nebula, Tullk, Oblo, Taserface, Gef, Retch, Halfnut, Brahl, Vorker, Narblik & Huhtar) | Abilisk | The Grandmaster | Thanos
Spider-Man: Homecoming: Bestman Salvage (Adrian Toomes/Vulture, Phineas Mason/Tinkerer, Jackson Brice/Shocker #1, Herman Schultz/Shocker #2 & Randy Vale) | Mac Gargan | Aaron Davis
Thor: Ragnarok: Berserker Army (Hela Odinsdottir, Skurge & Fenris Wolf) | Sakaaran Guards (The Grandmaster & Topaz) | Loki Laufeyson | Fire Demons (Surtur & Fire Dragon) | Thanos
Black Panther: Erik Killmonger | Ulysses Klaue | W'Kabi | M'Baku | Linbani | Linda | Dave | Sambisan Militants (Sambisan Captain) | Winter Soldier | Helmut Zemo | N'Jobu
Avengers: Infinity War: Black Order (Thanos, Ebony Maw, Proxima Midnight, Corvus Glaive, Cull Obsidian & Nebula) | Outriders | Chitauri (Leviathans) | Red Skull | The Collector | Loki Laufeyson | Winter Soldier | Scarlet Witch | Thunderbolt Ross
Ant-Man and the Wasp: Ghost | Sonny Burch | Bill Foster | Uzman | Anitolov | Knox | Stoltz | Elihas Starr | Thanos
Captain Marvel: Kree Empire/Starforce (Supreme Intelligence, Yon-Rogg, Korath the Pursuer, Minn-Erva, Att-lass, Bron-Char, Ronan the Accuser & Soh-Larr) | Skrulls (Talos & Norex) | Thanos
Avengers: Endgame: Black Order (Thanos, Ebony Maw, Proxima Midnight, Corvus Glaive, Cull Obsidian & Nebula) | Outriders | Sakaaran Mercenaries | Chitauri (Leviathans) | HYDRA/STRIKE (Red Skull, Alexander Pierce, Crossbones, Jasper Sitwell & Jack Rollins) | Loki Laufeyson | Winter Soldier | Scarlet Witch | Dark Elves | Thunderbolt Ross | Akihiko

Television
Agents of S.H.I.E.L.D. (Season 1): HYDRA (John Garrett, Grant Ward, Ian Quinn, Raina, Edison Po, Jasper Sitwell, Deathlok, Debbie, Vanchat, Scorch & Kaminsky) | Camilla Reyes | Franklin Hall | Blizzard | Lorelei | Marcus Daniels | Christian Ward | Jakob Nystrom
Agents of S.H.I.E.L.D. (Season 2): HYDRA (Daniel Whitehall, Grant Ward, Wolfgang von Strucker, List, Sunil Bakshi, Absorbing Man, Agent 33, Blizzard & Kebo) | Jiaying | Gordon | Calvin L. Johnson | Raina | Alisha Whitley | Lash | Vin-Tak | Katya Belyakov | Christian Ward
Agent Carter: Johann Fennhoff | Dottie Underwood | Whitney Frost
Daredevil (Season 1): Kingpin | James Wesley | Leland Owlsley | Vanessa Marianna | The Hand (Madame Gao & Nobu Yoshioka) | Bill Fisk
Agents of S.H.I.E.L.D (Season 3): HYDRA (Grant Ward/Hive, Gideon Malick, Kebo, Werner von Strucker, Giyera, Lucio, Hellfire, Alisha Whitley & Primitives) | Lash | Absorbing Man | Watchdogs (Felix Blake, Holden Radcliffe & Aida)
Jessica Jones (Season 1): Kilgrave | Will Simpson | Dorothy Walker | Audrey Eastman
Daredevil (Season 2): Nobu Yoshioka | Punisher | The Hand (Madame Gao) | Elektra Natchios | Blacksmith | Kingpin
Luke Cage (Season 1): Diamondback | Cottonmouth | Black Mariah | Shades
Agents of S.H.I.E.L.D (Season 4): Eli Morrow | Holden Radcliffe | Aida | Lucy Bauer | Watchdogs (Anton Ivanov, Tucker Shockley, Ellen Nadeer & Hellfire) | Dr. Leopold Fitz | Alistair Fitz
Iron Fist (Season 1): Harold Meachum | The Hand (Madame Gao & Bakuto) | Jim Pierce
The Defenders: The Hand (Alexandra Reid, Elektra Natchios, Madame Gao, Bakuto, Murakami & Sowande)
Inhumans: Maximus
The Punisher (Season 1): Punisher | Agent Orange | Jigsaw | Lewis Wilson | Blacksmith
Runaways: The Pride (Jonah & Geoffrey Wilder)
Agents of S.H.I.E.L.D. (Season 5): Kree Empire (Kasius, Sinara, Faulnak, Vicar & Tye) | Grill | Samuel Voss | Graviton | HYDRA (General Hale, Ruby Hale, Qovas, Werner von Strucker, Anton Ivanov, Absorbing Man & Dr. Leopold Fitz) | Thanos
Jessica Jones (Season 2): Alisa Jones | Karl Malus | Pryce Cheng | Dorothy Walker
Cloak and Dagger: Roxxon Corporation (Peter Scarborough & Terrors) | Detective Connors
Luke Cage (Season 2): Black Mariah | Bushmaster | Shades
Iron Fist (Season 2): Steel Serpent
Daredevil (Season 3): Kingpin | Bullseye | Vanessa Marianna
The Punisher (Season 2): Punisher | Anderson Schultz | John Pilgrim | Jigsaw | Eliza Schultz | Krista Dumont
Cloak & Dagger (Season 2): D'Spayre | Lia Dewan | Mayhem | Detective Connors
Agents of S.H.I.E.L.D. (Season 6): Pachakutiq | Shrike | Sarge's Squad (Sarge, Snowflake, Jaco & Pax) | Altarah | Malachi | Dr. Leopold Fitz
Jessica Jones (Season 3): Gregory Sallinger | Trish Walker | Dorothy Walker
Community content is available under
CC-BY-SA
unless otherwise noted.