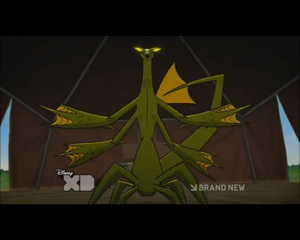 Buttermaker was the antagonist in the episode "Wave Slayers" in Randy Cunningham, Ninth Grade Ninja; the captain of the water ski team, he is a nice and friendly guy. Following Randy accidentally damaging his water ski, he was knocked off and was thus benched from the upcoming race, later that day. Overcome with grief and misery at what he though was his own failure, and letting his team down, he became the victim of the Sorcerer's magic, transforming him into a giant aquatic monster. In this form he tired to destroy the opposing Team in the race. Randy fought him, through the water, and although tough, he quickly managed to return Buttermaker back to normal. He then explained the reason for his grief and misery to Randy. Overcome with guilt, Randy managed to get Buttermaker back in the race, and thus allowed him to win. After the race, Randy confessed that it was him that was responsible, but Buttermaker forgave him (after flicking his ear, for breaking it).
Community content is available under
CC-BY-SA
unless otherwise noted.