Line 6:
Line 6:
 

==History==

 

==History==

 

{{Stub}}

 

{{Stub}}

 
+

==Gallery==

 
+

<gallery widths="154">

 
+

buzzard eggs 2.jpg|The Buzzard Eggs Apolonio,Inquisition , Roberto and Chamaco.

 
+

buzzard eggs 3.jpg|Inquisition and Primitive.

 
+

buzzard eggs 4.jpg

 
+

</gallery>

 

[[Category:Henchmen]]

 

[[Category:Henchmen]]

 

[[Category:Thugs]]

 

[[Category:Thugs]]

Line 20:
Line 26:
 

[[Category:Smugglers]]

 

[[Category:Smugglers]]

 

[[Category:Karma Houdini]]

 

[[Category:Karma Houdini]]

 
+

[[Category:Redeemed Villains]]

 
+

[[Category:Jerks]]
---
Revision as of 02:20, 11 September 2016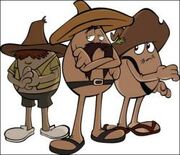 Buzzard Eggs (or simply Huevos de Zopilote) are tertiary antagonists from Another Egg and a Chicken Movie. All these are the minions of the Egg Witch and they all meet their orders in both their missions and tasks of collecting items for their spells acquisition.
Appearance
Basically are identified by wearing clothing style rancher or bricklayer, people like wing rural countryside in mexico , apparently they have a dark skin and others have elongated whiskers with straw hats, while others use desgatas shirts with ragged sandals
History
Jafar says: Read my lips and come to grips with the reality!


This article is a stub and is in need of expansion. You can help Villains Wiki by expanding it.                       
Gallery
Community content is available under
CC-BY-SA
unless otherwise noted.