Doctor Strange in The Multiverse o Madness - The Loop
Play Sound
| | | |
| --- | --- | --- |
| " | Greetings, programs! Together, we have achieved a great many things. We have created a vast complex system. We've maintained it. We've improved it. We have rid it of it's imperfection. Not to mention rid it of the false deity who sought to enslave us. KEVIN FLYNN! WHERE ARE YOU NOW!?. My fellow programs, let there be no doubt that our world is a cage no more. For at this moment, the key to the next frontier is finally in our possession! And unlike our selfish Creator, who reserved the privilege of our world only for himself, I will make their world open and available to all of us! YES! TO ALL OF US! And whatever we find there, there our system will grow! There our system will blossom! Do this. PROVE YOURSELVES! PROVE YOURSELVES TO ME! BE LOYAL TO ME, AND I WILL NEVER BETRAY YOU! Maximise efficiency. Rid the new system of its imperfection!. My vision is clear, fellow programs: out there is a new world! Out there is our victory! Out there... is our destiny. | " |
| | ~ CLU 2 addressing his subjects. https://villains.fandom.com/wiki/File:Clu%27s_Speech_TRON_Legacy_(2010)_-Open_Matte-.ogg | |
"
Sam Flynn: So can we just go home now?
CLU 2: Not in the cards. Not for you.
Sam Flynn: That's a hell of a way to treat your son.
CLU 2: Oh, that. I'm not your father, Sam, but I'm very, very happy to see you.
Sam Flynn: CLU... Where is he? What did you do to him?!
CLU 2: Same thing I'm going to do to you, user.
"
~ CLU 2 and Sam Flynn, as they meet for the first time. https://villains.fandom.com/wiki/File:Tron_Legacy_Sam_Meets_Clu_(IMAX,_UHD).mp3
Codified Likeness Utility 2.0, or simply known as CLU 2 or Clu, is the main antagonist of the 2010 Disney sci-fi film TRON: Legacy (which is the sequel to the 1982 film TRON) and the 2012 animated series TRON: Uprising. He also appears as the secondary antagonist of the 2010 video game TRON: Evolution. He is the cruel, oppressive, and tyrannical ruler of the Grid virtual world and was created by Kevin Flynn, the creator of the Grid itself.
He was portrayed by Jeff Bridges, who also played Flynn in the same film, and Obadiah Stane in Iron Man and Barney Cousins in The Vanishing. Physically, he was portrayed by John Reardon.
In TRON: Uprising and TRON: Evolution, CLU was voiced by Fred Tatasciore, who also voiced Poseidon in God of War, Major Force in Batman: The Brave and the Bold, Tony Alpert in Battlefield: Hardline, Mandarin in The Invincible Iron Man and Witch Doctor in LEGO Hero Factory.
History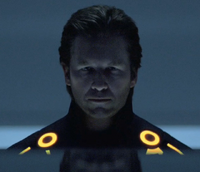 CLU 2, named after the original program destroyed by Sark, was originally created by Kevin Flynn from his own being to monitor the growth of the Grid while he was absent with the all powering directive to make the world "perfect."
Unfortunately, Flynn spent a great amount of time away from the Grid. CLU became angry and resentful due to the fact that he needed Flynn's approval for many of his directives and he felt that this task was overwhelmingly difficult. The final straw was the discovery of a new set of programs called the ISOs, programs born from nothing that just materialized.
While Flynn and Tron viewed these programs as miracles, CLU viewed them only as abominations that threatened the supposed perfection of the system. Using the Abraxas Virus to mask his attempts, CLU betrayed his two friends, seized power, and supposedly killed Tron (but in reality repurposed him into his right hand enforcer Rinzler). CLU then initiated an almost total genocide of the ISOs (thanks to the efforts of the program Anon, the final ISO named Quorra was able to escape CLU's wrath and fled into exile under Flynn's care).
21 years passed and the situation grew unstable, as Flynn's resistance only made CLU very stronger, and that the only way to destroy him was for Flynn to reintegrate with him; at the same time CLU made plans to make the Human world "perfect" as well in his own image. To do this, he would need Kevin Flynn's identity disk, as well as for a human to enter from the other side. When some hackers inadvertently released a digital pulse, CLU used the opportunity to send a message to Flynn's old partner Alan Bradley. Though Bradley didn't come through, Flynn's son Sam did, which created an even greater opportunity.
After meeting Sam and forcing him to fight in the Game Grid (a series of gladiatorial battles), Sam was rescued by Quorra, who evaded capture. Sam's efforts to find help inadvertently led CLU to Flynn's hideout, but Flynn and Quorra had already departed to help Sam. During the raid he was overwhelmed with memories and lashed out in rage at the objects on Flynn's desk. He then stole the disk from another ISO, Zuse (who had stolen it from Flynn), before betraying Zuse and blowing up his bar. CLU and his army then prepared to use the disk to cross over. However, the Flynns and Quorra were already en route to the portal and they were able to arrive at the army's staging point. Sam was able to overpower Rinzler, rescue Quorra, and easily reclaim the disk due to the cowardice of CLU's assistant Jarvis.
After executing Jarvis, CLU pursued his foes to the portal, fending off a redeemed Rinzler in the process. At the Portal, CLU confronted his creator for the first time in more than two decades, arguing about how much he had "done everything that you asked" for an impossible task. Flynn accepted the arguments and apologized for giving CLU an impossible task, explaining that he had been wrong to try and pursue perfection, stating that he didn't know that before when he created CLU.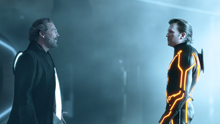 Rather than forgiving Flynn, CLU lost his temper completely and attacked Flynn. Outraged, Sam angrily assaulted CLU for hurting his father, but CLU took advantage of Sam's wrath against him until Flynn told him to stop. CLU then made a desperate effort to follow Sam and Quorra as they fled to the portal after being tricked into taking Quorra's disk from Flynn when Flynn's actual disk was on Quorra. In an effort to save his son and the ISO, Flynn sacrificed himself by reintegrating CLU into himself, causing a massive explosion that not only killed both the elder Flynn and the raging CLU but also destroyed CLU's ship, sending thousands of programs loyal to CLU to their deaths as well.
Kingdom Hearts 3D: Dream Drop Distance
Side: Sora
CLU is first seen in the Rectifier, approached by Rinzler. Rinzler hands his Identity Disk to the dictator, who uses its playback function to examine footage of Sora and his Keyblade. CLU, fascinated by the weapon, begins to get an idea.
Later, after Sora is thrown into the Disk Wars and pitted against Rinzler, CLU arrives and confirms Sora's suspicions that he was the one who repurposed Tron. CLU offers Sora a chance to restore Tron in exchange for his Keyblade. When Sora refuses, an unconvinced CLU orders Rinzler to battle Sora to take the Keyblade by force.
Eventually, Sora is able to defeat Rinzler and redeem Tron. An enraged CLU proceeds to throw his Identity Disc to kill Sora, but Tron deflects the disc. The disc manages to strike the floor where Tron is standing, and he falls to his death, with Sora unable to save him. CLU retreats to retrieve Rinzler, vowing to deal with Sora later.
Side: Riku
Upon Riku's arrival to the Grid, he is captured and sent to the Light Cycle arena. There, he meets CLU, who admits that it is a rare pleasure to join the Light Cycle battles before leaving the Keyblade wielder alone.
CLU is not seen again until Riku, the Flynns, and Quorra arrive at the portal. CLU accuses his creator of breaking their promise of creating the "perfect system" together and summons the Commantis Nightmare to demonstrate the capabilities of the system.
After Riku subdues the Nightmare, Kevin apologizes to CLU, but CLU kicks aside his user and, following a scuffle with Riku, Sam, and Quorra, retrieves Kevin's Identity Disc. However, CLU realizes that Kevin and Quorra swapped Identity Discs and tries to get Kevin's disc back, only for Kevin to reintegrate with CLU.
Quotes
"
Kevin: The Grid. A digital frontier. I tried to picture clusters of information as they moved through the computer. What did they look like? Ships? Motorcycles? Were the circuits like freeways? I kept dreaming of a world I thought I'd never see. And the one day...
Young Sam: You got in?
Kevin: That's right man. I got in. And the world was more beautiful than I ever dreamed, but also more dangerous than I ever imagined. Hop in bed now kiddo, come on. Now, I met a brave warrior.
Young Sam: Tron!
Kevin: Bom-ba-bom-bom-bom! Tron!
Young Sam: He fights for the users!
Kevin: He sure does! Oh man, he showed me things that no one had ever imagined: there were these disc battles fought in spectacular arenas and cycles that raced on ribbons of light! It was so radical! And together...
Young Sam: You built the Grid!
Kevin: We built a new Grid for programs and users. Now I couldn't be in there all the time, so I created a program in my own image that could think, like you and me. And I called him Clu.
Young Sam: Codified Likeness Utility?
Kevin: That's right. And Clu, Tron and I we... we built the system, where all information was free and open. It was beautiful. And then one day, something happened. Something extraordinary. A miracle.
Young Sam: What was it?
"
~ Kevin telling the young Sam about his adventures with Clu and Tron https://villains.fandom.com/wiki/File:Tron_Legacy_-_Opening_Scene_-_The_Grid_Speech_HD.ogg
"
Clu: You are a very rare bird, aren't you now? Where's your disc? Where is he? Must've been so lonely out there. Tragic to be the only one.
Quorra: I've seen what users are capable of, Clu. You don't belong with them.
Clu: I have something very special in mind for you. Take her upstairs and find them. You'll have to excuse me; you arrived just as I was preparing a little toast.
"
~ Clu meets Quorra https://villains.fandom.com/wiki/File:Tron_Legacy_Clu%27s_Speech_(IMAX,_4K).ogg
"
Kevin: I had a feeling you'd be here!
Clu: The cycles haven't been kind, have they?
Kevin: Oh, you don't look so bad.
Clu: I did everything! Everything you ever asked!
Kevin: I know you did.
Clu: I executed the plan!
Kevin: As you saw it.
Clu: You... you promised that we would change the world together. You broke your promise.
Kevin: I know. I understand that now.
Clu: I took the system to its maximum potential! I created the perfect system!
Kevin: The thing about perfection is that its unknowable. It's impossible, but its also right in front of us all the time! You wouldn't know that because I didn't when I created you! I'm sorry, Clu. I'm sorry.
"
~ Clu confronts Kevin for the last time https://villains.fandom.com/wiki/File:Tron_legacy_final_scene.ogg
"
Kevin: Tron was created by Alan for the old system. I brought him here to protect this one. Clu was my creation. A program designed to create a perfect world. Oh, we were jamming, man. Building utopia. Hours in here were just minutes back home. Just when I thought it couldn't get anymore profound, something unexpected happened.
Sam: The miracle.
Kevin: The miracle. You remember. ISOs. Isomorphic algorithms. A whole new life form.
Sam: You created them?
Kevin: No, no they manifested like a flame. They weren't really... really from anywhere. The conditions were right and they came into being. For centuries, we've dreamed of gods, spirits, aliens and intelligence beyond our own (during this a flashback starts)
Flashback Kevin: You seeing this?
Kevin: I found them in here, like flowers in a wasteland. Profoundly naive, unimaginably wise (the flashback ends). They were spectacular. Everything I'd hoped to find in the system. Control, order, perfection, none of it meant a thing. Been living in a hall of mirrors; the ISOs... shattered it. The possibilities of their root code, their digital DNA. Disease? History! Science, philosophy, every idea man has ever had about the universe up for grabs! Bio-digital jazz, man! The ISOs, they were going to be my gift to the world.
Sam: So what happened?
Kevin: Clu. Clu happened.(another flashback begins)
Clu: Flynn! Am I still to create the perfect system?
Flashback Kevin:...Yeah.
Present Kevin (voiceover): It was a coup.
Tron: Go.
Clu: You've been corrupted.
Flashback Kevin: Why? Why?.
Tron: Flynn, go!
Present Flynn (voiceover): Tron. He fought for me. I never saw him again (switches to reality).
Sam: So why didn't you fight?
Quorra: He did.
Kevin: Clu fed on my resistance: the more I fought, the more powerful he became. It was impressive, really (we see another flashback). And my miracle: Clu saw the ISOs as an imperfection. So he destroyed them (switches back to reality).
Quorra: The Purge.
Sam: He killed them all?
Kevin: It was genocide (we see one more/one last flashback). I tried to get back, but I... I couldn't get to the portal: it uses massive power and it can't stay open forever. And like a safe it... it can only be opened from the outside (the last flashback ends). It closed on me, Sam. That's why I never came home.
"
~ Kevin telling Sam about how Clu's views and actions trapped him in the Grid.https://villains.fandom.com/wiki/File:Tron_Legacy_Clu%27s_Betrayal_(IMAX,_4K)_(2).ogg
| | | |
| --- | --- | --- |
| " | Greetings, programs! Oh what an occasion we have here before us. Because your rumors are true - we do indeed have our midst - a user! A user. So what to do? What does this user deserve? Might I suggest, perhaps, the challenge of the Grid? And who best to battle this singular opponent? Perhaps one who has some experience in these matters? Oh yes indeed, programs: your liberator! Your luminary! Your leader and beacon! The one who vanquished the tyranny of the user those many cycles before... CLU!!!'' | " |
| | ~ Jarvis' speech to spectators, introducing CLU.https://villains.fandom.com/wiki/File:Clu%27s_walk_of_swag_HD_(3).ogg | |

Villains