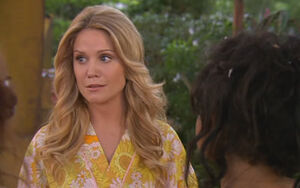 Caitlyn McNabb is the main antagonist in the 2010 ABC Family Original Movie Revenge of the Bridesmaids.
She was portrayed by Virginia Williams.
Biography
Caitlyn McNabb, Abigail Scanlon, Parker Wald and Rachel Phipps were all best friends growing up. However, being the spoiled rich girl, Caitlyn was the ringleader of the group, so whatever she did, everyone did. It was that way all through high school. Now, as adults, it turns out that Caitlyn is no longer their friend; not only that, but she is engaged to Rachel's ex-boyfriend, Tony. So as to add insult to injury, she is supposedly pregnant with Tony's child, which is why they are getting married. Abigail, Parker and Rachel are determined to stop the wedding, but meet resistance from Caitlyn herself, as well as her mother Olivia, who is also her wedding planner. Later on, the girls discover that Caitlyn is not pregnant, and that it was all a ruse in order to marry Tony for his money. They then kidnap Caitlyn and take her to the hospital for a pregnancy test and trick her into admitting the truth. At the wedding, the girls force Caitlyn to reveal the truth, and Tony dumps her by pretending to have lost all his money. A humiliated Caitlyn cancels the wedding and flees the scene.
Community content is available under
CC-BY-SA
unless otherwise noted.