We're Getting Mutants in the MCU - The Loop
Play Sound
| | | |
| --- | --- | --- |
| " | Just so we understand each other. The Calendar Man is being forgotten. I can't have that. | " |
| | ~ Calendar Man | |
| | | |
| --- | --- | --- |
| " | You're too late! You can't stop the seasons turning! | " |
| | ~ Calendar Man in DC Rebirth. | |
Julian Gregory Day, also known as the Calendar Man, is a supervillain from the DC Comics universe. An enemy of Batman, he is a criminal who is fixated on calendars, dates, and holidays, and thus commits crimes themed around them, usually on the specific holidays.
Biography
Calendar Man is obsessed with dates and calendars. His crimes always have a relationship to the date that they are committed. The theme may be related to what day of the week it is or to a holiday or to a special anniversary on that date; he will plan his crime around that day. He often wears different costumes which correspond to the significance of the date, though he does have a main costume which has various numbers (meant to represent days on a calendar) sprouting from the shoulders.
After his first appearance, in which his crimes were based on the seasons of the year, his next appearance was in Batman #312 (June 1979), where his crimes were based on the days of the week, and his costumes reflected the Norse and Roman gods they were named for, i.e. Saturn.
The hunt for him proves dangerous for Batman considering a confrontation on Thursday led to him being hit with Calendar Man's ultrasonic sound weapon and almost killed, forcing him to convalesce in bed for days while the supervillain committed his Friday and Saturday crimes without serious opposition. On Sunday, knowing that the police would be waiting for him to attempt to steal an artifact of the Egyptian God of the Sun, Ra, he planned to leave the city instead on a train called the Western Sun Express. Fortunately, Batman realized this move and captured him at the train station before he boarded. This issue also marked the first appearance of his most commonly known "calendar cape" costume.
His next appearance in Batman #384-385 (June–July 1985) and Detective Comics #551 (June 1985), sees the Calendar Man at the onset of the Crisis being used as a pawn of the Monitor in an attempt to find someone to potentially eliminate the Batman for profit. In this instance, the Calendar Man's theme is holidays, and he attempts to use the young Jason Todd, as Robin, as the Batman's Achilles' heel with the promise of his demise on the first day of Spring, but it is ultimately Robin who is responsible for his defeat.
Calendar Man's crimes are generally petty and often ridiculous in nature with unnecessary flashiness. For instance, at the conclusion of Day's week spree, he took the time to needlessly change into his calendar cape costume at the train station even while Batman was in hot pursuit. As such, he is notorious among both heroes and villains alike for being something of a joke. Consequently, his post-Crisis appearances have been few and far between. He was once recruited by Killer Moth to form the villain team known as "The Misfits".
In Comic
Batman: The Long Halloween
His best-known latter day appearance is in the miniseries Batman: The Long Halloween, where he is portrayed as a Hannibal Lecter-like figure, offering insight in Batman's search for Holiday, a serial killer who uses holidays as his modus operandi. Like Lecter in The Silence of the Lambs, Calendar Man knows who the killer is and keeps this information to himself, choosing instead to taunt the heroes with cryptic clues. He returns in that story's sequel, Batman: Dark Victory. In both stories, he is bitter that the new murderous rogues have taken the attention off him; Day fears that he is being forgotten. To that end, he tries to drive the Holiday Killer, Alberto Falcone, to suicide by pretending to be Falcone's recently deceased father Carmine, but Alberto figures out the ruse.
Calendar Man is severely injured by Sofia Falcone near the end of Dark Victory, described as being barely alive and having his jaw broken.
Batman: Shadow of the Bat
Calendar Man is also known for teaming up with Catman and Killer Moth as part of The Misfits, a group of third-rate villains trying to prove themselves, in Batman: Shadow of the Bat #7-9 (1992–1993). Also, he is among the Arkham Asylum inmates freed by Bane in Batman: Knightfall, but he is easily recaptured by Power Girl shortly after his escape.
Team Titans
He appears in Team Titans #14 (November 1993). He and several other time-based villains, including Time Commander, fight the title's heroes over a valued hourglass.
All the Deadly Days
Day appears in the third issue of the 80 Page Giant Batman Special Edition (July 2000) entitled "All the Deadly Days". He has acquired a new high-tech costume, and moves up to more grandiose crimes.
Superman: Arkham
Day makes an appearance in the alternate reality story Superman: Arkham (beginning in Superman Vol. 2 #160). As the story begins, the Joker has recently stolen the reality-altering powers of Superman's enemy Mr. Mxyzptlk. In the warped planet Earth created by the Joker, Superman is a prisoner of Arkham Asylum, in the custody of warden Solomon Grundy and his assistant Calendar Man. Day's appearance is carried over from his revitalization in Batman: The Long Halloween and Batman: Dark Victory.
Harley Quinn
Day appears in Harley Quinn's series, as an inside informant to the fugitive.
New 52
In books of The New 52, a reboot of the DC Comics universe, the character appears as a lifestyle reporter in a series of backup stories called "Channel 52". In one, he claims to have kept up a video diary out of scavenged materials because basic human civilization has fallen and Day fears nobody else will be recording the day-to-day events.
DC Rebirth
In the books of DC Rebirth, Calendar Man's body ages and rejuvenates according to the seasons.
Batman Beyond
An older Calendar Man appears in the Batman Beyond comic book arc "Hush Beyond" (which is set on Earth 12 in the DC Multiverse). From his wheelchair, he builds a greeting card rigged to explode, intending to kill Commissioner Gordon. Batman arrives to stop him, only to be confronted by Hush. Hush mentions that Batman's "true family" is his many enemies and he plans to destroy it. He then proceeds to kill Calendar Man.
In Other Media
Batman: Brave and the Bold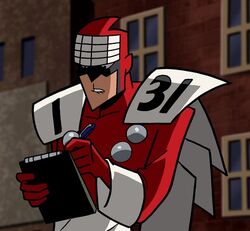 The Batman: Brave and the Bold version of Calendar Man appears in the story "Last Christmas!". In this show, he is voiced by Jim Piddock.
He plans a Christmas crime, only to encounter Batman. When a zeta beam teleports Batman away, he claims it to be a Christmas Miracle, minutes before Earth is destroyed. After Batman and Adam Strange restore Earth, Batman proceeds to easily defeat Calendar Man.
In the episode "Legends of the Dark Mite" Bat-Mite keeps bringing in powerful opponents or Batman to fight. However, Batman tricks him into bringing in Calendar Man. However, after seeing how weak and short of a fight it was, Bat-Mite gives Calendar Man powers to summon holiday monsters has biker Santa's and monster bunnies. After defeating most of his monsters Batman catches him off guard and knocks him out. Bat-Mite then teleports him away.
In the episode "Mayhem of the Music Meister", he is one of the singing prisoners in Arkham Asylum. In the episode "A Bat Divided", he makes a cameo in a bar where Batman villains hang out.
52
In Week 20 of the weekly series 52, a radio broadcasts a message saying that Calendar Man was left tied up for the cops in Gotham City, even though there is no Batman. It is revealed the new heroine Batwoman was responsible for his capture.
Injustice: Gods Among Us
Calendar Man appears in the prequel to Injustice: Gods Among Us. In Chapter Fifteen, he is frustrated when Robin does not recognize him, and attempts to remind Wonder Woman of an encounter they had where she broke one of his ribs as she thwarted a crime he was attempting to commit, and becomes despondent when she only glares at him. In Chapter Sixteen, he takes part in Harley Quinn's riot and helps Killer Croc hold Batman down as the Riddler prepares to crush his skull with a large rock, but Batman breaks free thanks to Green Arrow. Calendar Man is next seen fighting Nightwing, but is easily held back by the hero. Calendar Man is last seen among the inmates who sorrowfully watch Batman carry Nightwing's body out of the Asylum.
Holy Musical B@tman
In this musical he robs a TGI Fridays for its funny wall pictures. Batman and Robin quickly defeat him. He uses many holiday puns.
The LEGO Batman Movie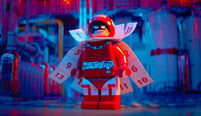 Calendar Man appears as a villain in The LEGO Batman Movie.
Batman: Arkham Origins
Main article: Calendar Man (Arkhamverse)
He is first shown in a news report showing him being captured by Batman and sent to Blackgate Peninentiary on death row. Batman later passes by his cell where he has holiday crime plans and dates listed. Black Mask (Joker in disguise) and Killer Croc later find him about to be executed by Commissioner Loeb and release him.
Batman: Arkham Asylum
Calendar Man doesn't appear in the game Batman: Arkham Asylum. One of the Riddler's riddles revolves around him. His cell has scattered calendar pages in it.
He has an entry in the Character Bios. His profile states: Fixated on the calendar, Julian Day became Calendar Man, a villain who timed and tied his crimes thematically to certain holidays throughout the year, often leaving clues by which he could be caught. Gotham City's hopes for a day off are often clouded by the knowledge that any holiday of note is likely to be shadowed by Calendar Man's presence.
Batman: Arkham City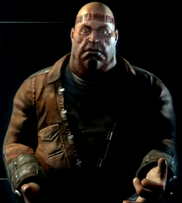 While Batman was in the Courtroom he comes across Calendar Man in a cell. If he decides to talk to Calendar Man on twelve certain days, one on each month, he tells a spooky story on what crime he committed on that day. After he told all twelve crimes, Calendar Man somehow managed to escape and has murdered someone.
List of crimes
Set fire to a crowded ballroom with a flamethrower on New Year's Day (January).
Smothered a woman on Valentine's Day (February).
Poisoned his gang's beer with snake venom on St. Patrick's Day (March).
Cut the breaks on a woman's car on April Fools' Day (April).
Killed his mother on Mother's Day (May).
Killed and dismembered his father on Father's Day (June).
Tried to escape Arkham by littering his cell in bombs on Independence Day. Batman stopped him before he could escape, but the fire killed and injured several people of the asylum (July).
Released armies of dogs infected with rabies upon Gotham to spread the disease and kill the citizens on St. Roch's Day (August).
Drove a bulldozer through the Gold Exchange, released lions, bulls, and wild boars upon Gotham, and nearly destroyed a maternity ward, all on Labor Day (September).
Participated in the Joker's major asylum outbreak on Halloween (October).
Broke into a random family's house and slaughtered all of them on Thanksgiving (November).
Strangled a Santa Claus before stealing his suit and fatally hanging Gotham's judge with festive light cords on Christmas (December).
Batman: Arkham Knight
On Labor Day, Calendar Man murdered several people inside the Campbell Calendar Company, part of a plan to draw out Batman. The Arkham Knight had given him Electrocutioner's gauntlets to disable Batman's communications. To Batman's great surprise, Calendar Man had gathered seven clones of Solomon Grundy, named after each day of the week, whom Calendar Man claimed to have created. Over the week it took Batman to defeat all of the creatures, Calendar Man had kidnapped a newborn baby.
He then gave the exhausted Batman a list of names and told him that those people had been poisoned and had 24 hours to live. He instructed Batman to save them all and then return to him. If Batman failed to save all of the people on the list or brought any of his allies with him when he returned, Calendar Man would execute the baby. The listed citizens were saved but before Batman returned as ordered, the Scarecrow visited Julian to dissuade him of his attempt to kill Batman. Grudgingly, Calendar Man relented and gave up the baby without a fight.
Before Knightfall Protocol that destroyed Wayne Manor and presumably killed the Batman was activated, Calendar Man could be seen hiding among the crowd, witnessing Batman's presumed death and fulfilling his vow that he would witness the whole life of the Dark Knight.
Harley Quinn (TV series)
Calendar Man appear DC Universe's adult animation series Harley Quinn.
The Suicide Squad
Calendar Man makes a brief cameo in The Suicide Squad where he is seen making fun of Polka Dot Man alongside Double Down.
He was portrayed by Sean Gunn who also played Kraglin Obfonteri in the Guardians of The Galaxy films and Weasel in the same film.
Trivia
In The New Batman Adventures, the creators created a female version of Calendar Man, named Calendar Girl.

Villains
Comics
2-Face-2 | Abraham Langstrom | Alfred Protocol | Alfred Stryker | Alice | Amanda Waller | Amygdala | Anarky | An Innocent Guy | Ares | Arkham Knight | Arnold John Flass | Azrael | Baby Doll | Bane | Barbatos | Bat-Mite | The Batman Who Laughs | Black Glove | Black Mask | Blockbuster I | Blockbuster II | Brain | Broker | Brother EYE | Bruno | Calculator | Calendar Man | Castle Bat | Captain Fear | Captain Boomerang | Carmine Falcone | Catman | Catwoman | Cheetah | Cheshire | Circus of Strange | Clayface | Clayface (Matt Hagen) | Claything | Clock King | Clownface | Club of Villains | Cluemaster | Composite Superman | Condiment King | Copperhead | Cornelius Stirk | Court of Owls | Crazy Quilt | Crime Doctor | Curtis Base | Dark Archer | David Cain | David Li | Dark Knights | Deacon Blackfire | Deadshot | Dealer | Deathstroke | Dick Grayson (DC vs Vampires) | The Dawnbreaker | The Devastator | Dr. Crane | Doctor Death | Doctor Double X | Doctor Phosphorus | Doctor Randolph Porter | Donna Troy | Dr. Silversmith | The Drowned | Electrocutioner | Emperor Penguin | Enigma | Ernie Chubb | Faceless | Falcone Crime Family | Film Freak | Firebug | Firefly | Flamingo | Floronic Man | Gearhead | General Ulysses Armstrong | Gilda Dent | Gorilla Boss | Gotham City Police Department | Gillian B. Loeb | Great White Shark | The Grim Knight | Harley Quinn | Holiday | Holly Robinson | Humpty Dumpty | Hugo Strange | Hush | Instigator | Jack the Ripper | James Gordon, Jr. | Jason Todd | Jeremiah Arkham | Joe Chill | Joker (Earth-22, 2008 Graphic Novel) | Judge of Owls | Joker's Daughter | Key | KGBeast | King of Cats | King Snake | King Tut | Killer Croc | Killer Moth | Kite Man | Lady Shiva | League of Assassins | Leviathan | Lex Luthor | Lock-Up | Lord Death Man | Mad Hatter | Mad Monk | Magpie | Malochia | Man-Bat | Mary Keeny | Maxie Zeus | Maxwell Lord | The Merciless | Merrymaker | Micheal Atkins | Monk | Mr. Bloom | Mr. Freeze | Mrs. Freeze | Mayor Oswald Cobblepot | Mr. Toad | Mr. Whisper | Mutants | Neo Joker | Neron | New Joker | Nightslayer | Nocturna | Omega | Onomatopoeia | Orca | Outsider | Owlman | Phantasm | Penguin | Penny Plunderer | Phosphorus Rex | Planet Master | Poison Ivy | Polka Dot Man | Professor Arnold Hugo | Professor Pyg | Prometheus | Punchline | Ra's al Ghul | Ragdoll | Ratcatcher | Reaper | Red Death | Reverse-Flash | Riddler | Robin King | Roland Daggett | Roxy Rocket | Royal Flush Gang | Rupert Thorne | Saint Batman | Sal Maroni | Scarecrow | Sensei | Sewer King | Signalman | Simon Hurt | Sinestro | Snowman | Solomon Grundy | Spellbinder | Squid | Steeljacket | Suicide Squad | Talia al Ghul | Talon | Tally Man | Ten Eyed Man | Terrible Trio | Thomas Wayne | Tiger Shark | Timecode | Tony Zucco | Tweedledum and Tweedledee | Two-Face (Earth-2) | Ubu | Vandal Savage | Ventriloquist | Ventriloquist II | Ventriloquist III | Vertigo | Victor Zsasz | Whisper A'Daire | White Rabbit | Wrath | The Wonderland Gang | Zebra-Man
Theatrical Movies
Batman (1966): Penguin | Catwoman | Joker | Riddler
Batman (1989): Joker | Joker Goons (Bob Hawkins) | Alicia Hunt | Carl Grissom | Max Eckhardt | Vinnie Ricorso | Joe Chill | Harvey Dent
Batman Returns: Penguin | Red Triangle Circus Gang (Organ Grinder, Poodle Lady, Tattooed Strongman, Stungun Clown, Thin Clown, Fat Clown, Sword Swallower, Knifethrower Dame & Fire Breather) | Max Shreck | Catwoman
Batman: Mask of the Phantasm: Phantasm | Joker | Salvatore Valestra | Arthur Reeves | Chuckie Sol | Buzz Bronski
Batman Forever: Riddler | Two-Face | Sugar | Spice | NygmaTech (Frogmen) | Neon Gang (Neon Gang Leader) | Salvatore Maroni
Batman & Robin: Poison Ivy | Mr. Freeze | Bane | Snowy Cones Thugs | Golums | Jason Woodrue
Batman Begins: Ra's al Ghul | League of Shadows (Ra's Decoy) | Scarecrow | Falcone Crime Family (Carmine Falcone, Victor Zsasz, & Arnold Flass) | Joe Chill
The Dark Knight: Joker | Joker's Thugs (Thomas Schiff, Chuckles, Kilson, Happy, Dopey, Grumpy & Bus Driver) | Two-Face | Sal Maroni | The Chechen | Gambol | Lau | Bank Manager | Michael Wuertz | Burmese Bandit
The Dark Knight Rises: League of Shadows (Bane, Talia al Ghul & Barsad) | Catwoman | John Daggett | Phillip Stryver | Ra's al Ghul | Scarecrow
Batman v Superman: Dawn of Justice: Lex Luthor | Doomsday | Anatoli Knyazev | Mercy Graves | Cesar Santos | Amajagh | Joe Chill | Zod | Joker | Steppenwolf
Suicide Squad: Eyes of the Adversary (Enchantress & Incubus) | Suicide Squad (Deadshot, Harley Quinn, Captain Boomerang, El Diablo, Killer Croc, Slipknot & Amanda Waller) | Joker's Gang (Joker, Jonny Frost, Panda Man & Monster T) | Griggs
The Lego Batman Movie: Joker | Harley Quinn | Phantom Zone Criminals (Zod, Sauron, Kraken, Lord Voldemort, Agent Smith, Jaws, Gremlins, Medusa, Lord Vampyre, Wicked Witch of the West, Flying Monkeys, The Swamp Creature & Daleks) | Catwoman | Poison Ivy | Two-Face | Bane | Riddler | Salvatore Maroni
Joker: Clowns (Joker, Clown & Ambulance Clown) | Penny Fleck | Wall Street Three | Penny Fleck's Boyfriend
The Batman (2022): Riddler | Falcone Crime Syndicate (Carmine Falcone, Penguin, William Kenzie, Vinnie, & The Twins) | Catwoman | Salvatore Maroni | Riddler's Cult | Pete Savage | Gil Colson | Don Mitchell Jr. | Train Gang | Joker
Direct-to-video Movies
Batman & Mr. Freeze: SubZero: Mr. Freeze | Dr. Gregory Belson
Batman Beyond: Return of the Joker: Joker | The Jokerz (Chucko, Dee-Dee, Ghoul, Bonk, & Woof) | Harley Quinn
Batman: Mystery of the Batwoman: Penguin | Bane | Rupert Thorne | Carlton Duquesne
The Batman vs. Dracula: Dracula | Penguin | Joker
Superman/Batman: Public Enemies: Lex Luthor | Major Force | Metallo | Amanda Waller | Toyman | Solomon Grundy | Gorilla Grodd | Killer Frost | Lady Shiva | Giganta | Mongul | Captain Cold
Batman: Under the Red Hood: Jason Todd | Joker | Black Mask | Ra's al Ghul | Riddler | Ms. Li
Superman/Batman: Apocalypse: Darkseid | Female Furies (Granny Goodness, Gilotina, Mad Harriet, Lashina & Stompa) | Doomsday
Batman: Year One: Batman | Gotham City Police Department (Commissioner Loeb, Arnold John Flass, & Howard Branden) | Falcone Crime Family (Carmine Falcone & Johnny Viti) | Catwoman | Joker
Batman: The Dark Knight Returns: Batman | Joker | Mutant Leader | Ellen Yindel | Harvey Dent | Selina Kyle | Bruno
Son of Batman: Deathstroke | League of Assassins (Ra's al Ghul & Talia al Ghul) | Ubu | Killer Croc | Man-Bats
Batman: Assault on Arkham: Suicide Squad (Amanda Waller, Deadshot, Harley Quinn, Captain Boomerang, Killer Frost, King Shark, Black Spider, KGBeast) | Joker | Riddler | Penguin | Scarecrow | Victor Zsasz | Bane | Two-Face | Poison Ivy
Lego DC Comics: Batman Be-Leaguered: Bat-Mite | Lex Luthor | Joker | Penguin | Man-Bat | Captain Cold | Black Manta
Batman vs. Robin: Court of Owls (Samantha Vanaver, Talon, Owls Lieutenant, & Talon Warriors) | Dollmaker
Batman Unlimited: Animal Instincts: Animalitia (Penguin, Killer Croc, Man-Bat, Cheetah & Silverback)
Batman Unlimited: Monster Mayhem: Joker | Scarecrow | Clayface | Silver Banshee | Solomon Grundy
Batman: Bad Blood: League of Assassins (Talia al Ghul, The Heretic, Onyx, Firefly, Tusk, Mad Hatter, Electrocutioner, Hellhound, Calculator, & Killer Moth) | Black Mask
Batman: The Killing Joke: Joker | Vinnie & Joe | Paris Franz
Batman Unlimited: Mechs vs. Mutants: Penguin | Mr. Freeze | Cheetah | Hush | Mad Hatter | Two-Face | Bane | Chemo | Killer Croc | Clayface | Joker | Dr. Kirk Langstrom
Batman: Return of the Caped Crusaders: Joker | Penguin | Riddler | Catwoman | Archer | Black Widow | Bookworm | Clock King | Egghead | False Face | King Tut | Louie the Lilac | Mad Hatter | Minstrel | Mr. Freeze | Sandman | Shame | Siren
Batman and Harley Quinn: Harley Quinn | Poison Ivy | Floronic Man
Batman vs. Two-Face: Two-Face | Hugo Strange | Catwoman | King Tut | Bookworm | Joker | Penguin | Riddler | Clock King | Egghead | Mr. Freeze | Shame | Harley Quinn
Scooby-Doo! & Batman: The Brave and the Bold: Riddler | Clayface | Joker | Mr. Freeze | Catwoman | Penguin | Harley Quinn | Poison Ivy
Batman: Gotham by Gaslight: Jack the Ripper | Barbara-Eileen Gordon | Selina Kyle | Harvey Dent | Hugo Strange
Batman Ninja: Joker | Harley Quinn | Catwoman | Gorilla Grodd | Bane | Penguin | Poison Ivy | Deathstroke | Two-Face
Batman vs. Teenage Mutant Ninja Turtles: Foot Clan (Shredder & Baxter Stockman) | League of Assassins (Ra's al Ghul & Ubu) | Joker | Penguin | Harley Quinn | Mr. Freeze | Scarecrow | Two-Face | Poison Ivy | Bane
Batman: Hush: Riddler/Hush | Catwoman | Poison Ivy | Bane | Joker | Harley Quinn | Clayface | Scarecrow | Lex Luthor | Lady Shiva | Two-Face | Penguin | Mr. Freeze | Thomas Elliot
Batman: Death in the Family: Jason Todd | Joker | Black Mask | Ra's al Ghul | Riddler | Talia al Ghul | Cheetah | Two-Face
Batman: Soul of the Dragon: Nāga | Kobra (Jeffery Burr, Schlangenfaust, Lady Eve, King Snake & Rip Jagger) | Ben Turner | Shiva | Richard Dragon | Jade
Batman: The Long Halloween: Holiday | Falcone Crime Family (Carmine Falcone, Milos Grapa, Alberto Falcone, Johnny Viti, & Sofia Falcone) | Two-Face | Joker | Solomon Grundy | Salvatore Maroni | Poison Ivy | Penguin | Scarecrow | Mad Hatter | San Ho Hui (Mickey Chen) | Calendar Man | Catwoman

Television
Batman 60s show
Joker | Penguin | Catwoman | Riddler | Mr. Freeze | The Archer | Black Widow | Bookworm | Egghead | Clock King | Queenie Goldstein | Sandman | Dr. Cassandra Spellcraft | Cabala | Minstrel | Shame | False Face | The Siren | Undine | Chandell & Harry | King Tut | Louie the Lilac | Mad Hatter | Cornelia | Baby Jane Towser | Lydia Limpet | Zelda the Great | The Puzzler | Olga, Queen of Cossacks | Marsha, Queen of Diamonds | Lord Marmaduke Ffogg | Lady Penelope Peasoup | Ma Parker | Freddy the Fence | Lola Lasagne | Nora Clavicle | Colonel Gumm | Minerva | Killer Moth | Calamity Jan
1970s Filmation series
Joker | Catwoman | Penguin | Riddler | Clayface | Mr Freese | Sweet Tooth
Batman: The Animated Series and The New Batman Adventures
Joker | Two-Face | Harley Quinn | Penguin | Catwoman | Rupert Thorne | Riddler | Poison Ivy | Scarecrow | Mad Hatter | Killer Croc | Clayface | Ra's al Ghul | Mr. Freeze | Man-Bat | Ventriloquist and Scarface | Roland Daggett | Clock King | Bane | Hugo Strange | Lloyd Ventrix | Kyodai Ken | Baby Doll | Emile Dorian | Red Claw | Boss Biggis | Sewer King | Talia al Ghul | Maxie Zeus | Lock-Up | Professor Milo | Count Vertigo | Daniel Mockridge | Grant Walker | Gil Mason | Arkady Duvall | Ferris Boyle | Arnold Stromwell | Tony Zucco | H.A.R.D.A.C. | Randa Duane | Batman Clone | Calendar Girl
The Batman (2004)
Joker | Penguin | Bane | Catwoman | Mr. Freeze | Ethan Bennett | Killer Croc | Man-Bat | Firefly | Riddler | Punch & Judy | Kabuki Twins | Hugo Strange | Cluemaster | Ragdoll | Temblor | Poison Ivy | Tony Zucco | Count Vertigo | Harley Quinn | Maxie Zeus | Clayface | Gearhead | Francis Grey | Killer Moth | D.A.V.E. | Dracula | Rumor | Toyman | Mirror Master | Lex Luthor | Black Mask | Sinestro | Joker 2.0 | Prank | Killgore Steed | Team Penguin | Julie | Spellbinder | Blaze | The Joining | Cosmo Krank | Marty Slacker | Scorn | Wrath | Metallo | Shadow-Thief
Batman: The Brave and The Bold
Joker | Music Meister | Catwoman | Penguin | Mr. Freeze | Clayface | Riddler | Poison Ivy | Lex Luthor | Flower Children | Harley Quinn | Morgaine Le Fey | Sweet Tooth | Queenie Goldstein | Bane | Kite Man | Black Manta | Gentleman Ghost | Major Force | Mirror Master | Metallo | Brainiac | Flamingo | Mxyzptlk | Toyman | Thinker | Doctor Sivana | Mister Mind | Black Adam
Beware the Batman
Anarky | Ra's al Ghul | Deathstroke | Harvey Dent | Killer Croc | Simon Stagg | Professor Pyg and Mr. Toad | Man-Bat | Cypher | Magpie | Lady Shiva | Tobias Whale | Phosphorus Rex | Lunkhead | Humpty Dumpty | Silver Monkey | Key | Bethany Ravencroft | Daedalus Boch | Junkyard Dog | Sapphire Stagg | Matatoa | Anatol Mykros
Harley Quinn
Harley Quinn | Poison Ivy | Joker | Scarecrow | Queen of Fables | Darkseid | Parademons | Penguin | Mr. Freeze | Bane | Lex Luthor | Killer Croc | Man-Bat | Riddler | Deadshot | Calendar Man | Condiment King | Solomon Grundy | Kite Man | Doctor Psycho | Clayface | King Shark | Nora Fries | Sy Borgman | Doctor Trap | Frank the Plant | Felix Faust | Toyman | Metallo | Livewire | Parasite | Black Adam | Captain Cold | Gorilla Grodd | Black Manta | Cheetah | Giganta | Sinestro | Maxie Zeus | Eris | KGBeast | Two-Face | Catwoman | Nick Quinzel | Sharon Quinzel | Suicide Squad (Amanda Waller) | Clock King | Firefly | Court of Owls
Video Games
LEGO Batman
Joker | Penguin | Riddler | Harley Quinn | Catwoman | Two-Face | Bane | Clayface | Killer Croc | Killer Moth | Mad Hatter | Man-Bat | Mr. Freeze | Poison Ivy | Scarecrow | Ra's al Ghul | Hush
Lego Batman 2: DC Super Heroes
Joker | Lex Luthor | Harley Quinn | Riddler | Two-Face | Catwoman | Bane | Penguin | Poison Ivy | Scarecrow | Captain Boomerang | Clayface | Mad Hatter | Ra's al Ghul | Killer Croc | Bane | Killer Moth | Mr. Freeze | Man-Bat | Hush | Zod | Sinestro | Brainiac | Gorilla Grodd | Captain Cold | Black Manta | Black Adam | Bizarro
Lego Batman 3: Beyond Gotham
Brainiac | Joker | Lex Luthor | Cheetah | Solomon Grundy | Firefly | Killer Croc | Sinestro | Atrocitus | Larfleeze | Star Sapphire | Composite Superman | Bane | Arkillo | Condiment King | Music Meister | Captain Cold | Black Adam | Black Manta | Black Hand | Bronze Tiger Cyborg Superman | Deadshot | Deathstroke | Lobo | Dex-Starr | Doomsday | Gorilla Grodd | Harley Quinn | Hush | Kalibak | Killer Moth | Man-Bat | Mad Hatter | Manchester Black | Metallo | Mr. Freeze | Mr. Mxyzptlk | Parasite | Penguin | Poison Ivy | Polka Dot Man | Red Hood | Riddler | Toyman | The Trickster | Ultra-Humanite | Catwoman | Bizarro | Amanda Waller | Captain Boomerang | El Diablo | King Shark | Killer Frost | Plastique | Terra | Zod | Faora | Joker | Two-Face | Ra's al Ghul | Bane | Catwoman | Scarecrow | Blight | Joker | Mr. Freeze | Arrow Deathstroke | Malcolm Merlyn | Darkseid
Injustice
Superman | Wonder Woman | Yellow Lantern | The Flash | Aquaman | Nightwing | Cyborg | Raven | Solomon Grundy | Catwoman | Bane | Black Adam | Deadshot | Poison Ivy | Scarecrow | Joker | Deathstroke
See Also
Arkhamverse Villains | Batgirl Villains | Batman Beyond Villains | Batwoman Villains | Birds of Prey Villains | Catwoman Villains | Gotham Villains | Harley Quinn Villains | Nightwing Villains | Outsiders Villains | Red Hood Villains | Robin Villains | Telltalle Batman Villains

Villains
Comics
Amanda Waller | Bane | Basilisk | Black Adam | Black Manta | Black Mask | Black Spider | Blackguard | Bloodsport | Brainiac | Bronze Tiger | Captain Boomerang | Captain Cold | Cheetah | Chemo | Chronos | Clock King | Copperhead | Count Vertigo | Crime Syndicate of America | Darkseid | Deadshot | Deathstroke | Doomsday | Doctor Light | Eclipso | The Enchantress | Electrocutioner | Female Furies | Gentleman Ghost | Giganta | Harley Quinn | Heat Wave | James Gordon, Jr. | Javelin | Joker | Joker's Daughter | KGBeast | Killer Croc | Killer Frost | King Shark | Klarion | Kobra Cult | Lobo | Magpie | Major Disaster | Major Force | Man-Bat | Manchester Black | Manhunters | Master Jailer | Match | Mindboggler | Nocturna | Orca | Owlman | Parademons | Parasite | Plasmus | Plastique | Poison Ivy | Professor Zoom | Punch and Jewelee | Shrapnel | Solomon Grundy | Starro | Suicide Squad | Talon | Tattooed Man | Thinker | Ultraman | Vandal Savage | Weasel | Zebra-Man | Zod
Movies
Suicide Squad: Eyes of the Adversary (Enchantress & Incubus) | Suicide Squad (Deadshot, Harley Quinn, Captain Boomerang, El Diablo, Killer Croc, Slipknot & Amanda Waller) | Joker's Gang (Joker, Jonny Frost, Panda Man & Monster T) | Griggs
Suicide Squad: Hell To Pay: Professor Zoom | Suicide Squad (Amanda Waller, Deadshot, Harley Quinn, Captain Boomerang, Bronze Tiger, Copperhead, Punch, Jewelee, & Count Vertigo) | Killer Frost | Blockbuster | Silver Banshee | Vandal Savage | Scandal Savage | Professor Pyg | Tobias Whale | League of Assassins (Deathstroke) | Two-Face
The Suicide Squad: The Thinker | Starro | Silvio Luna | Corto Maltese Armed Forces (Mateo Suarez & Vera) | Suicide Squad (Bloodsport, Ratcatcher 2, Harley Quinn, Peacemaker, King Shark, Polka Dot Man, Captain Boomerang, Blackguard, Mongal, Javelin, The Detachable Kid, Weasel, Savant & Amanda Waller) | Kaleidoscope | Calendar Man | Double Down | Karma | Ratcatcher | Polka Dot Man's Mother | Bloodsport's Father
See Also
Harley Quinn Villains | Peacemaker Villains
Villains
Comics
Amanda Waller | Basilisk | Black Mask | Bud and Lou | Catwoman | Calendar Man | Clock King | Dark Knights | Deadshot | Egg Fu | The Enchantress | Female Furies | Floronic Man | Gotham Sirens | Granny Goodness | Harley Quinn | Hugo Strange | James Gordon, Jr. | Joker | Joker's Daughter | King Shark | Lord Death Man | Mercy Graves | Penguin | Poison Ivy | Punchline | Riddler | Scarecrow | Sportsmaster | Suicide Squad | Two-Face | Zod
Movies
Suicide Squad: Eyes of the Adversary (Enchantress & Incubus) | Suicide Squad (Deadshot, Harley Quinn, Captain Boomerang, El Diablo, Killer Croc, Slipknot & Amanda Waller) | Joker's Gang (Joker, Jonny Frost, Panda Man & Monster T) | Griggs
Batman and Harley Quinn: Harley Quinn | Poison Ivy | Floronic Man
Suicide Squad: Hell To Pay: Professor Zoom | Suicide Squad (Amanda Waller, Deadshot, Harley Quinn, Captain Boomerang, Bronze Tiger, Copperhead, Punch, Jewelee, & Count Vertigo) | Killer Frost | Blockbuster | Silver Banshee | Vandal Savage | Scandal Savage | Professor Pyg | Tobias Whale | League of Assassins (Deathstroke) | Two-Face
Birds of Prey (and the Fantabulous Emancipation of One Harley Quinn): Harley Quinn | Huntress | Black Mask | Victor Zsasz | Stefano Galante | Carlo Rossi | Happy | Joker
The Suicide Squad: The Thinker | Starro | Silvio Luna | Corto Maltese Armed Forces (Mateo Suarez & Vera) | Suicide Squad (Bloodsport, Ratcatcher 2, Harley Quinn, Peacemaker, King Shark, Polka Dot Man, Captain Boomerang, Blackguard, Mongal, Javelin, The Detachable Kid, Weasel, Savant & Amanda Waller) | Kaleidoscope | Calendar Man | Double Down | Karma | Ratcatcher | Polka Dot Man's Mother | Bloodsport's Father
Television
Harley Quinn | Poison Ivy | Clayface | King Shark | Joker | Scarecrow | Queen of Fables | Penguin | Killer Croc | Man-Bat | Doctor Psycho | Riddler | Two-Face | Catwoman | Bane | Mr. Freeze | Deadshot | Solomon Grundy | Calendar Man | Condiment King | Felix Faust | Lex Luthor | Toyman | Metallo | Livewire | Parasite | Black Adam | Captain Cold | Gorilla Grodd | Black Manta | Cheetah | Giganta | Sinestro | Maxie Zeus | Eris | KGBeast | Bud and Lou | Nora Fries | Sy Borgman | Doctor Trap | Frank the Plant | Kite Man | Nick Quinzel | Sharon Quinzel | Darkseid | Parademons | Suicide Squad (Amanda Waller) | Clock King | Firefly | Court of Owls
Video Games
Batman: Arkham Knight: Harley Quinn: Harley Quinn | Poison Ivy | Penguin
Injustice: Superman | Poison Ivy | Deadshot | Scarecrow | Wonder Woman | Joker

Villains
Comics
Abra Kadabra | Amanda Waller | Amos Fortune | Amazo | Anarky | Angle Man | Anti-Justice League | Anti-Monitor | Appellaxians | Aquarius | Asmodel | Atomic Skull | Axis America | Bane | Barbatos | The Batman Who Laughs | Black Adam | Black Hand | Black Lantern Corps | Black Manta | Black Mask | Black Spider | Blockbuster | Blue Beetle (Dark Multiverse) | Brainiac | Bronze Tiger | Brother Eye | Brotherhood of Evil | Cadre | Calculator | Calendar Man | Captain Boomerang | Captain Cold | Castle Bat | Catalyst | Catman | Catwoman | Cheetah | Chemo | Cheshire | Circe | Clayface | Clock King | Cluemaster | Copperhead | Construct | Cosmic King | Crazy Quilt | Crime Syndicate of America | Crucifer | Cyborgirl | Darkseid | Dark Supergirl | Deadline | Deadshot | Deathstroke | Demolition Team | Demons Three | Despero | Doctor Alchemy | Doctor Destiny | Doctor Double X | Doctor Impossible | Doctor Light | Doctor Manhattan | Doctor Phosphorus | Doctor Polaris | Doctor Poison | Doctor Psycho | Doctor Regulus | Doctor Sivana | Dominators | Doomsday | Dragon King | Dumas | Earthworm | Eclipso | Electrocutioner | Elite | Empty Hand | Enchantress | Epoch the Lord of Time | Eradicator | Evil Star | Fatal Five | Felix Faust | Fiddler | Firefly | Floronic Man | Funky Flashman | Gamemnae | General Eiling | Genocide | Gentleman Ghost | Golden Gilder | Goldface | Gorilla Grodd | Great Darkness | Gunhawk | Harley Quinn | Hector Hammond | Hellgrammite | Human Flame | Hyena | Ibac | Icicle | Imperiex | Intergang | I.Q. | Johnny Sorrow | Joker | Key | Killer Croc | Killer Frost | Killer Moth | Kite Man | Kobra | Kobra Cult | Krona | League Buster | League of Assassins | Legion of Doom | Lex Luthor | Libra | Lobo | Mad Hatter | Mageddon | Magpie | Manchester Black | Manhunters | Matter Master | Maxwell Lord | Mekanique | Merlyn | Mirror Master | Mister Atom | Mister Mind | Mister Nebula | Mr. Freeze | Mongul | Mordru | Morgaine Le Fey | Multiplex | Nekron | Nekron (Pre-Crisis) | Neron | Neutron | Nightshade | Obsidan | Ocean Master | Overman | Pariah | Parademons | Parasite | Penguin | Perpetua | Pied Piper | Plastique | Poison Ivy | Professor Ivo | Professor Zoom | Prometheus | Psycho-Pirate | Queen Bee | Queen of Fables | Ra's al Ghul | Rainbow Raider | Rama Khan | Red Death | Red King | Red Panzer | Red Volcano | Riddler | Roulette | Royal Flush Gang | Satanus | Scarecrow | Science Squad | Secret Society of Super Villains | Shadow-Thief | Shaggy Man | Shark | Simon Stagg | Sinestro | Solomon Grundy | Star Sapphire | Starbreaker | Starro | Steppenwolf | Suicide Squad | Superboy-Prime | Tattooed Man | Terra-Man | T.O. Morrow | Two-Face | Upside Down Man | Ultra-Humanite | Vandal Savage | Volcana | Warp | Weather Wizard | White Martians | Wizard
Theatrical Movies
Justice League: Steppenwolf | Parademons (Parademon Scout) | Darkseid | Black Clad (Black Clad Alpha) | Lex Luthor | Deathstroke | Ares
Zack Snyder's Justice League: Darkseid's Elite (Darkseid, Steppenwolf, DeSaad, Granny Goodness, & Parademons) | Lex Luthor | Deathstroke | Black Clad (Black Clad Alpha) | Ares | Joker
DC League of Super-Pets: Lulu | Lex Luthor | Mercy Graves | Whiskers
Direct-to-video Movies
Justice League: The New Frontier: The Centre | Captain Cold
Justice League: Crisis on Two Earths: Crime Syndicate of America (Owlman, Ultraman, Superwoman, Johnny Quick, Power Ring, J'edd J'arkus, & Black Power) | Lex Luthor | White Martians | President Slade Wilson | Rose Wilson
Justice League: Doom: Legion of Doom (Vandal Savage, Bane, Cheetah, Ma'alefa'ak, Metallo, Mirror Master, & Star Sapphire) | Royal Flush Gang (King, Queen, Jack, Ace, & Ten)
Justice League: The Flashpoint Paradox: Professor Zoom | Wonder Woman | Aquaman | Ocean Master | Black Manta | Deathstroke | Lex Luthor | Clayface | Rogues (Captain Cold, Captain Boomerang, Top, Heat Wave, & Mirror Master) | Joker | Yo-Yo
Justice League: War: Darkseid | Desaad | Parademons | Ocean Master
Justice League: Throne of Atlantis: Ocean Master | Black Manta | The Trench | Lex Luthor
Justice League League: Gods and Monsters: Will Magnus
Justice League vs. Teen Titans: Trigon | Legion of Doom (Lex Luthor, Cheetah, Solomon Grundy, Toymaster, & Weather Wizard) | Atomic Skull | Ra's al Ghul
Justice League vs. the Fatal Five: Fatal Five (Emerald Empress, Mano, Persuader, Tharok, & Validus) | Bloodsport | Two-Face | Harley Quinn | Poison Ivy

Television
Justice League (TV Series): Brainiac | Darkseid | Lex Luthor | Cheetah | Star Sapphire | Shade | Copperhead | Ultra-Humanite | Solomon Grundy | Joker | Kanjar-Ro | Lord Orm | Deadshot | Felix Faust | Gorilla Grodd | Aresia | Morgaine Le Fey | Simon Stagg | Amazo | Volcana | Luminus | Firefly | Doctor Destiny | Despero | Giganta | Killer Frost | Sinestro | Parasite | Clayface | Metallo | Kalibak | Livewire | Weather Wizard | Toyman | Royal Flush Gang (Harley Quinn)
Justice League Unlimited: TBA

Video Games
Injustice: Gods Among Us: One Earth Regime (Superman, Wonder Woman, Yellow Lantern, The Flash, Aquaman, Cyborg, Shazam, Nightwing, Raven, Hawkgirl, Sinestro, Black Adam, Killer Frost, Solomon Grundy, Catwoman, Bane, & Doomsday) | Joker | Lex Luthor | Deathstroke | Ares
Injustice 2: Brainiac | Gorilla Grodd | Captain Cold | Reverse Flash | Cheetah | Deadshot | Poison Ivy | Bane | Scarecrow | One Earth Regime (Superman, Wonder Woman, Aquaman, Cyborg, Nightwing & Black Adam) | Dr. Fate | The Lords of Order | Grid | Atrocitus | Joker | Darkseid
See Also
Justice League Dark Villains | Justice League International Villains | Justice Society Villains | Young Justice Villains