We're Getting Mutants in the MCU - The Loop
Play Sound
Jafar says: Read my lips and come to grips with the reality!


This article is a stub and is in need of expansion. You can help Villains Wiki by expanding it.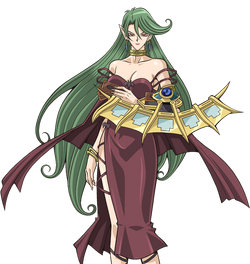 Camula is an antagonist from the first season of Yu-Gi-Oh! GX. She is the second of the Seven Stars Assassins and considered one of the most dangerous Shadow Riders ever encountered.
She was voiced by Kanako Irie in Japanese and Erica Schroeder in English.
Appearance
Camula is a female vampire. She has green waist length hair, with a giant curl above her forehead. She wears a long red dress, with slits revealing her long legs. She also wears a lot of jewelry, including gold bracelets and a necklace.
Biography
Camula is a female vampire, and the only one that remains of her race. She survived the medieval times by locking herself up in a coffin, and hiding it. She remained hidden until Kagemaru revealed her coffin and released her. He gave her the Shadow Necklace, which is her Dark Item. She is the second Assassin to face the "keykeepers". She uses a vampire-oriented zombie deck, that revolves around summoning monster from the grave. She is a very serious duelists, and she hopes to revive her race by gathering souls. If she beats someone, she locks his or her soul up in a doll, or she sends the soul to the Three Phantasms by using her Spell Card "Phantom Demon's Gate". She manages to beat Vellian Crowler and Zane Truesdale, but she is beaten by Jaden Yuki. Her soul is then taken by the Phantom Demon's Gate, leaving her body to crumble. The souls that were locked up in dolls are then released.
Gallery
Trivia
The name Camula is a combination of the names of two classic vampires, those being Dracula and Carmilla.
Her flashback implies Kagemaru recruited her at least 20 years before the series; since he was able-bodied then.
She wished to use the Sacred Beasts to revive her race.