Wiki Targeted (Entertainment)
Play Sound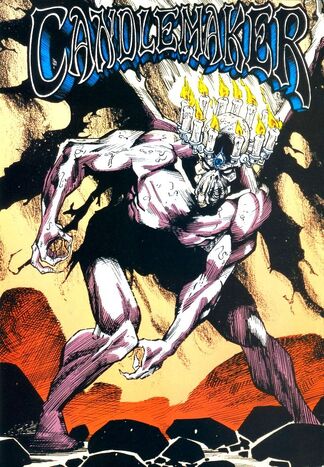 Candlemaker is a supervillain and an enemy of the Doom Patrol. He is one of the villains to face the Doom Patrol multiple times.
Origin
Candlemaker is a thought form removed from the physical plane of existence a long time ago. A girl named Dorothy Spinner wa contacted by the Candlemaker who saw a great opportunity to be released. Candlemaker decides to grant Spinner three wishes for releasing him. Her first wish was the death of her bully. Candlemaker made the bully crucified and disemeboweled.
After this, Dorothy decides to keep Candlemaker in her mind. Years later, Candlemaker returned. Dorothy made her final wish and Candlemaker left Dorothy.
Candlemaker has the power of entering the minds of people and granting wishes.
Powers and abilities
Dorothy's abilities enables him to bring imaginary beings to life.These beings can survive as long as Dorothy is alive. In one case, a false Cliff Steele disappeared when he realized what he was, though Darling-Come-Home was perfectly aware of him imaginary status and seemed to function fine. These imaginary friends can be good or bad, and don't have to like Dorothy. This power can also bring about beings who were removed from this plane of being such as the Candlemaker.
Gallery