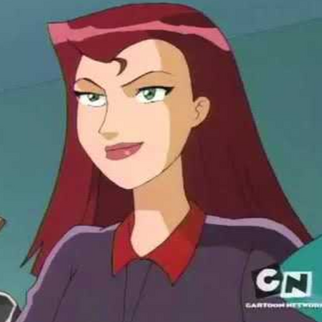 Candy Sweet is a villain in Totally Spies who thinks the world of cheerleading is lame and vapid. She only appears in the episode "Black Widows".
She was voiced by Amanda Anka.
History
Candy Sweet used the routines she had stolen from the Honeybees cheerleading squad, and downloaded it into her android cheerleaders. She was also seen interviewing to the news reporters to their win in the cheerleading competition. Later, Jerry Lewis informed the spies that Candy's real name is Margaret Nussbaum (as she had changed her name a week earlier). She had gone to the same high school as the Honeybees, but graduated ten years earlier (making her ten years older than the current seniors on the squad). After the girls were captured by Candy and her androids, Candy told them that she tried out for the Honeybees squad ten years earlier but was rejected due to not being "sweet" enough, which essentially made her bitter towards anything related to cheerleading (strongly implying she used to love cheerleading). When the competition was under way, it was interrupted by the girls, as her plans were disrupted. Her cheerleading androids were defeated by the girls, as the androids exploded, much to her shock. She was then confronted by the girls as well as the Honeybees (who were awakened from their unconsciousness after being captured by her). She attempts to shoot the girls and the Honeybees, only to be stopped at gunpoint by Jerry's men and Jerry arrives to take her into custody. The Honeybees thank the girls for stopping her.
She returned as the villain in "Sis-KaBOOM-Bah!", in which she used high school cheerleaders (two of whom were Clover and Mandy) she had brainwashed with a DVD she made to help her escape from jail, but Sam, Alex and Jerry stopped her. She is then handcuffed by Alex.
Her cheerleading DVD was called Sweet Moves. It was released as an exercise DVD because it was part of her rehabilitation to help fund the Hungarian Agents Green Squad, who take care of the world's forests. The DVD starts with a spinning pom-pom that brainwashes the viewer, and then features Candy in her prison uniform as she leads some moves.
Community content is available under
CC-BY-SA
unless otherwise noted.