Jurassic World: Dominion Dominates Fandom Wikis - The Loop
Play Sound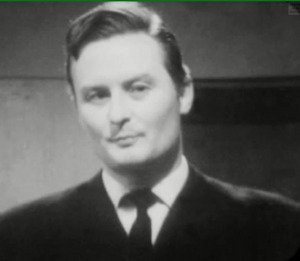 Captain Blade is the central antagonist of the Doctor Who story "The Faceless Ones".
He was portrayed by the late Donald Pickering.
Biography
Captain Blade was one of the Chameleons, a race made faceless and without identity by an accident on their home planet. Their Director conceived a plan to kidnap humans from Earth and assume their form. Blade took on the identity of the chief pilot of Chameleon Tours, ferrying passengers up to a satellite where they were miniaturised and placed in suspended animation, their identities taken by Chameleons. In order to allay suspicion, Blade arranged to have postcards sent from the destinations that they had written in advance.
Blade's assistant, Spencer, killed a police inspector who uncovered part of their operation at Gatwick Airport, with the murder being witnessed by Polly. Observing the Doctor, Blade quickly realised he had intelligence superior to humans. To try and discredit the Doctor and his friends in the eyes of the airport authorities, Blade had Polly kidnapped and a Chameleon duplicate of her known as Michelle Leuppi deny the Doctor's claims. Blade tried to kill the Doctor by gassing the hangar while he was investigating and told Spencer to kill him. He captured another policeman, Inspector Crossland, and used him as a template for the Director.
Blade shot down an RAF plane following one of the Chameleon Tours flights, killing the pilot, and made plans to transfer all the operations to the satellite. The Doctor and Nurse Pinto got on the flight posing as Chameleon duplicates but Blade immediately took them prisoner. However, the Doctor pointed out Blade was vulnerable, since his original and several others were still stored at Gatwick, and the Chameleons would die if they were tampered with. When it became clear the airport authorities had located them, Blade gave in to the Doctor's demands to return all the kidnapped humans, killing the Director when he objected.
The short story "Face Value" has the Sixth Doctor encountering Blade, who has taken on the identity of the manager of a holiday resort on Krennos. The Chameleons have been replacing the visitors but their ignorance of the planet's ecology sees the resort attacked by deadly plants. The Doctor forces them to abandon the plan again.