Captain Flint is the main antagonist from the 1883 adventure book Treasure Island by the late Robert Louis Stevenson.
History
Original Book
Captain Flint is considered one of the most evil and selfish pirates in history - becoming a man of legend and the one responsible for burying the great treasure, which would eventually be sought after by Long John Silver (also known as the "One-Legged Man") and his crew.
In order to ensure that no one would be able to find his treasure, Captain Flint murdered six members of his crew, who helped him to bury the loot. It is then said that the murderous and egotistical pirate proceeded to leave the island and sailed off into the open sea.
Flint was said to die in a tavern in Savannah. On his deathbed, he kept drinking rum and singing infamous pirate chanty "Fifteen men on a dead man's chest". It is not entirely clear whether he voluntary gave Billy Bones the map of Treasure Island or Bones simply stole it. Bones himself suggests the former, and it seems somewhat logical, considering the fact how much Flint hated Long John Silver.
Muppet's Treasure Island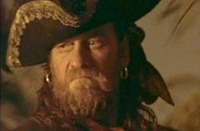 Captain Flint was only seen during the opening sequence, making a map to his treasure, leading his fifteen men to the cave where they buried the treasure and then killing them all. Once they were all deceased, he was last seen walking off to his ship, never to be seen again. He ostensibly died later, entrusting the map to Captain Billy Bones, his former first mate.
Treasure Planet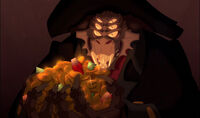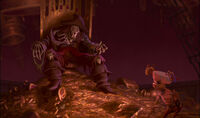 In this film, Captain Flint was still a cunning, dangerous and manipulative pirate; however, he is an alien as opposed to a human. His name is known as Captain Nathaniel Flint. During the opening portion of the film, he and his pirates were seen pillaging merchant ships and was notorious for disappearing without a trace when the pillaging was done.
Apparently, he had stolen Treasure Planet (the hideout where he personally buried his ill-gotten loot) from a highly developed species of unknown name; correspondingly, he also stole the teleportation expertise that he used to raid ships from the same species. Just like in the book, he trusted the map to Treasure Planet to Billy Bones. Also, before his death, he stole the memory chip/brain of his navigator, B.E.N., so that (the event somebody got lucky and found Treasure Planet without the map) nobody would find the treasure. As a final step, Flint (along with his ship) stayed with his treasure until his death.
Captain Flint was later seen (albiet as a corpse) in the core of Treasure Planet. As soon as B.E.N regains his memory, a trap set by Captain Flint was activated. Flint knew that someone from his old crew would come to steal his treasure, so he set up the planet to self-destruct upon the discovery of the treasure.
Gallery
Trivia
In Muppet Treasure Island, Captain Flint was portrayed by the late David Nichols. In Disney's Treasure Planet, Captain Flint was voiced by Peter Cullen.

In the latter film, Flint served as the posthumous and final antagonist.

In the original Treasure Island novel, Captain Flint's name is Captain J. Flint.

It is unknown what the "J" stands for. However, it seems to be either James, Jordan, Jerry, Jasper, Jonathan, Joseph, Jeff, Jay, Jason, Joshua, Jonah, Jake, Jesse, or Justin.

Villains
Animated Features
Queen Grimhilde | Magic Mirror | Honest John | Gideon | Stromboli | Coachman | Coachman's Minions | Monstro | Chernabog | Zeus | Vulcan | Boreas | Pink Elephants | Man | Ronno | Tetti-Tatti | Lumpjaw | Willie | Rustlers | Mr. Winkie | Weasels | Headless Horseman | Lady Tremaine | Anastasia Tremaine | Drizella Tremaine | Lucifer | Queen of Hearts | Card Soldiers | Cheshire Cat | Walrus & Carpenter | James Hook | Neverland Pirates (Mr. Smee) | Tick Tock | Rat | Si & Am | Maleficent | Diablo the Raven | Maleficent's Goons | Cruella De Vil | Jasper & Horace | Madam Mim | Shere Khan | Kaa | Bandar Log (King Louie) | Edgar Balthazar | Prince John | Sheriff of Notthingham | Sir Hiss | Captain Crocodile | Rhino Guards | Wolf Arrowmen | Trigger & Nutsy | Heffalumps and Woozles | Madame Medusa | Mr. Snoops | Brutus & Nero | Amos Slade | Chef | Horned King | Horned King's Army (Creeper & Gwythaints) | Cauldron Born | Orddu, Orwen & Orgoch | Arawn | Professor Ratigan | Thugs (Fidget, Felicia & Bartholomew) | Bill Sykes | Roscoe & DeSoto | Ursula | Flotsam & Jetsam | Percival C. McLeach | Joanna | Beast | Gaston LeGume | LeFou | Asylum D'Loons (Monsieur D'Arque) | Tom, Dick, Stanley & Walter | Wolves | Jafar | Iago | Razoul | Prince Achmed | Gazeem | Cave of Wonders | Scar | Hyena Clan (Shenzi, Banzai & Ed) | John Ratcliffe | Claude Frollo | Frollo's Soldiers (Captain Phoebus, Brutish Captain, Oafish Guard, Pierrat Torturue & Henriet Cousin) | Hades | Pain & Panic | Fates | Cerberus | Titans (Lythos, Hydros, Pyros, Stratos & Cyclops) | Nessus | Hydra | Nemean Lion | Shan Yu | Hun Army (Hayabusa & Elite Hun Soldiers) | Cecil Clayton | Sabor | Clayton's Pirates | Firebird | Black Triangles | Jack-in-the-Box | Kron | Bruton | Kuzco | Yzma | Kronk | Lyle Tiberius Rourke | Rourke's Mercenaries (Helga Sinclair) | Leviathan | Vikings | Gantu | John Silver | Pirates (Scroop, Onus, Hands, Turnbuckle, Blinko, Longbourne, Fayvoon, Grewnge, Krailoni, Hedley, Torrance, Mertock, Verne, Crex & Zoff) | Nathaniel Flint | Alameda Slim | Rico | Willie Brothers | Mr. Wesley | DOR-15 | Bowler Hat Guy | Dr. Calico | Dr. Facilier | Lawrence | Facilier's Shadow | Shadow Demons | Ian the Gator | Marlon the Gator | Reggie, Darnell & Two Fingers | Friends on the Other Side | Mother Gothel | Stabbington Brothers | Turbo | Cy-Bugs | Sour Bill | Wynnchel & Duncan | Snow Queen | Prince Hans | Duke of Weselton | Erik and Francis | Wolves | Yokai | Alistair Krei | Mr. Yama | Dawn Bellwether | Doug Ramses | Woolter | Jesse | Sheep Cops | Ram Thug | Duke Weaselton | Mr. Big | Polar Bear Thugs (Koslov, Raymond & Kevin) | Te Kā | Tamatoa | Kakamora | Arthur | King Runeard
Live-Action Movies
Captain Nemo | Pony Sugrue | Prince John (1952) | Red Stick | Bigfoot Mason | Chato | Samuel Mason | The Marten | Wilse Owens | Kuala | Vicky Robinson | Ute Chief | Jacques Lebeau | Makoos | Durante | Barnaby | James Haggin | Cattlemen | Comanche Chief | Apaches | Mr. Dawes Sr. | Tanamashu | Judge Huggins | Mountain Ox | Peter Thorndyke | Havershaw | Vince Heber | Mrs. Satterfield | A.J. Arno | Chillie Walsh | Colonel Pierson | Ab Cross | Colonel Heller | King Leonidas | Bookman | Swinburne | Mr. Eben | Mark Pierson | Hugh McRae | Sam Eagle Speaker | Kerwood Krinkle | Frank Sitwell | Hnup Wan | Dr. Terminus | Gogans | Charles Olympus | Wooly Bill Hitchcock | Big Mac | Hans Reinhardt | The Watcher | George McKinzie | Alec Frost | Bluto | Vermithrax Pejorative | Master Control Program | Sark | Ed Dillinger Sr. | Mark Jennings | Kelly | Mr. Dark | Mike | Rosie Little | Hunters | Nome King | Princess Mombi | Connie | Bullwhip | Parker | Buzz | Wolf's Owner | Timber Wolf | Hunter | Eagle | Alistair Patton | Patton Sr. | Judge Doom | Toon Patrol (Smartass, Greasy, Psycho, Wheezy & Stupid) | Abdullah | Mr. Patel | Nigel | John Merrick | Beauty Smith | Luke & Tinker | Sykes | Cherokee | Lip-Lip | Fritz | Neville Sinclair | Lothar | Nigel Snyder | Joseph Pulitizer | Delancy Brothers | Charles Hendrickson | Terrence Wheeler | Winifred Sanderson | Mary Sanderson | Sarah Sanderson | John Ricketts | The King and the Duke | Pap Finn | Cardinal Richelieu | Comte de Rochefort | Milady de Winter | Borg Guillarson | Leland Drury | Heath | Miners | Lloyd Halverson | William Boone | Buldeo | John Wilkins | Tabaqui (1994) | Sergeant Harley | Bandits | Sergeant Clairbourne | Shere Khan (1994) | Bandar Log (1994) (King Louie (1994) & Kaa (1994)) | Juice | Ranch Wilder | Injun Joe | Tony Perkis | Agent Woods | Jack and Ralph | Ashcan and Pete | Aunt Sponge | Aunt Spiker | Rhino | Skeleton Pirates | Shark | Cruella De Vil (1996) | Jasper and Horace Badun (1996) | Mr. Skinner | Jean-Pierre Le Pelt | Alonzo | Norman Snively | Ricky King | Charlotte | Lyle Van de Groot | Max & Thor | Lion | Beatrice Stanhope | Chester Hoenicker | Wilson Croft | Smith & Wesson | Bennett Hoenicker | Luanne LeSeur | Meredith Blake | Natalya | Popov | Shere Khan (1998) | Tabaqui (1998) | Bandar Log (1998) | Eddie Taffet | Andrei Strasser | Elliot Coleye | Dr. Claw | Kramer | RoboGadget | Malcolm | Snerbert | Lana Thomas | Elliot T. Jindraike | Professor Siles | Toy Santa | Louise Walker | Mr. Sir | Charles "Trout" Walker | Kissin' Kate Barlow | Linda Walker | Sheriff | Doug & Gordon | Hector Barbossa | Crew of the Black Pearl (Bo'sun, Scratch, Pintel & Ragetti) | Master Gracey | Madame Leota | Ramsley | Zombies | Werecat Lady | Carla Santini | Lord Kelvin | Black Scorpions (General Fang) | Inspector Fix | Viscount Mabrey | Ian Howe | Bill Fawcett | Zaphod Beeblebrox | Frankie & Benjy | Prostetnic Vogon Jeltz | Vogons | Humma Kavula | Gag Halfrunt | Royal Pain | Stitches | Lash | Speed | Penny Lent | Jadis the White Witch | Jadis' Secret Police (Maugrim & Vardan) | Ginarrbrik | General Otmin | Dr. Kozak | Jack Frost | Davy Jones | Crew of the Flying Dutchman (Maccus & Kraken) | Cutler Beckett | East India Trading Company | Janice Avery | Queen Narissa | Mitch Wilkinson | Sinon Bar Sinister | Cad Lackey | El Diablo | Henry Burke | Miraz | Telmarines (Glozelle & Sopespian) | Nikabrik | Hag & Werewolf | Kendall Duncan | Tess Tyler | Speckles | Lucinda | Oswald Granger | Red Queen | Knave of Hearts | Card Soldiers | Jabberwock | Jubjub Bird | Hamish Ascot | Morgana le Fay | Morganians (Maxim Horvath, Abigail Williams, Sun Lok, Drake Stone & Marrok) | Nizam | Ms. Stout | CLU 2 | Rinzler | Blackbeard | Angelica Teach | The Spaniard | King Ferdinand VI | King George ll | San Than | Matai Shang | Tal Hajus | Jenny | Latham Cole | Butch Cavendish | Jay Fuller | Evanora | Theodora | Maleficent (2014) | Diaval | King Stefan (2014) | King Henry | The Witch | The Wolf | Lady Tremaine (2015) | Grand Duke (2015) | Anastasia Tremaine (2015) | Drizella Tremaine (2015) | Lucifer (2015) | David Nix | Shere Khan (2016) | Bandar Log (2016) (King Louie (2016)) | Kaa (2016) | Fleshlumpeater | Giants (Bloodbottler & Bonecruncher) | Pramod Kadam | Beast (2017) | Gaston LeGume (2017) | LeFou (2017) | Asylum D'Loons (Monsieur D'Arque (2017)) | Tom, Dick & Stanley (2017) | Wolves (2017) | The King (2017) | Armando Salazar | Crew of the Silent Mary (Lesaro) | Scarfield | It | Heffalumps | Sugar Plum Fairy | Tin Soldiers | William Weatherall Wilkins | V.A. Vandevere | Neils Skellig | Pink Elephants (2019) | Rufus Sorghum | Jafar (2019) | Iago (2019) | Cave of Wonders (2019) | Scar (2019) | Hyena Clan (2019) (Shenzi, Kamari & Azizi) | Queen Ingrith | Gerda | Borra | Rat (2019) | Devon & Rex | Isaac
Other Animated Movies
Br'er Fox & Br'er Bear | Giant Magnet | Evil Clown | Merlock | Dijon | Oogie Boogie | Lock, Shock & Barrel | Bill Bluff | BluffCo Industries (Guy Graham, Bob & Bluff Agents) | Gloomius Maximus | Ivan Krank | Von Talon | Cufflingk and Underlingk | Kazar | Wildebeests (Blag) | Vidia | Jacob Marley | Old Joe | Supervisor | Mr. Whiskers | Shelley | Were-Rat | Sea Monkeys | Mr. Burgermeister | Ripslinger | Zed | Ned | Zarina
Sequels
Abis Mal | Sa'Luk | Forty Thieves | Maestro Forte | Fife | Jesters | Zira | Outsiders (Nuka & Vitani) | Mack McCro | Jim Bob | Supreme Commander | Morgana | Undertow | Cloak & Dagger | Bradley Uppercrust III | The Gammas | Buster | Sarousch | Pom-Pom | Tad White | Jacques von Hamsterviel | Reuben | Sparky | Leroy | Erik Hellstorm | Ashton Carnaby | Edgar Volgud | Krakken | Lil Lightning | Bandits | Mama Gunda | Uto & Kago | Marina Del Rey | Cad Spinner
Shorts, TV Shows, Comics and Video Games
Peg Leg Pete | Phantom Blot | Skeletons | Grim Reaper | Mad Doctor | Demon Cats | Gustav the Giant | Lonesome Ghosts | Doctor Vulter | Solego the Chaos God | Arpine Lusene | Eli Squinch | Sylvester Shyster | Fantomius | Inquinator | Spectrus | Zafire | H. U. Hennessy | Jolly Roger | Witch | Zeke Midas Wolf | Captain Katt | Mortimer Mouse | Butch the Bulldog | Beagle Boys | Foxy Loxy | Ajax Gorilla | Witch Hazel | Adolf Hitler | Nazi School Teacher | Little Hans | Fat Cat | Norton Nimnul | Aldrin Klordane | Baby Thaddeus | Ratso Ratzkiwatzki | Julius | Dr. Frankenollie | Mizrabel | Huntsman | Huntsgirl | Dark Dragon | Al Roker | Chuckles | Princess Irmaplotz | Grace Goodwin | Molly | Shadow Blot | False Shadow Blot | Foxy Loxy | Goosey Loosey | Suzi | Oswald Gardner | Commander Heist | Lazlo
Disney Parks
Alien | Lava Monster | Mad Hatter | Nebula Ghosts | Professor J.T. Wu | S.I.R. | Yeti (Expedition Everest) | Yeti (Matterhorn Bobsleds)

Villains
The Muppets
Doc Hopper | Max | Snake Walker | Nicky Holiday | Murray Plotsky | Central Park Thief | Jacob & Robert Marley | Old Joe | Long John Silver | Blind Pew | Captain Flint | K. Edgar Singer | Hugo Krassman | Rachel Bitterman | Wicked Witch of the East | Wicked Witch of the West | Tex Richman | Uncle Deadly | Moopets | Constantine | Dominic Badguy
Sesame Street
Sam & Sid Sleaze | Ronald Grump | Huxley | Bill the Bug | Pesties | Humongous Chicken | Museum Guard | Chewie the Cookie
Creature Shop
SkekSès (SkekSo, SkekZok, SkekUng, SkekSil, SkekTek, SkekAyuk, SkekNa, SkekShod, SkekOk, SkekEkt, SkekMal, SkekVar, & SkekLach) | Tolyn | Seladon | Darkened Creatures | Jareth | Goblin Army | WESAYSO Corporation (B.P. Richfield & Mr. Ashland)
Commercials
Wheel-Stealer | Crown-Grabber
The Happytime Murders
Jenny Peterson | Sandra Jakoby