Wiki Targeted (Entertainment)
Play Sound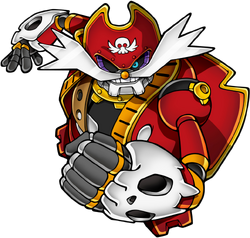 Captain Whisker is a robot pirate, who serves as the main antagonist of Sonic Rush Adventure. He has two parrot-like sidekicks named Mini and Mum.
Role
Whisker steals the Jeweled Scepter, despite Blaze's attempts to stop him. Sonic and Blaze worked together to try to defeat Whisker. Whisker sent his robots, all of which had "Ghost" in their name after Sonic and Blaze. Although they always defeated his robots, Whisker always escaped.
Eventually, Sonic and Blaze entered Whisker's hideout. There, Johnny was revealed to be his first mate. They mentioned working for a boss, but Sonic and Blaze defeated them, and they ran. Whisker captured Marine the Raccoon and took her to his ship, the Big Swell. Sonic and Blaze fought his robot, Ghost Titan, and after an intense battle, Sonic and Blaze destroyed the giant robot, and the resulting explosion killed Whisker and his crew and sunk his ship. 
It was later revealed that Whisker was created by Dr. Eggman and Eggman Nega, who were after the Jeweled Scepter to take over the Sol Dimension and create Eggmanland. 
Trivia
Whisker looks somewhat similar to Eggman, foreshadowing that Eggman is his creator.
Captain Whisker is the only major villain that fans believe actually died in the Sonic series (although there hasn't been much speculation about SCR-HD's survival either). Though all of the following are likely to have died, fans believe that they didn't because: