We're Getting Mutants in the MCU - The Loop
Play Sound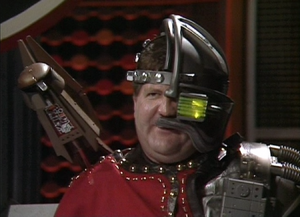 The Captain of Zanak is the central antagonist of the Doctor Who story "The Pirate Planet".
He was portrayed by the late Bruce Purchase.
Biography
The Captain appeared to be the ruler of the planet Zanak. In reality, he was a front for the planet's true ruler, Queen Xanxia, who had rebuilt him as a cyborg and retained some control over him. The aged Xanxia was kept in a form of stasis by time dams that the Captain had designed for her, while a projection of a younger version of her posed as the Captain's nurse. The Captain had constructed giant engines that transported Zanak to different points in space, materialising around other planets and crushing them, in order to both extract their mineral wealth and produce the energy needed to power the time dams.
The Captain had a low tolerance for incompetence, having technicians who failed him killed by his robot parrot, Polyphase Avatron, although he showed some indulgence to his first officer, Mr Fibuli. When Romana was captured by his guards, he tried to use both her and the Doctor to repair the engines, which had been damaged in an encounter with the TARDIS when it tried to materialise on Zanak's latest target, Calufrax. The Captain had given his guards orders to kill all emerging telepaths before they joined the Mentiads, a group who were the only ones aware of the truth of his activities.
The Captain was secretly plotting to free himself from Xanxia by creating a trophy room where the extremely dense remains of planets were kept in perfectly equilibrium. He intended to redirect the energy from the trophy room to kill Xanxia, but his calculations were off because he was unaware that Calufrax was actually the second segment of the Key to Time. When his Polyphase Avatron was destroyed by K9, the Captain tried to kill the Doctor by forcing him to walk a plank that made him fall to his death from the bridge, but was fooled by a projection that the Doctor had created using the same equipment Xanxia had.
With this reveal, the nurse emerged from the shadows and took full charge, treating the Captain like an underling. They chose Earth as their next target but the Doctor prevented Zanak from materialising by ramming it with the TARDIS until the planet's engines were telekinetically destroyed by the Mentiads. The resulting explosion wrecked the bridge and killed Fibuli, leaving Zanak stranded in normal space. The Captain attempted to use his trophy room plan against Xanxia but the nurse realised his intent and used her control box to kill him.