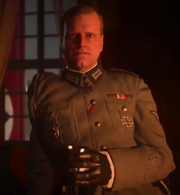 SS-und Polizeifuhrer Carl Heinrich is the secondary antagonist of Call Of Duty: WWII. He is the head of the Paris garrison and the man responsible for the murder of Rousseau's family.
He was voiced by J. Paul Boehmer.
Biography
In the game, Heinrich is mentioned to have discovered that resistance operative "Rousseau" is really Camille Denis and been unable to catch her, resulting in Heinrich executing her parents and husband, purging the resistance and sadistically killing her son. In the game, Heinrich only appears on the mission "Liberation", where Rousseau goes to blow up the gates in order to create a diversion for the Americans to attack the Germans. She has to steal Heinrich's briefcase, causing her to impersonate Gerda Schneider, a German agent sent to give Heinrich his travel papers (who was killed by privates Ronald Daniels and Robert Zussman in the previous level). When Rousseau enters the office, she finds a document stating that explosives have gone missing from the store (having been stolen by Rousseau's contact Karl Fischer for use in the plan) and that Fischer and Oberst Walter Gerber are suspected. Heinrich then enters and asks Rousseau what she's doing. Her cover story appears to work and Heinrich proceeds to further interrogate Rousseau on her story before monologuing about how he loves gouging out birds eyes and drowning them. He then reveals that he knows she's Rousseau by telling her that "Watching your son flail as drowned under my boot gave me the greatest pleasure of all" and violently choking Rousseau. Fortunately, she manages to smash a wine glass that she dropped and stab Heinrich to death before stealing his briefcase and escaping through the window.
Community content is available under
CC-BY-SA
unless otherwise noted.