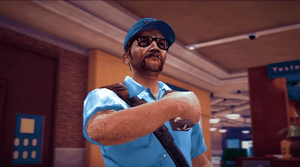 | | | |
| --- | --- | --- |
| " | Neither rain nor sleet nor hail, nor zombies are going to keep me from my appointed rounds! | " |
| | ~ Carl Schliff explaining his "oath" | |
Carl Schliff is one of the psychopaths in the videogame; Dead Rising 2 and Dead Rising 2: Off the Record. He is a mailman that is determined to never miss his appointed rounds even in the midst of a zombie outbreak.
Role
Dead Rising 2
In Dead Rising 2, Chuck Greene spots Carl trying to deliver a package in the Royal Flush Plaza, calling out that the package requires a signature. Noticing Chuck, Carl asks him to sign for the package. Chuck tries to tell Carl about the zombies, but fails in getting through to him. Chuck sees that the package Carl has is Zombrex, and realizes that he is willing to hand it over in return for anyone's signature. Wanting to get Zombrex for Katey, Chuck signs the clipboard. However, Carl recognizes Chuck and instead hands over a ticking mail-bomb. Chuck throws the mail-bomb into Carl's mail cart, causing it to explode. Enraged and blaming Chuck for the outbreak which has ruined his perfect delivery record, Carl pulls out a shotgun and declares he'll make Chuck pay for it.
Dead Rising 2: Off the Record
His appearance in Dead Rising 2: Off the Record is similar with him asking for a signature. Frank sees it is Zombrex he can use for his own treatment and signs it. Carl then notes that Frank has committed mail fraud and hands him a mail-bomb. As with Chuck, Frank throws it into Carl's mail cart, making it explode. The psychotic mailman declares that Frank is messing with America by interrupting his rounds and attacks him.
Death
After a series of shotgun blasts and mail-bomb drops, Carl is defeated by Chuck/Frank. Chuck/Frank takes the Zombrex, saying that they need it. With his dying breath, Carl signs his clipboard for the package and pulls out another mail-bomb. He notes it's a "special delivery, express" and allows it to detonate, destroying his body.
Community content is available under
CC-BY-SA
unless otherwise noted.