Carly Meadows was a member of the Weather Girls in the WB/CW Television series Smallville.
She appeared as a major antagonist in the Season 7 episode "Fierce".
She was portrayed by Elisa King.
Biography
Past
Carly Meadows was best girlfriends with Tyler Crenshaw and Tempest Drake since they were little girls. The girls were caught in the second meteor shower and gained elemental powers through a thunder storm.
The three gained abilities based on the elements; Tyler could manipulate ice, Tempest gained an air ability and Carly could manipulate heat.
With their newfound powers, the Weather Girls traveled through the Midwest disguising themselves as maids at Octoberfest, participating in mud-wrestling, and as ring girls at championship boxing matches to steal prize money and other valuables.
Fierce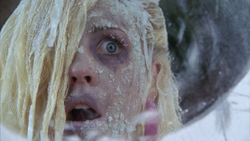 Carly came to Smallville with Tyler and Tempest to sign up for the Miss Sweet Corn beauty contest. Secretly they plotted to steal a treasure map that was believed to be hidden in a time capsule where it supposedly led to millions of dollars in gold bars.
Carly had her own agenda as she planned to steal the money for herself and boyfriend before the other girls could get to it.
Carly was talking on the phone with someone when she walked into a flower shop. The room suddenly freezes in seconds with Carly inside, killing her. Carly's frozen corpse was later discovered by Kara Kent. Her death led the new editor of the Daily Planet to assign a story about her to Lois Lane.
Tempest seemed upset by Carly's demise as she was their friend, but Tyler said she had no choice. Jimmy snapped a photo of her frozen corpse and brought it to the Daily Planet where Grant Gabriel ordered a story about her. Later Tempest seemed upset by her death but Tyler claimed she had no choice.

Villains
Protagonists