This article's content is marked as Mature
The page Mature contains mature content that may include coarse language, sexual references, and/or graphic violent images which may be disturbing to some. Mature pages are recommended for those who are 18 years of age and older.


If you are 18 years or older or are comfortable with graphic material, you are free to view this page. Otherwise, you should close this page and view another page.



Click To Help DIO!

DIO has declared that this article has stopped in time, and any and all information on it may be outdated.
Help improve this article by checking and updating it's info wherever necessary
And now time resumes!

✓
Carmilla is the secondary antagonist of Netflix's cartoon adaptation of Castlevania, loosely based off of the character of the same name from the video games.
She serves as the secondary antagonist in season two, the main antagonist of season three and the secondary antagonist of the fourth and final season. Carmilla is a scheming and manipulative, yet craven and overabitious vampire noble aiming to usurp Count Dracula's reign over vampire society and become the new ruler of the world.
She is voiced by Jaime Murray.
Personality
Contrasting her devotion to Dracula in the games, she is smug, scheming, manipulative, power-hungry, misandrists, misanthropic, lascivious and cowardly.
She only fights with all odds in her favour, fears the Belmonts, overestimates her planning skills, and is too ambitious for her own good. Yet, she is genuinely close to her "sisters".
She only sees humans as food or pets, and wants vampires to rule the Earth. She covets Dracula's throne, as she deems him unfit to rule. She is hinted to have expected a worthy ruler, and to disdain the broken man she saw.
History
Background
Carmilla's past is only revealed through her own words.
She sought the knowledge of her sire and became one of his brides, until he reduced her to an abused sex slave, prompting her to kill him and making her hate all men.
Role in the Second Season
Carmilla arrives late in Dracula's war council, announcing that the demon forces were defeated in the city of Gresit, and openly defies Dracula by asking why he did not turn his wife Lisa to a vampire, which would have kept her away from the fanatical church officials who burned her at the stake, thoroughly unable to fathom that he could love her genuinely, instead of using her as a sex slave.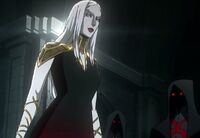 The Vampire Nobles keep infighting, furious that Dracula trusts two human Devil Forgemasters, Isaac and Hector more than them, and worried that his goal of total genocide of the human race would leave them unable to feed and doomed to extinction in turn.
Upon learning that Trevor Belmont, Sypha Belnades and Dracula's son Alucard have teamed up to destroy Dracula, Carmilla freaks out, knowing how powerful they are, and insists on taking them out immediately, but the others do not listen.
Dracula orders Carmilla to work with Hector and Isaac, and she takes profit of it to talk the undecisive Hector into attacking the Belmont Estate and to attack the city of Braila which is not yet on Dracula's list, with the monsters he forged, planting doubt in his mind about Dracula's sanity.
As the vampires are slaughtering everyone in Braila, Carmilla makes her move. She raises the fanatical Bishop as an undead, to make him bless the water of the Danube River, and uses her army of vampires to ambush Dracula's forces and make them fall into the now holy water, destroying them. Right after, she drags Hector with her and launches her troops to attack the Castlevania.
Right as Dracula is about to destroy Carmilla and her forces by himself, Sypha casts a spell to teleport the Castlevania, displacing the blessed water, which destroys all of Carmilla's armies, with herself and Hector only barely escaping.
Finally, after Dracula is destroyed by the heroes, Hector has had enough of Carmilla and tries to get away, calling her twisted, but she viciously beats him to a pulp and chains him, declaring that he is now her slave and forcing him to forge an army of demons to restore her forces.
Role in the Third Season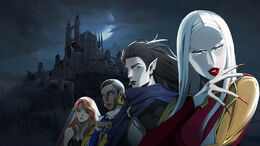 Carmilla returns to Austria, where she rules the province of Styria (where the novel Carmilla takes place) from a castle as big and wondrous as the Castlevania itself, though not a magical one. There, she leads once more her Council of Sisters and prepares to take profit of the chaos spread by Dracula's rampage in a second bid for power.
There is the red-headed diplomat Lenore, calculating, manipulative and patient, who can turn into a swarm of bats and is skilled in playing on the letter of bargains. Then the dark-skinned economist Morana, a cruel and vicious torturer yet a highly efficient administrator. Finally, the raven-haired military leader Striga, a highly skilled and analytic strategist who forms a formidable team with her lover Morana.
Carmilla decides to seize Braila, which has yet to recover from Dracula's attack, and to make it her enclaved food reserve, like a farm of sort. Her sisters point out the huge logistic difficulties in maintaining such a project, and that Hector will never obey after having been mistreated. So she orders Lenore to gain his trust and convince him to build them an army.
Lenore sets out to gain Hector's trust, providing him with luxury, books, and false niceness, while instilling doubt in his beliefs and loyalties. She eventually tricks him into forging an army, before putting a magic ring on his finger to bind him and his creations to the Council's will. He is now reduced to a pampered sex-slave, much to Lenore's sisters' astonishment.
Trivia
Carmilla mentions the Midwestern region Chicago area where Vampires have been in hiding for secrecy under her rule knowing that it is her home and willing to protect it necessary.
External Links

Villains
Movies
Animated
The Little Prince (2016): The Businessman | The Conceited Man
Sahara (2017): Omar
White Fang (2018): Beauty Smith (Croc-Blanc)
Duck, Duck, Goose (2018): Banzou the Cat
Invader Zim: Enter the Florpus (2019): Zim | GIR | Mini Moose | Gaz Membrane | Almighty Tallests | Irken Empire
Next Gen (2019): Ares
Klaus (2019): Mrs. Krum | Mr. Ellingboe
Farmageddon: A Shaun the Sheep Movie (2020): Agent Red
Animal Crackers (2020): Horatio P. Huntington
The Willoughbys (2020): Father and Mother
Arlo the Alligator Boy (2021): Ruff and Stucky
Live-Action
Beasts of No Nation (2015): The Commandant
The Ridiculous 6 (2015): Frank Stockburn | Cicero
The Do-Over (2016): Heather Fishman
You Get Me (2017): Holly Viola
The Babysitter (2017): Bee | Max | Allison | John | Sonya | Satanic Cult | Melanie
Annihilation (2018): The Shimmer
22 July (2018): Anders Behring Breivik
Extraction (2020): Amir Asif | Farhad | Colonel Bajlur Rashid | Saju Rav | Gaspar | Ovi Mahajan Sr. | Shadek
The Old Guard (2020): Steven Merrick | Booker | Copley
The Social Dilemma (2020): A.I.
I Am Mother (2020): Mother
The Babysitter: Killer Queen (2020): Melanie | Max | Allison | Sonya | John | Bee | Diego | Jimmy | Satan
Jingle Jangle: A Christmas Journey (2020): Don Juan Diego | Gustafson
Christmas Chronicles series (2020): Charlie Plummer | Vincent | Vincent's Goons | Belsnickel | Speck
Army of the Dead (2021): Zeus | Martin | Zombie Queen | Bly Tanaka | Burt Cummings | Zombies
More to be added
Series
Live-Action
House of Cards: Frank Underwood | Claire Underwood | Doug Stamper
Stranger Things: Demogorgon | Billy Hargrove | Mind Flayer

Animated
Turbo Fast:
The Adventures of Puss In Boots: Bloodwolf
Dinotrux: D-Structs | Skrap-It | Splitter | Blayde | Pounder | D-Stroy | Goldtrux
Voltron: Legendary Defender: Emperor Zarkon | Lotor | Haggar
Trollhunters: Gunmar the Black | Bular the Butcher | Gumm-Gumms | Angor Rot | Queen Usurna | Dictatious Maximus Galadrigal | Stricklander | Otto Scaarbach | Nomura | Krax | Morgana
Harvey Girls Forever!: Zoe, Stu, Maria, Patty Pupé
Castlevania: Dracula | Isaac | Hector | Blue Fangs | Carmilla | Death | Bishop
The Epic Tales of Captain Underpants: The Splotch | Socktopus | Theodore Murdsly | Smartsy Fartsy | 'Melvinborg | Teachertrons | Croco-bats | Butt-erflies | Dr. Disgruntled
She-Ra and the Princesses of Power: Hordak | The Horde (Catra, Shadow Weaver, Scorpia & Double Trouble) | Horde Prime | Galactic Horde | Light Hope | First Ones
3Below: General Morando | OMENs | Zeron Brotherhood | Halcon | Magmatron | Tronos Madu | Gwendolyn | Colonel Kubritz | Gaylen
Carmen Sandiego (2019): Professor Maelstrom | Coach Brunt | Countess Cleo | Dr. Saira Bellum | V.I.L.E. (The Cleaners | Roundabout | Cookie Booker | Tigress | Le Chevre | El Topo | Paper Star | Mime Bomb | Neal the Eel | The Mechanic | The Driver | Lady Dokuso | Otter Man and Moose Boy | Spinkick and Flytrap | The Troll | Madame Goldlove | Dash Haber)
Green Eggs and Ham (2019): Hervnick Z. Snerz | Goat (Green Eggs and Ham)
Kipo and the Age of Wonderbeasts: Scarlemagne | Mod Frogs (Jamack, Mrs. Satori | Newton Wolves (Bad Billions and Good Billions) | Scooter Skunks | Humming Bombers | Tad Mulholand | Fun Gus | Human Resistance (Dr. Emilia, Greta, Zane)
Seis Manos: El Balde | El Balde's Jefes
Wizards: Skrael and Bellroc | Morgana | King Arthur
Blood of Zeus: Seraphim (Blood of Zeus)
Jurassic World: Camp Cretaceous: Scorpios rex | Henry Wu | Toro | Indominus rex | Eddie | Mantah Corp | Mitch & Tiff | Hawkes | Reed | Eli Mills
Go, Dog, Go!: Frank and Beans
Barbie: Dreamhouse Adventures: Poppy Reardon | Whittaker Reardon | Tammy | Gloria Vaughan | Cameron Vaughan | Mr. Pearlman | Vladimir Borislav | Prince Johan | Don
Community content is available under
CC-BY-SA
unless otherwise noted.