✓
This Villain was proposed and approved by Villains Wiki's Pure Evil Proposals Thread. Any act of removing this villain from the category without a Removal Proposal shall be considered vandalism (or a futile "heroic" attempt of redemption) and the user will have high chances of being terminated blocked. You cannot make said Removal Proposal without permission from an admin first.
Additional Notice: This template is meant for admin maintenance only. Users who misuse the template will be blocked for a week minimum.

This article's content is marked as Mature
The page Mature contains mature content that may include coarse language, sexual references, and/or graphic violent images which may be disturbing to some. Mature pages are recommended for those who are 18 years of age and older.


If you are 18 years or older or are comfortable with graphic material, you are free to view this page. Otherwise, you should close this page and view another page.
| | | |
| --- | --- | --- |
| " | I was hollowed out inside... empty... just like my other. We were both sick... because we were incomplete... but not anymore. We healed each other... Made each other whole. Neither one of us can survive without the other. Forget host. Forget symbiote. There is only Carnage. | " |
| | ~ Carnage | |
| | | |
| --- | --- | --- |
| " | I am the ultimate insanity! I am CARNAGE! | " |
| | ~ Carnage | |
| | | |
| --- | --- | --- |
| " | Did you know that my mother went through electroshock treatments when she was pregnant with me? This was before they would sedate you for that kind of thing... and then, you know... I died minutes after I was born... went to Hell... came back... that whole thing... I've had therapists try to tell me that these "early traumas" led me to being... the way I am. I've heard it all, you know... I'm this way because of abuse, because of video games, or sex and violence on TV, because of guns and knives and the wickedness of this mean old world. But what none of them get... is those things didn't make me what I am. I am made... of them. I am abuse. I am sex and violence. I am the guns and knives and the wickedness of this mean @#$%#&% world... you know my name. Now scream it. | " |
| | ~ Carnage | |
Cletus Cortland Kasady, also known as Carnage and later Dark Carnage, is a major antagonist from Marvel Comics, serving as a major antagonist in the Spider-Man comic series and the central antagonist of the Venom comic book series as a whole. as well as the titular main antagonist of many story lines such as Venom vs. Carnage, Carnage, U.S.A., and Absolute Carnage, as well as the secondary antagonist of Go Down Swinging, and a posthumous antagonist of King In Black. He is a deranged serial killer who bonded with a symbiote, turning him into a vicious supervillain. He is the primary archenemy of Venom and one of his archenemies (along with Knull and Riot).
Personality
| | | |
| --- | --- | --- |
| " | I've shown you the worst things in the world, because that's what the world's made of. Everything is sick! Am I getting through to you? Everything is sick... and I LOVE IT! | " |
| | ~ Carnage | |
When Cletus was born from a psychiatry hospital, his heart stopped beating for a few minutes. Then Cletus was revived by Knull to be the one to free him from Klyntar.
As a result, Cletus showed psychopathic and sadistic traits: he was completely unemotional and remorseless individual who took great pleasure in killing his own mother's pet and grandmother, and even tried to kill his mother that incites the tense argument that led to his mother's death and his father's incarceration. The said negative traits escalated to more catastrophic scale over time during his stay in St. Estes Home for Boys, as abuse that Cletus received further made him even more evil that he acquired philosophy that life was essentially meaningless and futile, that "laws are only words", and came to see the spreading of chaos through random, unpatterned bloodshed as "the ultimate freedom".
When becoming Carnage, his sadism and depravity proved to be one of his greatest assets: his symbiote, which spawned from Venom's by the time it freed Brock from the prison, would feed on his hatred and rage over the world as fuel to enhanced its powers. Not just sadistic and cruel, Kasady also become a completely treacherous, horrifying, and depraved supervillain who proved to be an extremely despicable and dangerous advesary for both his worst enemies, Spider-Man and Venom.
Cletus Kasady is schizophrenic, enabling him to activate extra-terrestrial episodes of paranoia and delusion to transform into the demonic alien symbiote of Carnage. The symbiote has a considerably stronger bond with Kasady than its father has with its hosts. This is indicated by the fact that Kasady has predominantly used the term "I", as opposed to his father's use of "we". However, even though the bond between host and symbiote is strong, it has left Kasady several times to find more powerful hosts.
It has bounded with John Jameson, Ben Reily (at the time referred to as Spider-Carnage) and the Silver Surfer (forming The Carnage Cosmic) but it always ended up back on Kasady is if it were his familiar. Eventually it and Kasady met their end while escaping "The Raft", a prison for super powered people. He was ripped apart by Sentry in outer space. The symbiote survived by becoming dormant and returned to Earth, but was found by Michael Hall, who used the symbiote to create prosthesis and super-guards. The Doppelganger and Shriek return, hoping to repair the symbiote.
Powers and Abilities
"
Venom: He's a lout. An uncouth loner. Even when I invited him to join my hourly exercise sessions, he preferred to lie on his bunk to heavy metal music, so loud that I could hear it from his headphones!
Spider-Man: He never exercised? So how come he seems even stronger than you?
Venom: Perhaps my other spawn took our strength with it! Added it to Kasady's own maniacal might!
"
~ A discussion between Spider-Man and Venom about how Carnage is stronger than them.
As Eddie Brock explained, the Carnage symbiote was born with abilities even more singular than those of its progenitor due to the fact that it gestated in an environment alien to it—Earth. As result, Carnage is capable to utilize his powers in a trickier and deadlier manner than Venom would, in spite of inheriting latter's powers. Kasady himself lacked superpowers of his own, but his insanity and murderous urge acts as fuel to bolster his and symbiote's strengths, making them challenging adversary even for Venom and Spider-Man himself.
ESP (Spider-Sense): Like Venom and Spider-Man, Carnage possesses ESP ability due to his symbiote can relay information to him from any angle and grants Kasady the ability to "see" in any direction, warning him of any danger and threat. This power even more efficient than Spider-Man's and Venom's because it able to discern the specific nature of impending threats and conduct him in plenty of time.
Immunity to Spider-Sense: Due to gestating from the very symbiote that once possessed Spider-Man, Carnage is capable of attacking Spider-Man without alerting him. Surprisingly, after encountered both Spider-Man and Venom, Carnage also able to adjusted this power so he also simultaneously not alarmed Venom whenever he attempted to attacked him.
Wall-Crawling: Much like Spider-Man and his symbiote parent Venom, Carnage has the ability to cling to any surface. He can rapidly crawl, walk, or run across even slick/wet surfaces.
Haemokinetic Shapeshifting: Because his symbiote was mixed with his bloodstream during the bonding process, said symbiote's inherent shapeshifting abilities became enhanced that Carnage can manipulate blood in addition of the symbiote's own mass. In fact, he can restore his symbiote back to full health by bleeding alone.

Blood Weapon Constructs: Carnage can fashion weapons, tendrils, and other objects out of his symbiote-infused blood.

Symbiotic Blood Costume: As with other symbiotes, Carnage symbiote has the basic ability to fully emerge from its host and human half Kasady while still attached to him, enveloping its host's body to form its own as a sentient, malleable but durable suit complete with eyes, claws and a mouth with powerful jaws and sharp teeth while increases in mass, turning him into powerful opponent. Unlike Venom's, the suit is black and red in coloration due to the symbiote completely mixed with Kasady's blood.
Construct Creation: Carnage can create weapons from his blood-infused mass, including blades, flails, darts, spikes, and claws. Said constructs can be detached from his body as projectiles or thrown weapons where they disintegrate few seconds after being separated from his body, preventing his foes from using said constructs against him.
Blood Web Generation: Carnage can project organic web-like substance on the same vein with Venom, though his version of said ability much more advanced since he can manipulate the web's trajectory like guided missiles since the substance is made of his symbiote-infused blood.
Tentacle Extension: Carnage can also form tentacles out of his blood-infused symbiote mass at will.
Clothing Generation: Carnage can also fashion clothings out of his blood-infused symbiote mass in rare occasions.

Stretching and Deforming: Carnage has full control over the size, shape, color (usually red and black), texture, and hardness of his symbiote (and any part thereof). He is even able to use this ability in full effect both for defense by deflect bullets and other projectiles and offensive manner by using his foe's strengths against them (an instance can be seen when Spider-Man goes for aiding Venom whom held Carnage as he is beating him, Carnage retaliates by deforming his body to ensnare and tossed his opponent aside simultaneously).

Superhuman Durability: Carnage can withstand greater punishment than normal humans, with his durability becomes enhanced with use of his symbiotic costume.
Regenerative Healing Factor: He is able to rapidly regenerate damaged body tissues much faster and more extensively than any ordinary human is capable of and even lost or destroyed tissues that would be fatal to ordinary humans. He can fully regenerate severed limbs or missing internal organs. He was fitted with artificial legs after being torn apart by the Sentry, but this occurred while he was separated from the symbiote.

Disease Immunity: Kasady is also immune to the effects of all Earthly diseases and infections as long as he remains bonded with the symbiote.

Superhuman Strength: Carnage was surprisingly stronger than combined forces of Spider-Man and Venom. This quite interesting due to the fact that during the time he and Brock spent their time in prison, Brock stated that Kasady preferred to be lazy than performing exercize, which means his strengths purely came from his symbiote.
Superhuman Speed: Carnage can run and move at speeds superior to these of any normal human being.
Superhuman Agility: Carnage's agility, balance, and bodily coordination are all enhanced to levels that are beyond the natural physical limits of the finest human athlete, even more than Venom and Spider-Man.
Memory Implantation: Carnage's tendrils can be used to plant thoughts into a person's head, and is typically used to drive them insane from experiencing his nihilistic worldview.
Adaptive: Carnage's symbiote can rapidly adapt to new environments; when Kasady was taken into space by the Sentry, the Carnage symbiote was able to save his life by growing small sacks around his mouth that converted carbon dioxide into oxygen, allowing Kasady to stay alive long enough for him to be recovered.
Insanity Empowerment: It should be noted that prior to bonded by newborn symbiote of Venom's, Kasady lacks superpower of his own, but has a maniacal will and insane worldview that he has had from the age of 8 years old onward. As result, when Kasady merges with the offspring of Venom's symbiote and become Carnage, the said symbiote would feed of his hatred and rage to the world, resulting him stronger tenfold, something which enable him to easily overpowered both Venom and Spider-Man at once.
Weakness
Extreme Heat: Carnage's symbiote, like Venom's, was weak against extreme heat, but not as much as the latter: When Spider-Man electrocuted him on the electrified trail, Carnage was briefly weakened by the burns, but it's also angered him as he retaliates by slamming them against the wall.
Loud Vibrations: With loud vibrations on the other hand, Carnage was proved to be worse than Venom. For example, Vibranium is effective to the symbiote separating from its host.
Kasady's Insanity: While insanity is what empowered him as Carnage, Kasady's madness turned out to be his own weakness at the same time. His mental pathologies can also be exploited (if done properly), allowing people to manipulate his actions and even defeating him.
Alternate Versions
Ultimate Comics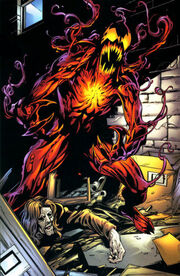 The Ultimate Marvel Universe version of Carnage is self-regenerating form of life based on the symbiotic suit research of Richard Parker. He is created by Curt Connors to replace the missing Venom "suit" by using the the same process to create Venom, his own DNA, and the DNA of Peter Parker.
Using some of Peter's memories, it travels to Peter's home and kills Gwen Stacy. It battles Peter, who eventually manages to kill it. Doctor Octopus later creates a new Carnage that takes on the form of Gwen Stacy. It has the memories of Gwen and attempts to reunite with Peter. It eventually returns to its Carnage form when confronted by S.H.I.E.L.D., and is eventually taken into their custody. Carnage later escapes during the Green Goblin's escape.
During the "War of the Symbiotes" arc, the Carnage symbiote squares off with it's forerunner in a no-holds-barred, one-on-one duel to the death that lasts an issue, which ends with Eddie defeating Carnage and absorbing the symbiote, allowing him total control over the suit.
Quotes
| | | |
| --- | --- | --- |
| " | We're gonna paint the whole damn world red! | " |
| | ~ Carnage | |
| | | |
| --- | --- | --- |
| " | It's your friendly neighborhood Carnage-Man! Carnage-Man! Carnage-Man! Doing all the things a Carnage can! | " |
| | ~ Carnage mocking Spider-Man's theme song. | |
| | | |
| --- | --- | --- |
| " | We are all born into this world through blood and pain. It takes a special person to rise above it. Every hero has an origin. Your parents getting murdered is the best way to start. My old man wasted my mom right in front of me. Or was it my stepdad and my foster mom? I don't know. I remember things wrong sometimes, but it all works if it feels right. Orphanages are good, too. But really any terrible place to incubate will work. You just need one beacon in the dark. One person to show your true face to. Where your heart can be broken and your innocence lost. Then you kill that one good thing to perfect the pointlessness of the universe. No. I don't like that. That's wrong. There is meaning. It's not pointless. Not anymore. Her death makes the hero embrace his fate. I've done so much wrong and it hurts so bad. Guilt! Nearly more than I can stand. I will save the world now. Because I couldn't save her. But how can I possibly be redeemed? How can I ever be loved? I must find a way... | " |
| | ~ Carnage after having his morality reversed, monologuing to himself about how to be a hero. | |
| | | |
| --- | --- | --- |
| " | This is her true final lesson. This is what I must understand. To be good. To be a hero—I must be alone. | " |
| | ~ Carnage misinterpreting Alice Gleason's betrayal. | |
| | | |
| --- | --- | --- |
| " | Everybody says "I don't want to die alone". But in my experience, push comes to shove... it isn't the "alone" part people want to avoid. It's the dying. | " |
| | ~ Carnage | |
| | | |
| --- | --- | --- |
| " | You knooooow who it is, sweetums!! It's your ever-lovin', totally unfriendly neighborhood—CARNAGE! | " |
| | ~ Carnage to Ashley Kafka. | |
| | | |
| --- | --- | --- |
| " | As it is, I feel nothing but cold empty contempt. I hate you daddy. | " |
| | ~ Carnage to Venom. | |
| | | |
| --- | --- | --- |
| " | But isn't that what you want to hear, Doctor? That I was a poor, abused child? That I was tortured and hung by my ankles above a pit of broken glass? Well, maybe that's all true. Or maybe... I'm just the inevitable aberration. The soul that's born so black, so twisted, so filled with unreasoning hatred... that there's no explanation. You can't make me sane, Doctor. You can't hope to redeem me. All you can do is kill me. Because, if you don't—I'll break out of here. You have my word on that. And the blood—the glorious blood—will flow like wine! | " |
| | ~ Carnage | |
| | | |
| --- | --- | --- |
| " | Cletus Kasady is dead. Long live Cletus @#$%&@ Kasady. Piloting my new Carnage machine into every gaping hole in the mannequin-filled city. Kill enough and I awake my god. And then this world falls under a waterfall of blood and enters a new universe of dark. And hoo-boy, I will be there. Sucking the last sweet shivering breaths out of its rotting, maggot-filled, bloated corpse. Dancing all silly and spine-broken to the universe's death rattle. I am the gore emperor of a thousand dead stars. I am a new colossus of bleeding red megadeath. I am the red right hand of the King in Black. I am the end of the world as you @#$%&&# know it... and I feel like a drink. | " |
| | ~ Carnage | |
| | | |
| --- | --- | --- |
| " | Don't you know who I am?! I was born of chaos. I feed off of violence and depravity. Playing me back my greatest hits only makes me more excited. Makes me realize how much I love what I do! | " |
| | ~ Carnage to Danny Ketch after the latter's Penance Stare backfires on him/ | |
| | | |
| --- | --- | --- |
| " | Gotta hand it to ya, Wilson... you're the only guy crazier than me. | " |
| | ~ Carnage to Deadpool. | |
| | | |
| --- | --- | --- |
| " | Oh, Aaaaaaaaandi! Stop playin' these games and take your medicine! | " |
| | ~ Carnage | |
| | | |
| --- | --- | --- |
| " | You see, Kenneth? I am no longer bound by the trappings and yearnings of Cletus Kasady. Or any man. All that torture and pain and flesh and blood... I admit I enjoyed it, but that was Cletus' preoccupation. We each have our own obsessions. I am yours. And you are probably someone else's. But I... I want to escape these meagre ambitions, Kenneth. I am going to find my own meanings, my own beauty. And this... this is just the first step. So tell me, Kenneth... why would I weigh myself down by bonding to another host? | " |
| | ~ Carnage | |
Trivia
Carnage was created by David Michelinie and Mark Bagley.
Carnage's personality drastically "changed" in the AXIS storyline when he became a noble "hero" and sacrificed himself to stop Red Skull, but that is not his true personality. This "change" was merely caused by an altering spell cast by Doctor Doom and Scarlet Witch in order to gain allies for stopping Red Skull, not by a genuine change of heart within Kasady.

Carnage returned to his true personality of being a psychotic mass murderer as soon as he revived and freed from the spell. He soon completely abandoned his "heroic" traits during the time he was brainwashed, instead of accepting it as a change of heart.

Cletus Kasady's personality, and to a certain extent, his physical appearance while human, was derived from that of The Joker. Coincidentally, one of the villains in the TV series Gotham, Jerome Valeska (who is heavily implied to either be a younger version of the Joker himself or at the very least responsible for his eventual creation) has a passing resemblance to Cletus Kasady.

Cameron Monaghan was also suspected to be playing Cletus Kasady in the Venom movie, but the role eventually went to Woody Harrelson.
Carnage and Joker actually met in a Spider-Man/Batman crossover, where Carnage idol-worshipped the clown prince until he was insulted as to his "lack of art". Batman commented on the chilling effect Carnage's presence caused even him.

Cletus Kasady and Carnage had been primarily created to essentially create a darker version of Venom, as they had initially kill off Eddie Brock, the host of the venom parasite, although Venom and Eddie Brock's popularity ended up preventing him from being killed off (not to mention Venom and Eddie Brock being developed to be more anti-villains than true villains).
He was voiced by Scott Cleverdon in 1994 Spider-Man, and by Dee Bradley Baker in the 2000 Spider-Man.
Recently, Kasady has become a creature named Poison Carnage, although he returned to normal in the aftermath of the Venomized miniseries.
After Venom got his own spin-off series and having his own supporting, Carnage became his arch-enemy and most prominent foe.
IGN ranked Carnage as #90th on their Greatest Comic Book Villain list.
Carnage fought Lucy from Elfen Lied in ScrewAttack's DEATH BATTLE and lost.
Outside of Cletus Kasaday, the Carnage symbiote has bonded with other hosts such as Ben Riley, Karl Malus, and Norman Osborn.
Carnage was originally gone to be called "Ravage" or "Chaos" before being called Carnage.
External Links

Villains
Comics
Abomination | Absorbing Man | Agony | A.I.M. | Alistair Smythe | Annihilus | Answer | Arcade | Ares | Arnim Zola | Attuma | Awesome Android | Baron Mordo | Baron Zemo | Basilisk | Batroc the Leaper | Beetle | Beyonder | Big Man | Black Cat | Black Widow | Blackie Drago | Blastaar | Blizzard | Blob | Bolivar Trask | Bombshell | Boomerang | Brothers Grimm | Burglar | Bulldozer | Bullseye | Bushwacker | Cadaverous | Calypso | Carlton Drake | Carnage | Carrion | Chameleon | Chance | Constrictor | Count Nefaria | Crime-Master | Crossbones | D'Spayre | Daemos | Dark Avengers | Deadpool | Demogoblin | Destroyer | Diablo | Doctor Doom | Doctor Faustus | Doctor Octopus | Doppelganger | Dormammu | Dracula | Dreadknight | Electro | Enclave | Enforcers | Equinox | Fancy Dan | Firelord | Fixer | Freak | Frightful Four | Gabriel Stacy | Galactus | Ghost | Gibbon | Gog | Goliath | Grant Ward | Graviton | Green Goblin (Norman Osborn, Harry Osborn and Bart Hamilton) | Grey Gargoyle | Grizzy | Hammerhead | Hand | Hazmat | High Evolutionary | Hitman | Hobgoblin | Hood | Human Fly | Humbug | Hybrid | HYDRA | Hydro-Man | Ironclad | Impossible Man | Inheritors | Iguana | Jackal | Jack O' Lantern | Jester | Jigsaw | J. Jonah Jameson | Johnny Ohm | Jonas Harrow | Juggernaut | Justin Hammer | Kangaroo | Kang the Conqueror | Kaine | Karn | Killer Shrike | King Cobra | Kingpin | Knull | Kraven the Hunter | Kristoff Vernard | Lady Octopus | Lasher | Lady Deathstrike | Leader | Leap-Frog | Lee Price | Life Foundation | Lightmaster | Living Brain | Living Laser | Lizard | Loki Laufeyson | Lucia Von Bardas | Mad Thinker | Madame Masque | Madame Viper | Maestro | Maggia | Magneto | Mandarin | Man-Spider | Man-Wolf | Mania | Masked Marauder | Master Mold | Masters of Evil | Maximus | Menace | Mephisto | Mesmero | Mister Brownstone | Mister Fear | Mister Hyde | Mister Negative | M.O.D.O.K. | Mojo | Mole Man | Molten Man | Montana | Moonstone | Morbius | Morlun | Moses Magnum | Mysterio (Quentin Beck, Daniel Berkhart and Francis Klum) | Nebula | Nekra | Nightmare | Niles Van Roekel | Nitro | Onslaught | Overdrive | Orka | Owl | Ox | Phage | Phil Urich | Piledriver | Princess Python | The Prowler | Psycho-Man | Puma | Punisher | Punisher (Earth-95126) | Puppet Master | Quasimodo | Quicksilver | Ramrod | Raze | Red Ghost | Red Skull | Rhino | Rhino II | Richard Fisk | Ringer | Ringmaster | Riot | Roland Treece | The Rose | Roxxon Energy Corporation | Sabretooth | Sandman | Sarah Stacy | Sauron | Scarecrow | Scarlet Witch | Scorcher | Scorpion | Scorn | Scream | Sebastian Shaw | Secret Empire | Serpent Society | Sentinels | Seth Youngblood | Shocker | Shriek | Sin-Eater | Silvermane | Silver Sable | Sinister Six | Skip | Skrulls | Solus | Songbird | Patton Parnel | Spider-Carnage | Spider-Man Revenge Squad | Spider-Slayers | Spot | Stegron | Street | Super-Apes | Supercharger | Swarm | Symbiotes | Tarantula | Taskmaster | Terminus | Terrax | Thanos | The Thousand | Thunderball | Thunderbolt Ross | Thunderbolts | Tinkerer | Titania | Titanium Man | Toad | Tombstone | Trapster | Turner D. Century | Typhoid Mary | Tyrannus | U-Foes | Ultimatum | Ultron | Vapor | Vanessa Fisk | Vector | Venom (Eddie Brock) | Vermin | Vulture | Walrus | Whiplash | White Rabbit | Whirlwind | Will-O'-The-Wisp | Wizard | Worthy | Wrecker | X-Ray | Zodiac | Zombie Spider-Man | Zombie Giant-Man
Movies
Spider-Man: Green Goblin | Dennis Carradine | Bank Robbers | Harry Osborn | J. Jonah Jameson
Spider-Man 2: Doctor Octopus | Harry Osborn | J. Jonah Jameson | Green Goblin
Spider-Man 3: Venom | Sandman | New Goblin | J. Jonah Jameson | Green Goblin | Dennis Carradine
The Amazing Spider-Man: Lizard | Gustav Fiers | Cash Register Thief | Norman Osborn
The Amazing Spider-Man 2: Electro | Green Goblin | Donald Menken | Rhino | Alistair Smythe | Ashley Kafka | Felicia Hardy | Gustav Fiers | Norman Osborn
Spider-Man: Homecoming: Bestman Salvage (Vulture, Tinkerer, Shocker #1, Shocker #2 & Randy Vale) | Mac Gargan | Aaron Davis
Spider-Man: Into the Spider-Verse: Kingpin | Doctor Octopus | Prowler | Tombstone | Scorpion | Green Goblin | Vanessa Fisk | Richard Fisk
Spider-Man: Far From Home: Mysterio's Crew (Mysterio, William Ginter Riva, Victoria Snow, Gutes Guterman, Janice Lincoln, & Doug) | Elementals (Molten Man, Hydro-Man, Sandman, Cyclone and Elemental Fusion) | Skrulls (Talos) | Obadiah Stane | J. Jonah Jameson
Spider-Man: No Way Home: Raimiverse (Green Goblin, Doctor Octopus & Sandman) | Webbverse (Electro & Lizard) | J. Jonah Jameson | Venom | Mysterio

Television
Spider-Man (1967)
Vulture | Green Goblin | Electro | Rhino | Mysterio | Doctor Octopus | Scorpion | Human Fly | Kingpin | Lizard | Spider-Slayer | Sandman | Dr. Matto Magneto | Enforcers (Cowboy and Ox) | Frederick Foswell | Mole Man | J. Jonah Jameson
Spider-Man (1981)
Doctor Doom | Kingpin | Doctor Octopus | Lizard | Black Cat | Sandman | Silvermane | Magneto | Mysterio | Ringmaster | Green Goblin | Sidewinder | Kraven the Hunter | Red Skull | Chameleon | Vulture | Hammerhead | Wizard | Medusa
Spider-Man and His Amazing Friends (1981)
Green Goblin | Kraven the Hunter | Doctor Doom | Swarm | Chameleon | Electro | Brotherhood of Mutants (Magneto, Blob, Toad, and Mastermind) | Mysterio | Loki Laufeyson | Ymir | Mordred | Kingpin | Doctor Faustus | Red Skull | Juggernaut | Shocker | Sandman | Dracula | Scorpion | Beetle | Doctor Octopus | A.I.M.
Spider-Man: The Animated Series
Kingpin | Green Goblin (Norman Osborn and Harry Osborn) | Doctor Octopus | Hobgoblin | Venom | Vanessa Fisk | Richard Fisk | Silvermane | Insidious Six (Scorpion, Rhino, Mysterio, Chameleon, Shocker, and Vulture) | Black Cat | Lizard | Morbius | Spider-Carnage | Spider-Slayers (Alistair Smythe) | Carnage | Baron Mordo | Dormammu | Silver Sable | Hydro-Man | Prowler | Doctor Doom | Red Skull | Electro | Hammerhead | Tombstone | Punisher | Kraven the Hunter | Calypso | Herbert Landon | Jackal | Owl | Spot | Beyonder | J. Jonah Jameson
Spider-Man Unlimited
High Evolutionary | Venom | Carnage | Electro | Kraven the Hunter | Green Goblin | Vulture | Man-Wolf | J. Jonah Jameson
Spider-Man: The New Animated Series
Harry Osborn | Electro | Kraven the Hunter | Turbo Jet | Kingpin | Lizard | Shikata | Silver Sable
The Spectacular Spider-Man
Green Goblin | Tombstone | Doctor Octopus | Hammerhead | Venom (Eddie Brock) | Sinister Six (Rhino, Vulture, Electro, Sandman, Mysterio, and Kraven the Hunter) | Chameleon | Tinkerer | Enforcers (Shocker, Ricochet and Ox) | Molten Man | Silvermane | Silver Sable | Harry Osborn | Lizard | J. Jonah Jameson | Black Cat | Miles Warren | Frederick Foswell | Calypso | Roderick Kingsley | Morris Bench | Cletus Kasady
Ultimate Spider-Man
Doctor Octopus | Green Goblin | Harry Osborn | Taskmaster | HYDRA (Arnim Zola, Crossbones, Morbius, and Baron Mordo) | Sinister Six (Kraven the Hunter, Rhino, Electro, Scorpion, Vulture, and Hydro-Man) | Toad | Batroc the Leaper | Beetle | Lizard | Frightful Four (Wizard, Trapster & Klaw) | Juggernaut | Sandman | Venom | Loki Laufeyson | The Collector | Grandmaster | Carnage | Wolf Spider | Ultimate Green Goblin | Shocker | Shriek | Swarm | Dracula | Spider-Slayers (Kaine) | Absorbing Man | Abomination | Annihilus | Arcade | Attuma | Awesome Android | Blastaar | Blizzard | Boomerang | Chitauri | Deadpool | Destroyer | Doctor Doom | Dormammu | Skurge | Enforcers (Montana, Fancy Dan, Ox) | Frost Giants | Grizzly | Hammerhead | Jack O'Lantern | Korvac | The Leader | Living Laser | Man-Wolf | Maximus | Melter | Mesmero | M.O.D.O.K. | Molten Man | Mister Negative | Mysterio | Nightmare | Norma Osborn | Phalanx | Sabretooth | Skaar | Galactus | Ulik | Whirlwind | Wrecker | Piledriver | Thunderball | Bulldozer | Ymir | Zodiac | Scorpio | Zzzax | J. Jonah Jameson
Spider-Man (2017)
Symbiotes (Venom, Scream, Scorn, and Mania) | Dark Goblin | Hobgoblin | Doctor Octopus | Vulture/Goblin King | Alistair Smythe | Rhino | Jackal | Hammerhead | Electro | A.I.M. (M.O.D.O.K.) | Spider-Slayers | Lizard | Tinkerer | Swarm | Scorpion | Sinister Six | Kraven the Hunter | Man-Wolf | Silver Sable | Beetle | Spot | Prowler | Molten Man | Mister Negative | Chameleon | HYDRA (Crossbones and Arnim Zola) | Black Cat | Ghost | Blizzard | Absorbing Man | Crimson Dynamo | Overdrive | Mysterio | Jack O'Lantern | Silvermane | Lady Octopus | Paladin | Puma | Shocker | Living Brain | Sandman | Technovore | Baron Mordo | Knull | J. Jonah Jameson
Spidey and His Amazing Friends (2021)
Green Goblin | Doctor Octopus | Rhino
Video Games
The Amazing Spider-Man & Captain America in Dr. Doom's Revenge: Doctor Doom | Electro | Hobgoblin | Rhino | Boomerang | Grey Gargoyle | Oddball | Batroc the Leaper | Mysterio
Spider-Man: Return of the Sinister Six: Sinister Six (Doctor Octopus, Electro, Hobgoblin, Mysterio, Sandman and Vulture)
Spider-Man & X-Men: Arcade's Revenge: Arcade | Carnage | Rhino | Apocalypse | Juggernaut | Selene Gallio | Sentinels | Master Mold
Spider-Man and Venom: Maximum Carnage: Carnage | Shriek | Doppelganger | Demogoblin | Carrion
Spider-Man and Venom: Separation Anxiety: The Jury | Sentry | Ramshot | Screech | Bomblast | Firearm | Wysper | Life Foundation | Symbiotes (Carnage | Riot | Phage | Lasher | Agony | Scream)
Spider-Man (2000): Doctor Octopus | Symbiotes | (Carnage, Venom) | Jade Syndicate | Monster Ock | Scorpion | Rhino | Mysterio, J. Jonah Jameson, Lizard
Spider-Man 2: Enter Electro: Electro | Beetle | Hammerhead | Lizard |Sandman | Shocker
Spider-Man (2002): Green Goblin | Shocker | Vulture | Spider-Slayers | Scorpion | Kraven the Hunter | Dennis Carradine | Harry Osborn | J. Jonah Jameson
Spider-Man 2: Doctor Octopus | Harry Osborn | Rhino | Mysterio | Shocker | Puma | Black Cat | Vulture | Calypso | J. Jonah Jameson
Ultimate Spider-Man: Bolivar Trask | Venom | Vulture | Silver Sable | Shocker | R.H.I.N.O. | Electro | Beetle | Green Goblin | Sandman | Carnage
Spider-Man 3: Venom | Sandman | New Goblin | Lizard | Scorpion | Kraven the Hunter | Calypso | Kingpin | Rhino | Morbius | Shriek | H-Bombers (Mad Bomber) | J. Jonah Jameson
Spider-Man: Web of Shadows: Spider-Man | Venom | Kingpin | Black Cat | Vulture | Electro | Tinkerer | Rhino
Spider-Man: Shattered Dimensions: Mysterio | Kraven the Hunter | Hammerhead | Hobgoblin | Electro | Sandman | Vulture | Scorpion | Deadpool | Juggernaut | Silver Sable | Goblin | Serena Patel | Carnage
Spider-Man: Edge of Time: Peter Parker | Atrocity | Walker Sloan
The Amazing Spider-Man: Spider-Slayers (Alistair Smythe) | Lizard | Rhino | Vermin | Scorpion | Felicia Hardy | Iguana | Nattie
The Amazing Spider-Man 2: Carnage | Kingpin | Green Goblin | Shocker | Kraven the Hunter | Black Cat | Electro | Chameleon | Norman Osborn | Cash Register Thief
Marvel's Spider-Man: Sinister Six (Doctor Octopus, Mister Negative, Electro, Vulture, Rhino and Scorpion) | Inner Demons | Norman Osborn | Silver Sable | Kingpin | Shocker | Tombstone | Taskmaster | Black Cat | Screwball | Hammerhead | Walter Hardy | Yuriko Watanabe
Marvel's Spider-Man: Miles Morales: Roxxon Energy Corporation (Simon Krieger) | The Underground (Tinkerer) | Prowler | Rhino | Kingpin | Norman Osborn | Doctor Octopus | Vulture
See Also
Black Cat Villains | Cloak & Dagger Villains | Morbius: The Living Vampire Villains | Prowler Villains | Punisher Villains | Scarlet Spider Villains | Silk Villains | Silver Sable Villains | Solo Villains | Sony's Spider-Man Universe Villains | Spider-Girl Villains | Spider-Gwen Villains | Spider-Man 2099 Villains | Spider-Man Noir Villains | Spider-Woman Villains | Toei's Spider-Man Villains | Venom Villains

Villains
Comics
Abomination | Abominatrix | Absorbing Man | Adolf Hitler | Agony | A.I.M. | Air-Walker | Alkhema | Aleksander Lukin | Alistair Smythe | Amatsu-Mikaboshi | Amora | Anaconda | Annihilus | Ani-Men | Answer | Apocalypse | Arcade | Ares | Arnim Zola | Atlas | Attuma | Avalanche | Awesome Android | Badoon | Barracuda | Baron Blood | Baron Mordo | Baron Wolfgang von Strucker | Baron Zemo | Basilisk | Batroc | Beetle | Beyonder | Bi-Beast | Black Knight | Blackout | Black Order | Black Cat | Black Mamba | Black Talon | Black Widow | Blackie Drago | Blastaar | Blitzkrieg | Blizzard | Blob | Blood Brothers | Bombshell | Boomerang | Brothers Grimm | Brotherhood of Evil Mutants | Bulldozer | Bullseye | Burglar | Bushmaster | Bushwacker | Cache | Cannibals (Marvel Universe Vs) | Carnage | Carrion | Calypso | Celestials | Centurion | Chameleon | Chance | Chemistro | Chester Goudal | Chitauri | Collector | Colonel Ross Whittaker | Commander Kraken | Constrictor | Corruptor | Cottonmouth | Count Nefaria | Cowled Commander | Crime-Master | Crimson Dynamo | Crimson Widow | Cristu Bulat | Crossbones | Crossfire | D'Spayre | Daken | Damage | Daniel Whitehall | Dark Avengers | Dark Elves | Deadpool | Deathbird | Deathurge | Death Adder | Deke Wainscroft | Demogoblin | Diablo | Diamondback | Doctor Doom | Doctor Faustus | Doctor Octopus | Doctor Spectrum | Dormammu | Dracula | Dreadknight | Eddie Brock | Eel | Egghead | Ego the Living Planet | Electro | Elementals | Elements of Doom | Enclave | Enforcers | Equinox | Exodus | Ezekiel Stane | Fabian Cortez | Famine | Fin Fang Foom | Finn Cooley | Firelord | Fixer | Fold | Frost | Frost Giants | Frightful Four | Galactus | Gargantus | Garthan Saal | Ghost | Giganto | Goliath | Gladiator | Godzilla | Grand Director | Grandmaster | Grant Ward | Graviton | Green Goblin (Norman Osborn, Harry Osborn) | Grey Gargoyle | Grey Goblin | Griffin | Grim Reaper | Grizzly | Growing Man | Grotesk | Hammerhead | Hand | Hazmat | Hela | Hera | Herr Kleiser | Heinz Kruger | High Evolutionary | Hitman | Hive | Horsemen of Apocalypse | Hobgoblin | Hood | Hydro-Man | HYDRA | Immortus | Impossible Man | Inner Demons | Ironclad | Iron Monger | Jackal | J. Jonah Jameson | Jack O' Lantern | Jester | Jigsaw | Johnny Ohm | Jonas Hambleton | Jormungandr | Juggernaut | Justin Hammer | Kaine | Kang the Conqueror | Killer Shrike | King Cobra | Kingpin | Klaw | Knull | Korath the Pursuer | Korvac | Kraven the Hunter | Kree | Kristoff Vernard | Lady Deathstrike | The Leader | Lightmaster | Living Brain | Living Laser | Living Monolith | Lizard | Loki Laufeyson | Lucia Von Bardas | Ma Gnucci | Machinesmith | Mad Pharaoh | Mad Thinker | Madame Masque | Madame Viper | Madcap | Madelyne Pryor | Maelstrom | Maestro | Maginty | Magneto | Magus | The Maker | Malekith the Accursed | Man-Ape | Mandarin | Mandrill | Man-Spider | Man-Wolf | Master Man | Master Pandemonium | Masters of Evil | Masked Marauder | Maximus the Mad | Medusa | Melter | Menace | Mentallo | Mercurio the 4-D Man | Mesmero | Mephisto | Mister Fear | Mister Hyde | Mister Negative | Mister Payback | Mister Sinister | M.O.D.A.M. | M.O.D.O.K. | Mojo | Molecule Man | Mole Man | Molten Man | Monica Rappaccinni | Moonstone | Morbius the Living Vampire | Morgan le Fay | Moses Magnum | Mystique | Mysterio | Namor | Nebula | Nekra | Nicky Cavella | Nightmare | Nightshade | Niles Van Roekel | Nicky Cavella | Omega Red | Onslaught | Orka | Overdrive | Owl | Paladin | Phalanx | Phil Urich | Piledriver | Pluto | Presence | Princess Python | Proctor | Psycho-Man | Punisher | Puppet Master | Puma | Purple Man | Quasimodo | Quicksand | Quicksilver | Radioactive Man | Ragnarok | Ramrod | Rattler | Reavers | Red Ghost | Red Skull | Reverend Samuel Smith | Rhino | Rhino II | The Rose | Ringer | Ringmaster | Riot | Ronan the Accuser | Roxxon | Sabretooth | Sandman | Säurespritze | Sauron | Savage Land Mutates | Scarecrow | Scarlet Witch | Scorcher | Scorpion | Screaming Mimi | Sebastian Shaw | Secret Empire | Selene Gallio | Sentinels | Sentry 459 | Serpent Society | Shriek | Shocker | Shockwave | Sidewinder | Silver Sable | Sin | Sinister Six | Skaar | Skeleton Crew | Skrulls | Skurge | Slug | Space Phantom | Spider-Man Revenge Squad | Spider-Slayers | Spot | Squadron Sinister | Stranger | Street | Sunstroke | Superia | Super-Adaptoid | Super-Apes | Super Patriot | Super-Skrull | Supreme Intelligence | Superia | Surtur | Swarm | Swordsman | Symbiotes | Tarantula | Taskmaster | Technovore | Temugin | Ten Rings | Terminus | Thanos | Thorr Odinson | Thunderball | Thunderbolts | Thunderbolt Ross | Thundersword | Tiger Shark | Tinkerer | Titania | Titanium Man | Toad | Tombstone | Trapster | Trick Shot | Terrax the Tamer | Typhoid Mary | Tyrannus | U-Foes | Ulik | Ultimus | Ultron | Unicorn | Universal Church of Truth | Vapor | Vector | Venom | Vermin | Vulture | Walrus | Warlord Krang | Whiplash | Whirlwind | White Rabbit | Will-O'-The-Wisp | Winter Soldier | Wizard | Wonder Man | Wrecker | Worthy | X-Ray | Yellow Claw | Ymir | Yon-Rogg | Zahnmörder | Zodiac | Zombie Giant-Man | Zombie Sentry | Zzzax
Movies
Ultimate Avengers 1 & 2: Herr Kleiser | Chitauri
Next Avengers: Heroes of Tomorrow: Ultron
The Avengers: Loki Laufeyson | Chitauri (The Other & Leviathans) | HYDRA (Gideon Malick & Jasper Sitwell) | Georgi Luchkov | Thanos
Avengers: Age of Ultron: Ultron | Ultron Sentinels | HYDRA (Wolfgang von Strucker, List, Scarlet Witch & Quicksilver) | Ulysses Klaue | Madame B | Chitauri (Leviathans) | Thanos
Avengers: Infinity War: Black Order (Thanos, Ebony Maw, Proxima Midnight, Corvus Glaive, Cull Obsidian, Nebula, Outriders, Chitauri & Leviathans) | Red Skull | The Collector | Loki Laufeyson | Winter Soldier | M'Baku | Scarlet Witch | Thunderbolt Ross
Avengers: Endgame: Black Order (Thanos, Ebony Maw, Proxima Midnight, Corvus Glaive, Cull Obsidian, Nebula, Outriders, Sakaaran Mercenaries, Chitauri, Leviathans & Chitauri Gorillas) | HYDRA/STRIKE (Red Skull, Alexander Pierce, Crossbones, Jasper Sitwell & Jack Rollins) | Loki Laufeyson (Variant L1130) | Winter Soldier | M'Baku | Scarlet Witch | Kraglin Obfonteri | Dark Elves | Thunderbolt Ross | Akihiko
Television
The Avengers: United They Stand
Ultron | Kang the Conqueror | Swordsman | Ringmaster | Masters of Evil (Baron Zemo, Absorbing Man, Boomerang, Moonstone, Tiger Shark & Whirlwind) | Attuma | Zodiac (Taurus & Scorpio) | Egghead | Scarlet Witch | Grim Reaper | Quicksilver | Namor | Doctor Doom | Baron Strucker | HYDRA | A.I.M. | Black Knight | The Collector
The Super Hero Squad Show
Doctor Doom | Mole Man | Fin Fang Foom | Abomination | Wrecker | Thunderball | Piledriver | Bulldozer | M.O.D.O.K | Klaw | Toad | Melter | Dormammu | Sabretooth | Juggernaut | Pyro | Whirlwind | Zzzax | Enchantress | Baron Mordo | Punisher | Egghead | Ringmaster | Skrulls (Super-Skrull) | Trapster | Mystique | Impossible Man | The Leader | Mad Thinker | Skurge | Crimson Dynamo | Batroc the Leaper | Loki Laufeyson | Magneto | Quicksilver | Scarlet Witch | HYDRA (Red Skull , Arnim Zola & Baron Wolfgang von Strucker) | Galactus | Terrax the Tamer | Firelord | Stardust | Thanos | Kree | Ego the Living Planet | Grandmaster | Annihilus | Nebula | Ronan the Accuser | Nightmare | Ultron | Dark Surfer | Sentinels | Dracula | High Evolutionary | Screaming Mimi

Avengers: Earth's Mightiest Heroes
HYDRA (Red Skull, Baron Von Strucker, Grim Reaper, Arnim Zola, Doughboy & Madame Viper) | Masters of Evil (Baron Zemo, Enchantress, Skurge, Chemistro, Abomination, Crimson Dynamo & Grey Gargoyle) | A.I.M. (M.O.D.O.K) | Kree Empire (Supreme Intelligence, Colonel Yon-Rogg & Ronan the Accuser) | Absorbing Man | Klaw | Ultron | Wrecker | Thunderball | Piledriver | Bulldozer | Red Hulk | Frost Giants (Loki Laufeyson & Ymir) | Technovore | Bi-Beast | The Leader | Whirlwind | Kang the Conqueror | Man-Ape | Malice | Mad Thinker | Mandrill | Graviton | Fenris Wolf | Lucia Von Bardas | Zzzax | Blizzard | Constrictor | Griffin | Living Laser | Whiplash | King Cobra | Magneto | Wendigo | Skrulls (Super-Skrull) | Ulik | Malekith the Accursed | Hela | Doctor Doom | Surtur | Glenn Talbot | Winter Soldier | J. Jonah Jameson | Destroyer | Annihilus | Purple Man | Galactus | Firelord | Stardust | Terrax the Tamer | Red Ghost | Super-Apes | Mandarin | Bushmaster | U-Foes (Vector, Vapor, X-Ray & Ironclad) | Crossfire | Serpent Society | Rattler | Death Adder | Anaconda | Air-Walker

Avengers Assemble
HYDRA/A.I.M. (Red Skull, M.O.D.O.K, Blood Brothers, Grim Reaper, Crossbones & Baron Wolfgang von Strucker) | J. Jonah Jameson | Doctor Doom | Ulik | Impossible Man | Dracula | Attuma | Hyperion | Wrecker | Thunderball | Piledriver | Bulldozer | Destroyer | Loki Laufeyson | Chitauri | Justin Hammer | Mojo | Galactus | Ringmaster | Black Order (Thanos) | Hela | Winter Soldier | Nighthawk | Zarda | Crimson Dynamo | Radioactive Man | Zzzax | Dormammu | Ultron | U-Foes (Vector, Vapor, X-Ray & Ironclad) | Roxxon Energy Corporation | Absorbing Man | Titania | Whirlwind | Fin Fang Foom | Maximus | Medusa | Masters of Evil/Thunderbolts (Baron Zemo, Beetle, Screaming Mimi, Moonstone, Fixer & Goliath) | Klaw | Ghost | A.I.M. (Kang the Conqueror, Whiplash & Spymaster) | Abomination | Kree Empire | Egghead | The Leader | Crimson Widow | Arnim Zola | Enchantress | Skurge | Typhoid Mary | Ares | Taskmaster | Doughboy | Ulik | Beyonder | Baron Mordo | Symbiotes | Morgan le Fey | Tiger Shark | Erik Killmonger | Princess Zanda | Man-Ape | Madame Masque | Kraven the Hunter | Vulture | Orka

Marvel Disk Wars: The Avengers
Loki Laufeyson | A.I.M. (M.O.D.O.K.) | Abomination | Baron Zemo | HYDRA (Red Skull, Crossbones) | King Cobra | Whirlwind | Tiger Shark | Whiplash | Diamondback | Crimson Dynamo | Dormammu | Sabretooth | Diablo | Graviton | Juggernaut | Lizard | Absorbing Man | Wrecking Crew (Bulldozer, Piledriver, Thunderball, Wrecker) | Silver Samurai | Green Goblin (Norman Osborn) | Venom | Ultron | Cottonmouth | Doctor Octopus | Mandarin | Ronan | Fin Fang Foom | Baron Blood | Vampires | Bi-Beast | Obadiah Stane | Predator X | Mystique | Taskmaster | Blizzard

Marvel Future Avengers
Masters of Evil (Ares, Enchantress, Leader, Winter Soldier) | Loki Laufeyson | Kang the Conqueror | Maximus | HYDRA/A.I.M. (Red Skull, M.O.D.O.K., Arnim Zola) | Green Goblin (Norman Osborn) | Super-Adaptoid | Deadpool | Morgan le Fay | Klaw | Crossbones | Blizzard | Diamondback | The Hood | Ezekiel Stane

Marvel's M.O.D.O.K.
M.O.D.O.K. | A.I.M. | Monica Rappaccini | The Anomaly | Hexus | Super-Adaptoid | Austin Van Der Sleet | Mister Sinister | Madame Masque | Whirlwind | Mandrill | The Leader | Arcade | Fin Fang Foom | The Brood | Frost Giants

What If...?
Infinity Ultron | Yellowjacket | Loki Laufeyson | The Destroyer | Brock Rumlow | Jack Rollins | Thunderbolt Ross | Whiplash | Arnim Zola | Prince Killmonger | Strange Supreme | Georges Batroc | Ego | Zombies (Scarlet Witch)
Video Games
Captain America and The Avengers: Red Skull | Crossbones | Klaw | Living Laser | Whirlwind | Sentinel | Wizard | Grim Reaper | Mandarin | Juggernaut | Ultron
Avengers in Galactic Storm: Kree (Ronan, Korath & Supreme Intelligence)
Marvel Avengers: Battle for Earth: Skrulls
Marvel Disk Wars: The Avengers - Ultimate Heroes: Red Skull | Loki Laufeyson | Baron Zemo | A.I.M. (M.O.D.O.K.) | Abomination | Graviton | Tiger Shark
LEGO Marvel's Avengers: Loki Laufeyson | Malekith the Accursed | Kurse | Various Villains
Marvel's Avengers: M.O.D.O.K. | Monica Rappaccinni | Abomination | Taskmaster | Super-Adaptoid | Lyle Getz | Maestro | Klaw | Crossbones
See Also
Avengers Academy Villains | Marvel Avengers Alliance Villains | Young Avengers Villains

Villains
Comics
Absorbing Man | Adolf Hitler | A.I.M. | Aleksander Lukin | Anaconda | Arcade | Arnim Zola | Awesome Android | Baron Blood | Baron Wolfgang von Strucker | Baron Zemo | Batroc the Leaper | Beetle | Bi-Beast | Black Cat | Black Talon | Black Mamba | Black Widow | Blitzkrieg | Blizzard | Blood Brothers | Boomerang | Boomslang | Brothers Grimm | Bulldorzer | Bullseye | Cache | Carnage | Carrion | Chemistro | Constrictor | Cottonmouth | Controller | Count Nefaria | Cowled Commander | Crimson Dynamo | Crossbones | Dark Avengers | Darren Cross | Death Adder | Demogoblin | Doctor Faustus | Doppelganger | Eel | Electro | Famine | Fer-De-Lance | Firebrand | Fixer | Flag-Smasher | Ghost | Gorgon | Grand Director | Grant Ward | Graviton | Grey Gargoyle | Griffin | Grim Reaper | Grizzly | Heinz Kruger | Herr Kleiser | HYDRA | Hydro-Man | Iron Monger | Ironclad | Jack O' Lantern | Kang the Conqueror | Killer Shrike | King Cobra | Kingpin | Klaw | Korath the Pursuer | Korvac | Kraven the Hunter | Lady Deathstrike | Living Laser | Lizard | Loki | Lucia Von Bardas | Machinesmith | Madame Viper | Madcap | Magneto| Man-Ape | Mandarin | Master Man | Masters of Evil | Mentallo | Mesmero | Mister Hyde | M.O.D.A.M. | M.O.D.O.K. | Mole Man | Moonstone | Namor | Nightmare | Nightshade | Nitro | Piledriver | Princess Python | Puff Adder | Punisher | Punisher (Earth-95126) | Quicksand | Rattler | Red Ghost | Red Skull | Rhino | Ringmaster | Rock Python | Ronan | Roxxon | Säurespritze | Scarecrow | Scorpion | Sebastian Shaw | Secret Empire | Selene Gallio | Serpent Society | Shocker | Shockwave | Shriek | Sidewinder | Silver Sable | Sin | Sinister Six | Skeleton Crew | Slither | Slug | Songbird | Super-Adaptoid | Super-Apes | Superia | Super Patriot | Supreme Intelligence | Tarantula | Taskmaster | Terminus | Thanos | Thunderball | Thunderbolt Ross | Thunderbolts | Tiger Shark | Tinkerer | Titania | Titanium Man | Trapster | Typhoid Mary | U-Foes | Unicorn | Ultron | Vapor | Vector | Vermin | Vulture | Whiplash | Whirlwind | Winter Soldier | Wizard | Worthy | Wrecker | X-Ray | Yellow Claw | Zahnmörder | Zodiac
Movies
Captain America (1990): Red Skull | Valentina de Santis
Captain America: The First Avenger: HYDRA (Red Skull, Arnim Zola, Heinz Kruger, HYDRA Lieutenant, & Velt) | Adolf Hitler | Roeder | Hutter | Schneider
Heroes United: Iron Man and Captain America: HYDRA (Red Skull & Taskmaster)
Captain America: The Winter Soldier: HYDRA/STRIKE (Alexander Pierce, Winter Soldier, Crossbones, Jack Rollins, Jasper Sitwell, Russo, Senator Stern, Arnim Zola, Wolfgang von Strucker, List, Scarlet Witch, & Quicksilver) | Georges Batroc | Ferdinand Lopez | Gerald Durand
Captain America: Civil War: Helmut Zemo | Thunderbolt Ross | Winter Soldier | Scarlet Witch | HYDRA (Vasily Karpov, Josef, & Winter Soldiers) | Hero Mercs (Crossbones)
TV Series
The Falcon and The Winter Soldier: Winter Soldier | Flag Smashers (Flag-Smasher, Dovich, Gigi, DeeDee, Lennox, Nico, Matias, & Diego) | Sharon Carter | Baron Zemo | LAF (Georges Batroc & Louie) | Senator Atwood | Valentina Allegra de Fontaine
What If...?: Red Skull | Arnim Zola | Heinz Kruger | HYDRA's Champion

Video Games
The Amazing Spider-Man & Captain America in Doctor Doom's Revenge: Doctor Doom | Electro | Hobgoblin | Rhino | Boomerang | Grey Gargoyle | Oddball | Batroc the Leaper | Mysterio
Captain America and the Avengers: Red Skull | Crossbones | Klaw | Living Laser | Whirlwind | Sentinel | Grim Reaper | Wizard | Mandarin | Juggernaut | Ultron
Captain America Super Soldier: HYDRA (Red Skull, Arnim Zola, Madam Hydra & Baron Strucker) | Baron Zemo
Captain America: The Winter Soldier: Winter Soldier | Sin | Taskmaster | Shockwave | Serpent Society (King Cobra, Puff Adder & Diamondbak)
See Also
Agent Carter Villains