Carrion is a supervillain with the ability to disintegrate organic matter with a single touch. He could alter his density to be intangible, and even fly.
He also has the ability to be reborn, with memories and powers, using the "Carrion Virus".
History
Miles Warren Clone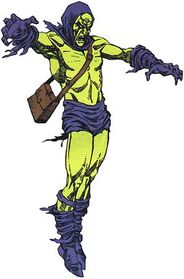 Miles Warren, a college professor turned supervillain, who created a clone of himself and it was left to develop to his current age. After Warren's apparent death, the clone continued to develop, turning into a walking corpse. Blaming Spiderman for the state of it's existence, it attacked Peter Parker. After capturing him, Carrion cloned Spiderman to create a monster he called the "Spider-Amoeba" to kill Spiderman. Spiderman managed to escape and the lab exploded killing Carrion and Spider-Amoeba.
Malcolm McBride
Malcolm was a student at the same university as Peter Parker. He was studying a chemical test tube in Miles Warren's old lab and it infected him, turning him into the second Carrion. He would teamup with Carnage, Shriek, Demogoblin, and Doppelganger on a massive killing spree. After they were all captured, Shriek would later break out with Malcolm and set out to destroy his old life. Spiderman and Malcolm's mother encouraged him to fight back. In an unusual moment of compassion, Shriek cured Malcolm of the "Carrion Virus".
William Allen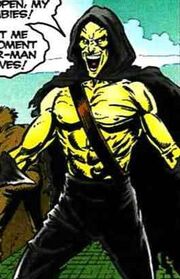 Miles Warren's corpse was being examined by S.H.I.E.L.D. agent Dr. William Allen. Not paying attention to safety protocol, he was infected with the Carrion Virus and becam the third Carrion. This Carrion was more dangerous than any other, capable of giving people "Red Dust" plague, which gave him control of the infected people's minds. Spiderman subdued him and he was taken into S.H.I.E.L.D. custody.
Gallery
Community content is available under
CC-BY-SA
unless otherwise noted.