Jurassic World: Dominion Dominates Fandom Wikis - The Loop
Play Sound
This article's content is marked as Mature
The page Mature contains mature content that may include coarse language, sexual references, and/or graphic violent images which may be disturbing to some. Mature pages are recommended for those who are 18 years of age and older.


If you are 18 years or older or are comfortable with graphic material, you are free to view this page. Otherwise, you should close this page and view another page.
| | | |
| --- | --- | --- |
| " | I have a degree in psychology, it goes with the turf... Games are fun. | " |
| | ~ Catherine Tramell in Basic Instinct. | |
Catherine Tramell is the main antagonist of the Basic Instinct films.
She was portrayed by Sharon Stone, who also played Lori Quaid in Total Recall, Ginger McKenna in Casino and Laurel Hedare in Catwoman.
Personality
In Basic Instinct 2, Tramell is diagnosed by Dr. Michael Glass as possessing a "risk addiction." He explains, "Inside I believe she vacillates between a feeling of godlike omnipotence and a sense that she simply does not exist, which of course is intolerable. I believe Ms. Tramell's behavior is driven by what we might call a risk addiction.
A compulsive need to prove to herself that she can take risks and survive dangers that other people cannot. Especially the subsequent encounters with the police, the powers that be. The greater the risk, the greater the proof of her omnipotence. All addiction is progressive, the addict will always need to take greater and greater risks. I suspect the only limit for her would be her own death."
Glass goes on to describe Tramell as "narcissistic" and a "pathological liar". Various characters throughout Basic Instinct 2 describe her as a psychopath with narcissistic personality disorder. She displays heavy borderline features and traits in addition.
Biography
Basic Instinct
| | | |
| --- | --- | --- |
| " | Killing isn't like smoking. You can quit. | " |
| | ~ Catherine Tramell to Nick Curran in Basic Instinct. | |
When the rock star named Johnny Boz is brutally stabbed to death with an ice pick during sex, the homicide detective named Nick Curran is sent to investigate. The only suspect is Catherine Tramell (a crime novelist who was the last person to be seen with Boz on the night he died. Nick and his partner, Gus Moran visit her Pacific Heights mansion, but they find only Catherine's lesbian lover, Roxy, who sends them to Catherine's Stinson Beach house. When they ask Catherine about her relationship with Boz, she shows little emotion at hearing he is dead. Nick and Gus, along with their superiors, discover that Catherine has written a novel about a former rock star who was killed in the same way as Boz. During questioning by detectives, including Nick, at police headquarters, Catherine engages in provocative behavior, refuses to extinguish her cigarette and repeatedly uncrosses her legs under her short skirt which reveals that she is not wearing underwear.
Nick accidentally shot two people while high on cocaine, so he attends counseling sessions with police psychologist Dr. Beth Garner, with whom he has had an affair. After the interrogation, Nick goes to a bar with coworkers and is taunted by Lieutenent Marty Nilsen, an internal affairs investigator bent on making life difficult for Nick. When Beth arrives, Nick leaves with her, and they have rough sex in her apartment. Nick learns that Catherine has a troubled history: Her parents were killed when she was an adolescent, leaving her a fortune; one of her college counselors was also murdered with an ice pick, and that her fiancé, a boxer, was killed in the ring. He also discovers that Catherine makes a habit of befriending murderers, including Hazel Dobkins, an elderly woman who stabbed her husband and children for no apparent reason.
During a visit to her house, Catherine taunts Nick with information that should be confidential. As a police psychologist, Beth is the only person with access to that information. When Nick confronts Beth, she admits that she handed his file to Nilsen, who threatened to discharge Nick if he could not evaluate him directly. An enraged Nick storms into Nilsen's office, assaults him, and accuses him of having sold Nick's file to Catherine. Nilsen then suspends Nick, who goes home and spends the evening drinking. Beth visits him, but after a heated argument, he throws her out. Later that night, Nilsen is found in his car, dead from a single gunshot to the head. Because of their recent altercation, Nick is the prime suspect.
A torrid affair between Nick and Catherine begins with the air of a cat-and-mouse game. Catherine explains that she will base her next novel's character — a cop falling for the wrong woman only to be killed by her — on Nick, while at the same time he declares his love for her and his unchanged intention to nail her for Boz's murder. Nick shows up at a club and witness her sniffing coke in a bathroom stall. Later, they have sex at Catherine's apartment during sex. Catherine ties Nick up with a white silk scarf as Nick watches her in terror and she rides him just like she did Johny Boz but does not kill him.
Roxy jealously tries to run Nick over with Catherine's car, but after a car chase she is killed in a crash. Her death reveals that she too has a murderous past. After Roxy's death, Catherine seems genuinely saddened, and Nick begins to doubt her guilt. Catherine later reveals that a previous lesbian encounter at college went awry when the girl became obsessed with her. Nick identifies the girl as Beth Garner, who acknowledges the encounter but claims it was Catherine who became obsessed.
When Nick visits Catherine, she explains that she has finished her book, and coldly ends the affair. Upset, Nick meets Gus, who has arranged to meet with Catherine's college roommate at a hotel. As Nick waits in the car, Gus enters the hotel and is stabbed in the elevator by a hooded figure, in the way described in Catherine's new book. Nick figures out there is trouble brewing and runs into the building, but he arrives too late to save Gus. Hearing the floor creak, Nick grabs Gus' gun and turns to find Beth standing in the hallway, explaining she received a message to meet Gus there. However, Nick suspects that she murdered Gus, and as Beth moves her hand in her pocket, he shoots her. With her final breath, Beth tells Nick that she loved him. A dejected Nick checks her pocket, only to find her keys. The police arrive, and in a staircase discover a blond wig, a SFPD raincoat, and an ice pick, the weapon used to murder Gus, concluding that Beth ditched the items when she heard Nick coming up. A search of Beth's apartment turns up the evidence needed to brand her as the killer of Boz, Gus, Nilsen, and presumably her own husband—the matching revolver, Catherine's novels, and photos chronicling the writer's life.
Nick returns to his apartment where he is met by Catherine. She explains her reluctance to commit to him, but then the two make love. Afterward, the conversation turns toward their possible future as a couple. While talking, Nick turns his back on Catherine as she slowly reaches for something underneath the bed. She stops when Nick senses her stillness; he looks around with distrust in his eyes, and she throws her arms around him and the two resume making love as the camera slowly pans down to show what she was reaching for under the bed: an ice pick.
Basic Instinct 2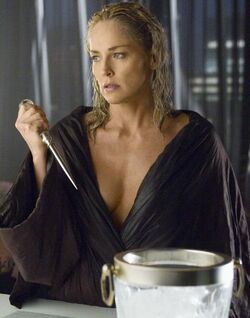 | | | |
| --- | --- | --- |
| " | I feel like a cigarette. | " |
| | ~ Catherine Tramell in Basic Instinct 2. | |
Set in London, the film opens with American best-seller author Catherine Tramell in a speeding car with her companion Kevin Franks, a famous English football star. Tramell takes the man's hand and begins masturbating with it, all the while increasing her vehicle's speed. At the point of orgasm, Tramell veers off the road and crashes into the West India Docks in Canary Wharf. She attempts to save her partner but, as she says in the subsequent scene, "When it came down to it, I guess my life was more important to me than his."
Tramell is interrogated by Detective Supt. Roy Washburn of Scotland Yard. He claims that D-Tubocurarine, a neuromuscular blocking agent used to relax muscles during general anesthesia, was found in her car, and that a man named "Dicky Pep" said that he sold Tramell "15 milliliters of DTC last Thursday". Tramell counters by saying that this Dicky Pep must be lying because "you've got him on some other charge and he is trying to deal his way out, if he even exists.".
Tramell begins therapy sessions with Dr. Michael Glass, who has conducted a court-ordered psychiatric exam and given testimony in her case. Glass strongly suspects that Catherine Tramell is a sociopath incapable of telling the difference between right and wrong. Tramell begins to play mind games with Glass, who becomes increasingly frustrated with, yet intrigued by, this mysterious woman. Soon, Glass' own life begins a spiral of destruction.
One night, Glass goes on a date with Michelle Broadwin, and has rough, violent sex with her after dealings with Tramell. Glass receives a phone call from his ex-wife in a state of distress. Her partner, a journalist writing a negative story about Glass, has been found dead. Glass suspects that Tramell committed the murder and is attempting to frame him for it. More murders begin to surface around Glass as his obsession with Tramell grows and his career and life are threatened; eventually, he himself can no longer tell right from wrong.
The situations comes to a head during a confrontation between Glass and Tramell at her apartment where, after a struggle, Glass attempts to kill Tramell. Tramell gives Glass a copy of the draft of her next novel, titled "The Analyst". After reading it, he realizes that Catherine has novelized most of the recent events with herself and other people related to Dr. Glass, even himself, as characters. Then it turns out that the character based on herself is going to kill a therapist based on Glass' colleague by the name of Dr. Gardosh.
Glass runs to Gardosh's apartment to warn her, finding Tramell there to his dismay. Gardosh tells him that he is not in charge with Tramell's therapy anymore and that he's going to have his license revoked, due to bad practice regarding Tramell's treatment. There is a struggle between Glass and Gardosh, in which the latter is knocked out. Catherine then threatens Glass with a gun she carries, but Glass takes it away from her. When Detective Washburn arrives at the scene, Glass kills him because Tramell told him he had killed the girlfriend of one of Glass' patients just to "nail him".
In the final scene, Tramell pays a visit to Glass at a local mental hospital where he has been institutionalized, and he learns from her that the subject of her latest best-selling novel was a man very much like him. Tramell claims that she manipulated Glass into committing all those murders for her own amusement. Before she returns to Curran and wants to rekindle their relationship, Tramell leaves with a wicked smirk on her face, while Glass continues to sit silently in his wheelchair, stymied by frustration and rage.

Villains
Animated Features
Wicked Wazir | Grifter the Ringmaster | Snivley | Mugger | Green Goose | Tanya Malachite | Ali and Bobo | Madame Hecuba | Tulip | Loc-Nar | The Girl | The Queen | Captain Lincoln F. Sternn | Dark Heart | Marvin McNasty | Lumpy and Bones | Rothbart | Bridget | Alligators | Eva Friedal | Tyler | Lambert | Odin | The Crystal | Boyd | Monty | Rock Holmes | Duke Red | Vincent Volaju | Dr. Edward Steam | Sephiroth | Remnants of Sephiroth (Kadaj) | Rufus Shinra | The Beast | Constance Nebbercracker | Seijiro Inui | Shaw | Tank Evans | Frederic Downing | Curtis Miller | Ron Davis | Fifi | Mayor Shelbourne | General Grawl | Professor Kipple | Doug | Ivan Ivanovitch Sakharine | Allan | Tom | Pedro | Falcon | Aristides Silk | Red Rackham | Queen Victoria | Black Bellamy | Budzo | Cecil | Arachnids | Quasimodo Wilson | Esmeralda | Ada Wong | Svetlana Belikova | Unidentified Tyrant series | Lickers | Ezekiel Stane | Chester V | Live Corp (Chester V's Holograms & Barb) | Punisher | Black Widow | Leviathan (Orion) | Cain | Bela | Bat Cronies | Ed and Edna | King Leonard Mudbeard | Green Pigs (Ross, Foreman Pig, Chef Pig & Corporal Pig) | Titus Drautos | Ardyn Izunia | Somnus Lucis Caelum | Douche | Gargamel (2017) | Azrael (2017) | Monty | Akihiko Kayaba | Glenn Arias | Diego Gomez | Maria Gomez | A-Virus | Zombies | Smiler | Anti-Virus Bots | Hunter | King Herod | Thaddeus and Rufus | Abraham Van Helsing | Ericka Van Helsing | Wolfram | Swordkil | Daigo | Nobu | All For One | Kingpin | Doctor Octopus | Prowler | Green Goblin | Scorpion | Tombstone | Vanessa Fisk | Richard Fisk | Zeta | Debbie | Glenn | Brad | Axel | Carl | Jerry | Kira | Hank | Nine | Slice | Mummy | Chimera | League of Villains (Tomura Shigaraki) | Pockets | Mr. Wong | Queen Ilvira | Enmu | Akaza | PAL Labs (PAL, PAL Max, Glaxxon 5000 & PAL Max Prime) | Lutador
Live-Action Films
Wilhelm Tanz | Colonel Sandauer | French Taunter | Bridge Keeper | Rabbit of Caerbannog | Knights Who Say Ni | Three-Headed Giant | Black Beast of Argh | Black Knight | The Animator | Unidentified Knight | Travis Bickle | John Neville | Judge Fleming | Miss Hannigan | Rooster and Lily St. Regis | Reginald Dyer | Nathuram Godse | Christine | John Kreese | Cobra Kai (Johnny Lawrence, Dutch, Bobby Brown, Tommy & Jimmy) | Gozer | Stay Puft Marshmallow Man | Terror Dogs (Zuul & Vinz Clortho) | Library Ghost | Murray Plotsky | Central Park Thief | Billy Chapman | Mother Superior | Killer Santa | Ricky Chapman | Lieutenant Colonel Podovsky | Marshall Murdock | Sergeant Yushin | Captain Vinh | Lieutenant Tay | River Pirates (Trong Kinh) | Lifer | Ericson | Jerry Dandridge | Billy Cole | Evil Ed | John Ryder | Jareth | Goblin Army | Chozen Toguchi | Sato Toguchi | Toshio & Taro | Felice Dunbar | The Blob | Dr. Meddows | Regine Dandrige | Colonel Zaysen | Sergeant Kourov | Tomask | Shop Assistant | Terry Silver | Mike Barnes | Snake | Dennis | Vigo | Janosz Poha | Scoleri Brothers | Jack Merridew | Roger | Vilos Cohaagen (1990) | Mars Colony Security Force (Carl Hauser, Richter, Lori, Helm, Everett, Benny & Harry) | Dr. Edgemar | Annie Wilkes | Raymond Zhang | Nigel Griffith | Moon | Kara | Luis Cali | Jack Thrope | Carlos | Ruiz | Jorge | T-1000 | Douglas | Skynet | Abigail Craven | Tully Alford | James Hook (1991) | Mr. Smee (1991) | Catherine Tramell | Luc Deveraux | Andrew Scott | Colonel Nathan R. Jessup | Jonathan Kendrick | Matthew Markinson | Eric Qualen | Richard Travers | Kynette | Delmar | Kristel | Ryan | Heldon | Mike | Ray | Mitch Leary | Leland Gaunt | John "Ace" Merrill | Jed Hill | Koga | Ishikawa | Glam | Vinnie | Slam | Darren | Gerald Thomas | Stewart Swinton | Colonel Dugan | Ned Randall | Charlie | Gabe | Morgan | Bogs Diamond | Byron Hadley | Elmo Blatch | Samuel Norton | Sisters | Jack Harding | J.J. | Jimmy | Eddy | Fouchet | Casper | Ferguson | Prince Malagant | Ralf | Van Pelt | Mark Cordell | Agatha Trunchbull | Harry Wormwood | Cable Guy | Ultimate Evil | Jean-Baptiste Emanuel Zorg | Edgar the Bug | Egor Korshunov | Andrei Kolchak | Vladimir Krasin | Agent Gibbs | Boris Bazylev | Sergei Lenski | Igor Nevsky | Ivan Radek | Arachnids | Mary Ann Rogers | Lothar Zogg | C.J. | Carl | Buelow | Zed | Klaus | Lars | Eric | Zilla | Baby Zilla | Don Rafael Montero | Harrison Love | K. Edgar Singer | Huxley | Bill the Bug | Pesties | Alley Cats (Smokey, Monty, Lucky, Red & Unnamed Gray Cat) | Snowbell | S.E.T.H. | Deacon | William Tavington | Eric Knox | Vivian Wood | Altaaf Khan | Hilal Kohistani | Judith Fessbeggler | Genus | General Granger | Russell Woodman | Green Goblin | Dennis Carradine | Harry Osborn | J. Jonah Jameson | Falcon | Chuck Cedar | Mac McGrath | Serleena | Scrad & Charlie | Jarra | Dog Poop | Corn Face | Pineal Eye | Mosh Tendrils | Flesh Balls | Jeff | Creepy | Kylothians | Devlin Bowman | Alistair Pratt | Jeannine Richardson | Rachel Wright | Arnold Gundars | Zhu Tam | Colonel Idris Sadick | Commander Terwaze | Fulani Rebels | Gwyneth Harridan | Jenny | Bruce | T-X | T-1 | Johnny Tapia | James Hook (2003) | Mr. Smee (2003) | Don Price | Grigori Rasputin | Karl Ruprecht Kroenen | Ilsa Von Haupstein | Sammael | Ogdru-Jahad (Behemoth) | Punisher | Howard Saint | Quentin Glass | Livia Saint | John Saint | The Russian | Harry Heck | Mickey Duka | Warren Vandergeld | Vandergeld Sisters | Heath and Russ | Doctor Octopus | Brother Sum | The Beast | The Harpists | Big Al | Boogeyman | Warden Hazen | Mr. Electric | Minus | Count Armand | Jacob McGivens | Zorgons | Robot | Hatsumomo | Jerry McDowell | Calvin Sims | Mr. Walken | Rosco | Bruno | Concussion | Venom | Sandman | Jigsaw | James Russoti | Carmine Gazzera | Ink | Maginty | Lance Warner | Camp Canola (Robert Jeffrey Warner) | Fatoush | Grant Walbridge | Salim Yousfobdal | Derek Huff | Ted Jones | Budlofsky | Matheson | Carol Brazier | Carl Anheuser | Veck Simms | James Kent | The Tornado | T-RIP | Serena Kogan | Koobus Venter | Piet Smit | Obesandjo | Ted Winter | Master Li | Cheng | Liang | Roger Wesley | David Ershon | Benjamin Chudnofsky | Frank Scanlon | Shane | Gargamel (2011) | Azrael (2011) | Boris the Animal | Weasel | Lilly | Obadiah Price | Mr. Wu | Boglodites | Martin Vanger | Gottfried Vanger | Vilos Cohaagen (2012) | United Federation of Britain (Carl Hauser, Lori, Harry & Police Synthetics) | Lizard | Gustav Fiers | Cash Register Thief | Norman Osborn | Satan | Danny McBride | Jonah Hill | Demons | Ursa | Skrel | Eli Raphelson | Martin Walker | Emil Stenz | Skip Tyler | Muriel Walker | Frat boy Andy | Vexy and Hackus | Electro | Green Goblin | Donald Menken | Rhino | Ashley Kafka | Felicia Hardy | Vladimir Pushkin | Nicolai Itchenko | Slavi | Agent Kruger | Jessica Delacourt | John Carlyle | Guy Danlily | Miss Hannigan | Annie's Fake Parents | Jungler | Vincent Moore | Hippo | Amerika | Ninja | Yolandi | Vincent Sofel | Donkey Kong | Pac-Man | Eddie Plant | Lady Lisa | Slappy the Dummy | Monsters (Giant Praying Mantis, Will Blake, Lawn Gnomes, Madame Doom, Brent Green, Haunted Car, Count Nightwing, The Haunted Mask, Igor, Headless Horseman, Nila Rahmad, Grim Reaper & Bride of Frankenstein) | Norman Nordstrom | Rowan North | Mayhem | Martin Heiss | Electrocuted Ghost | Gertrude Aldridge | Bartholomew Bogue | McCann | Denali | Francis Begbie | Sick Boy | Bestman Salvage (Vulture, Tinkerer, Shocker #1, Shocker #2 & Randy Vale) | Mac Gargan | Aaron Davis | Jason Van Horn | Doc | Darling | Bats | Eddie No-Nose | Griff | Wallace Corporation (Niander Wallace & Luv) | Russel Van Pelt | Tommy Madigan | Dave York | Thomas McGregor | Mr. McGregor | Mrs. McGregor | James Tod | Slender Man | Eddie Brock/Venom | Carlton Drake/Riot | Life Foundation (Roland Treece) | Cletus Kasady | High-T | The Twins | Riza Stavros | Luca Brasi | The Hive | Mysterio's Crew (Mysterio, William Ginter Riva, Victoria Snow, Gutes Guterman, Janice Lincoln, & Doug) | Elementals (Molten Man, Hydro-Man, Sandman, Cyclone & Elemental Fusion) | John Bosley | Hodak | Alexander Brock | Jurgen the Brutal | Fiona Landers | Melinda Landers | Sam Landers | Isabel Aretas | Armando Armas | Melanie Cole | Dr. Emil Harting | Jimmy Dalton | Marcus Tibbs | Barnabas | Samuel Whiskers | Tom Kitten | Mitten | Raylan | Carnage | Shriek | Kasady Family | Ivo Shandor | Braddock | Santiago Moncada | Michael Morbius | Milo Morbius
See Also
007 Villains | Aardman Villains | Amblin Entertainment Villains | Angry Birds Villains | Bad Boys Villains | Blade Runner Villains | Blumhouse Productions Villains | Castle Rock Entertainment Villains | Cloudy with a Chance of Meatballs Villains | Cowboy Bebop Villains | Community Villains | DreamWorks Villains | Final Fantasy Villains | Fright Night Villains | Ghostbusters Villains | Ghost Rider Villains | Godzilla Villains | Goosebumps Villains | Hellboy Villains | Hotel Transylvania Villains | Jackie Chan Adventures Villains | Jerry Bruckheimer Villains | Jumanji Villains | Karate Kid Villains | Marvel Cinematic Universe Villains | Men in Black Villains | Morbius: The Living Vampire Villains | Muppet Villains | Netflix Villains | New Line Cinema Villains | Punisher Villains | Paramount Villains | Rambo Villains | Resident Evil Villains | Ridley Scott Villains | Robocop Villains | Sony's Spider-Man Universe Villains | Spider-Man Villains | Steven Spielberg Villains | Stuart Little Villains | Syfy Villains | Stephen King Villains | Terminator Villains | The Boondocks Villains | The Boys Villains | The Dark Crystal Villains | The Grudge Villains | Total Recall Villains | Trainspotting Villains | Tim Burton Villains | Underworld Villains | Universal Soldier Villains | Venom Villlains | Village Roadshow Pictures Villains | Warner Bros. Villains | XXX Villains

Villains
Animated Features
Yubaba | No-Face | Yu-Bird | Madame Suliman | Witch of the Waste | Max Mordon | Kopponen | Odysseus Inc. | Daniel | Anthony Trumper | The Pigs | Bull | Sir Claude | Lord Nooth | Violet | Team Tropolis | Agent Red | Mugg-1N5 | The Hazmats | M.A.D.
Live-Action Films
Daleks | Robomen | Vilos Cohaagen | Mars Colony Security Force (Carl Hauser, Richter, Lori, Helm, Everett, Benny & Harry) | Dr. Edgemar | T-800 | T-1000 | Douglas | Skynet | Fence Shooter | Catherine Tramell | Roxanne 'Roxy' Hardy | Luc Deveraux | Andrew Scott | Colonel Perry | GR86 | GR55 | GR76 | Wagner | William Strannix | Krill | Daumer | William Foster | Nick the Neo-Nazi | Eric Qualen | Richard Travers | Kynette | Delmar | Kristel | Ryan | Heldon | Mike | Ray | Dial | Wade | Ra | Dawg Brown | Boris Balkan | Liana Telfer | Harry Goldfarb | Tyrone C. Love | Big Tim | Uncle Hank | Drug Lord Physician | Sheriff Cooley | Diane Selwyn | David Carlton | Le Tenia | Pascal Sauvage | Dieter Klein | Klaus Vendetta | David | Pete | Zombies | The Hood | Transom | Mullion | Edmund Zuwanie | Nils Lud | Jean Gamba | Selma Quickly | Great Aunt Adelaide | The Flight 93 Hijackers | The Phantom | Georgia Skyes | Sharice Watters | Buddy "Aces" Israel | Frank Butterman | Neighbourhood Watch Alliance (Simon Skinner, Tom Weaver, Michael Armstrong, Reverend Philip Shooter, Robin Hatcher, Joyce Cooper, Amanda Paver, Annette Roper, James Reaper, Roy and Mary Porter, Leslie Tiller, Mr. Treacher, Greg and Sheree Fowler & Somerfield Employees) | Carson Clay | Harriet Bentley | Miss Gribben | Di Radfield | Uncle Phil | Miss Topsey | Miss Turvey | Abalam | Rodney Cole | Martin B | Elizabeth Harris | Aliens | Hi Hatz | Bill Haydon | Vortex (Simon Ambrose, Killer Cleaner, Slater, Madeleine, Titus Fisher, Artem Karlenko, Ling & Susan) | Chi Han Ly | Matov | The Network | Blanks (Oliver Chamberlin, Guy Shepherd, Shane Hawkins, The Marmalade Sandwich, The Twins & Peter Page) | Tom Bowen | Zack White | Jack Hammond | Mike Lucas | Millicent Clyde | Terry Cox | Felix Marti | George Cornell | Macbeth | Lady Macbeth | Wyrd Sisters | Phoenix Buchanan | Joanna | Jason Volta | Xander
Live-Action TV
Hannibal Lecter | Alana Bloom | Garret Jacob Hobbs | Abigail Hobbs | Abel Gideon | Tobias Budge | Randall Tier | Eva | Clark Ingram | Eldon Stammets | Elliot Buddish | Lawrence Wells | Kade Prurnell | Mason Verger | Rinaldo Pazzi | Matteo Deogracias | Tommaso | Francis Dolarhyde
See Also
Aardman Villains | Cornetto Trilogy Villains | Doctor Who Villains | Hereditary Villains | Hannibal Villains | James Cameron Villains | Johnny English Villains | Lionsgate Villains | Miramax Villains | Netflix Villains | Requiem for a Dream Villains | Ridley Scott Villains | Shakespeare Villains | Studio Ghibli Villains | Universal Soldier Villains | Wallace and Gromit Villains