We're Getting Mutants in the MCU - The Loop
Play Sound
| | | |
| --- | --- | --- |
| " | When people try to kill me, I don't hop in bed with them a tick later. I just kick their ass. I'm funny like that. | " |
| | ~ Catwoman | |
| | | |
| --- | --- | --- |
| " | Just goes to show there are more honest ways of making a dishonest living. But I like my style the best. | " |
| | ~ Catwoman justifying her criminal ways. | |
| | | |
| --- | --- | --- |
| " | My world is all just shades of grey, Batman. That's why you'll never really understand me. | " |
| | ~ Catwoman | |
| | | |
| --- | --- | --- |
| " | I have to admit... I've missed this. The adrenaline rush. The action. The knowledge that money stolen is always better than money earned. | " |
| | ~ Catwoman | |
Selina Kyle also known as Catwoman is a major character of DC comics. She is a seductively cunning female burglar and professional thief who dresses in such cat-attire and carries a bullwhip while performing her thefts. Though most modern iterations of the character are just as heroic as they are villainous, Catwoman is still commonly recognized as a villain by most viewers and fans, representing Batman's chief female nemesis.
Nevertheless, Catwoman is still sometimes an ally to Batman and also is often his lover. And despite being a villain, Catwoman operates under a strict moral code that use to include no killing, but has since abandoned this rule after a run in with Black Mask. However, Catwoman does not make it a habit, and instants of her committing murder happen rarely or not at all (though several stories in the 1970s featured Catwoman committing murder and she was homicidal in Batman Returns).
Due to her more benign and honorable nature (as well as his feelings for her), Batman usually lets her slip through the cracks. She has her own DC comic series, where she is now a Superheroine, a transition the character has been making well since the 1990s.
Biography
Other versions of the character
In addition to Catwoman's long and varied history within mainstream canon comics, the character has several notable alternates, both villainous and more heroic, though the focus here is obviously on villainous versions, some as conflicted as her mainstream version, some much less so.
On the Golden Age influenced Earth-2 (Pre-Crisis on Infinite Earths), her relationship with Batman was often far better than many others, at least after Batman helped her reform. It had turned out she had amnesia for all the years she was Catwoman, and renounced her crimes once she had her memory back.
Later on, when Batman needed her aid against the Scarecrow, she admitted that while her reform had been legitimate, her amnesia was concocted to avoid serving prison time. Batman also had an admission of his own, being that amidst a parade of freaks and killers, going up against a simple (if extremely skilled and clever) thief was almost refreshing.
As Batman began to succumb to the delusions enacted by Scarecrow's latest fear gas, the only way to break out of them was with the frank admission that he loved Catwoman, and unmasked before her. The two made plans to be married, with Selina aiding her fiance in bringing in her brother Carl Kyle, known as The King Of Cats. Their wedding was not without some small drama, as the attending Clark Kent, with his wife Lois Lane Kent, detected and thwarted an assassination attempt on the unrelated Harvey Kent, the permanently cured Two-Face of that world.
Bruce Wayne largely retired from being Batman after this, and the couple enjoyed a long happy marriage, producing a daughter, Helena. Sadly, Selina's past came back to haunt her when ended up killed by former associates, a crime that now-Police Commisioner Wayne felt constrained from avenging himself. Enraged, Helena took up both her parents' mantle and became the crime-fighting Huntress, sometimes aided by her 'older brother' Dick Grayson. During the issue The Brave And The Bold #131, Batman teamed up with Wonder Woman to face down a Catwoman whose plots involved cold-blooded and unemotional murder.
This was so radically unlike all her depictions and DC policy towards the character, the issue was very rapidly placed out of canon. Originally set on the then-standard "Earth-One", the story was eventually relegated to an unofficial world called "Earth-B", where plot elements that were not history-changers but also did not fit canon (such as a magical explanation for Flash's powers, an alien origin for Gorilla City, a lost older brother for Batman, and a living death for Jor-El and Lara) were said to exist. This world, otherwise a mirror for Earth-One, was never seen in and of itself, even during Crisis events.
The issue's other contribution to Catwoman lore was an ironic one. The costume design used in this issue, and only this issue, was used by Mego Toys to produce its Catwoman figure in the mid-1970's.
This was likely the only official Catwoman figure made until the feature film Batman Returns hit theaters in 1992.
In other media
Arkham Series
Batman: Arkham Asylum
Catwoman does not appear in the videogame Batman: Arkham Asylum. One of the riddles from the Riddler revolves around her.
Batman: Arkham City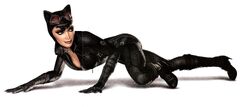 Main article: Catwoman (Arkhamverse)
Catwoman appears in the 2011 videogame Batman Arkham City, as a playable character and the anti-heroine of the game. She goes on a vendetta against fellow villain Two-Face and ends up getting captured at the beginning of the game.
After Batman saves her from Two-Face, she is almost assassinated by a device concocted by the Joker. She is next seen when she goes to Poison Ivy for help to break into Hugo Strange's TYGER vault and escape with the loot inside it. Later on, she helps Batman escape from TYGER troops and moves on to continue her quest.
Batman: Arkham Knight
Catwoman appears in the 2015 videogame Batman Arkham Knight (which is the conclusion to the Arkham series). She is a playable ally of Batman when most of his rogue's gallery team up to take him down. Riddler kidnaps her and she is forced to solve some deadly riddles with Batman's help. Eventually, the pair defeat Riddler and Catwoman shuts down his secret robot factory in an act of revenge.
Batman: Arkham Origins Blackgate
In Blackgate, Catwoman portrays herself as an anti-hero, but is revealed to be the main antagonist and becomes the final boss as she tries to escape the prison with Bane, which Batman realizes that Catwoman was using him to help Bane escape.
Batman Returns
Main article: Catwoman (Batman Returns)
Catwoman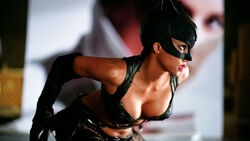 Catwoman was also the star and anti-heroine in the poorly received movie Catwoman, starring Halle Berry. In the film, it centers on Catwoman's life and how she became as she is today. After drowning she is reborn as a "Catwomen" and given many feline-like abilities and also behaved like a cat at times, she also had a complete change in personality.
In the day, she was her normal self and had a brief love-interest named Tom Lone, who was a police officer. But by night, she wore a black spandex costume and a cat mask and robbed places while taking out other crooks. The Catwoman in this movie is not Selina Kyle.
However her name is Patience Phillips, but has some similarities to the mainstream Catwoman.
Mortal Kombat Vs. DC Universe
Catwoman was portrayed as a Playable character in Mortal Kombat vs DC Universe.
In her ending, she gains the ability to morph into a black panther, thus showing Gotham how a kitten can never again be caged.
Nolanverse
Main article: Catwoman (Nolanverse)
Gotham
Selina Kyle appears as a major protagonist/anti-heroine and occasional supporting antagonist in the Fox television series Gotham. She is portrayed by Camren Bicondiva (young) and Lili Simmons (adult).
Selina is a teenage thief who witnessed the murder of Bruce Wayne's parents Thomas and Martha Wayne. At
For most of the series she is not depicted as an antagonist or major threat and even befriends Bruce to help him on his quest to finding out the truth behind his parent's murder. However she does do some questionable things such as saying a cop touched her even though he didn't, and even acted as a villain in the season 1 finale "Happy Families are Alike" in which she briefly teamed up with Fish Mooney to kill James Gordon, Oswald Cobblepot and Carmine Falcone, with the claim she was doing it for "kicks". In Season 2, she becomes an enforcer for Cobblepot, but ends up leaving him off-screen.
Over the course of the series, she has acted as a henchwoman or partner to Fish Mooney, Oswald Copplepot/Penguin, Barbara Kean, Tabitha Galavan, Ivy Pepper, and others. She eventfully reforms and helps Bruce, Jim, Harvey, and the GCPD take back Gotham.
In the series finale, titled "The Beginning...", she will officially become Catwoman, though it is unclear if she will receive the moniker yet. One could say that she became a thief to spie Bruce for leaving her. That said, she does forgive him slightly as she seems more excited about becoming an on and off enemy of his more than anything.
Holy Musical Batman!
In the show, (as seen on YouTube) Catwoman was one of the rogues who worked with Sweet Tooth in his scheme to destroy Batman and put the nuclear Warheads in Gotham's water supply. She did have a flirting relationship with the Penguin.
Catwoman: Hunted
Catwoman appears as the titular anti-heroic main protagonist in the 2022 animated movie Catwoman: Hunted. She is an expert thief, flirtatious, protective and thrill-seeking of Gotham City who works with Interpol to stop Leviathan.
She is voiced by Elizabeth Gillies, who also played Jade West on Victorious, Callie Ross in Killing Daddy, and Fallon Carrington in the 2017 Dynasty reboot.
Relationships
Allies
Gotham Sirens
Harley Quinn
Poison Ivy
Other Supervillains (sometimes)
Mafia's and Mobsters of Gotham (formerly)
Secret Society of Super Villains
Legion of Doom
Justice League (sometimes)
Superheroes (sometimes)
Batgirl (sometimes)
Nightwing (sometimes)
Batman (sometimes)
Robin (sometimes)
Birds of Prey (sometimes)
Enemies
GCPD
Aaron Cash
James Gordon
Harvey Bullock
Sarah Essen
Justice League (sometimes)
Superheroes (sometimes)
Batman (sometimes)
Batgirl (sometimes)
Nightwing (sometimes)
Robin (sometimes)
Birds of Prey (sometimes)
Mafia's and Mobsters of Gotham
Blackgate staff
Arkham Asylum staff
Quotes
| | | |
| --- | --- | --- |
| " | Suffering succotash! Who invited Two-Face? | " |
| | ~ Catwoman | |
| | | |
| --- | --- | --- |
| " | Let's get this meeting started Meow shall we? | " |
| | ~ Catwoman | |
| | | |
| --- | --- | --- |
| " | Aw, hiss and vinegar! What are we going to do meow? | " |
| | ~ Catwoman | |
| | | |
| --- | --- | --- |
| " | I hate to be the one who let the cat drag in, but you're a cat-tastrophe. | " |
| | ~ Catwoman | |
| | | |
| --- | --- | --- |
| " | Oh, hush! Don't you think it's more thrilling if you're stealing something worth two point five mill? In my experience, one point five just isn't as much fun! | " |
| | ~ Catwoman | |
Trivia
Catwoman was created by the late Bill Finger and the late Bob Kane.
In her position as a crime lord in Gotham, Selina was apparently forced to execute over one hundred people to retain control over her criminal organization. This would've been enough to get her the death penalty the next time was caught, but her criminal record was wiped clean after Batman made a deal with Amanda Waller.

However, it was eventually revealed that Holly Robinson was responsible for the deaths and Selina took the wrap to protect her; knowing that Batman would not let her die.

Apparently the catsuit Selina wears as Catwoman (or at least one version of it) is actually a modified version of one she wore during her days as a prostitute.
Gotham City is a large metropolis and the hometown to its richest resident, Bruce Wayne, also known by his vigilante alias Batman. It is known for an absurd amount of crime as it houses Batman's most dangerous foes and its gothic, griddy tone. It bears a large resemblance of New York and Chicago. In the 1800s it was founded by Henry Hudson and named for the 'warlock' Dr.Gotham that was buried there. Originally Gotham Town, Gotham spread and became to a super city today. It has many landmarks like the standium that was bombed by Bane in 2012 and the national park. Gotham has also been a huge spot of Zepplelin sport as the police and other people and companies use them. 2 NFL teams live in Gotham, The Rogues and the Knights. Corruption soon came to Gotham in the 1930s as the Mafia Flourished and it only got worse.For all this crime, Arkham Asylum was built and held Millions of insane people since the 1800s. Durning the Injustice series, Chicago was the main setting for Gotham City and New York was the Main setting for Metropolis.
Selina Kyle is bisexual, something which had been suspected in the comics for a long time. However this fact wasn't confirmed until more recently in the Post-Flashpoint continuity.
She appears at the final battle in Ready Player One.
See also

Villains
Comics
2-Face-2 | Abraham Langstrom | Alfred Protocol | Alfred Stryker | Alice | Amanda Waller | Amygdala | Anarky | An Innocent Guy | Ares | Arkham Knight | Arnold John Flass | Azrael | Baby Doll | Bane | Barbatos | Bat-Mite | The Batman Who Laughs | Black Glove | Black Mask | Blockbuster I | Blockbuster II | Brain | Broker | Brother EYE | Bruno | Calculator | Calendar Man | Castle Bat | Captain Fear | Captain Boomerang | Carmine Falcone | Catman | Catwoman | Cheetah | Cheshire | Circus of Strange | Clayface | Clayface (Matt Hagen) | Claything | Clock King | Clownface | Club of Villains | Cluemaster | Composite Superman | Condiment King | Copperhead | Cornelius Stirk | Court of Owls | Crazy Quilt | Crime Doctor | Curtis Base | Dark Archer | David Cain | David Li | Dark Knights | Deacon Blackfire | Deadshot | Dealer | Deathstroke | Dick Grayson (DC vs Vampires) | The Dawnbreaker | The Devastator | Dr. Crane | Doctor Death | Doctor Double X | Doctor Phosphorus | Doctor Randolph Porter | Donna Troy | Dr. Silversmith | The Drowned | Electrocutioner | Emperor Penguin | Enigma | Ernie Chubb | Faceless | Falcone Crime Family | Film Freak | Firebug | Firefly | Flamingo | Floronic Man | Gearhead | General Ulysses Armstrong | Gilda Dent | Gorilla Boss | Gotham City Police Department | Gillian B. Loeb | Great White Shark | The Grim Knight | Harley Quinn | Holiday | Holly Robinson | Humpty Dumpty | Hugo Strange | Hush | Instigator | Jack the Ripper | James Gordon, Jr. | Jason Todd | Jeremiah Arkham | Joe Chill | Joker (Earth-22, 2008 Graphic Novel) | Judge of Owls | Joker's Daughter | Key | KGBeast | King of Cats | King Snake | King Tut | Killer Croc | Killer Moth | Kite Man | Lady Shiva | League of Assassins | Leviathan | Lex Luthor | Lock-Up | Lord Death Man | Mad Hatter | Mad Monk | Magpie | Malochia | Man-Bat | Mary Keeny | Maxie Zeus | Maxwell Lord | The Merciless | Merrymaker | Micheal Atkins | Monk | Mr. Bloom | Mr. Freeze | Mrs. Freeze | Mayor Oswald Cobblepot | Mr. Toad | Mr. Whisper | Mutants | Neo Joker | Neron | New Joker | Nightslayer | Nocturna | Omega | Onomatopoeia | Orca | Outsider | Owlman | Phantasm | Penguin | Penny Plunderer | Phosphorus Rex | Planet Master | Poison Ivy | Polka Dot Man | Professor Arnold Hugo | Professor Pyg | Prometheus | Punchline | Ra's al Ghul | Ragdoll | Ratcatcher | Reaper | Red Death | Reverse-Flash | Riddler | Robin King | Roland Daggett | Roxy Rocket | Royal Flush Gang | Rupert Thorne | Saint Batman | Sal Maroni | Scarecrow | Sensei | Sewer King | Signalman | Simon Hurt | Sinestro | Snowman | Solomon Grundy | Spellbinder | Squid | Steeljacket | Suicide Squad | Talia al Ghul | Talon | Tally Man | Ten Eyed Man | Terrible Trio | Thomas Wayne | Tiger Shark | Timecode | Tony Zucco | Tweedledum and Tweedledee | Two-Face (Earth-2) | Ubu | Vandal Savage | Ventriloquist | Ventriloquist II | Ventriloquist III | Vertigo | Victor Zsasz | Whisper A'Daire | White Rabbit | Wrath | The Wonderland Gang | Zebra-Man
Theatrical Movies
Batman (1966): Penguin | Catwoman | Joker | Riddler
Batman (1989): Joker | Joker Goons (Bob Hawkins) | Alicia Hunt | Carl Grissom | Max Eckhardt | Vinnie Ricorso | Joe Chill | Harvey Dent
Batman Returns: Penguin | Red Triangle Circus Gang (Organ Grinder, Poodle Lady, Tattooed Strongman, Stungun Clown, Thin Clown, Fat Clown, Sword Swallower, Knifethrower Dame & Fire Breather) | Max Shreck | Catwoman
Batman: Mask of the Phantasm: Phantasm | Joker | Salvatore Valestra | Arthur Reeves | Chuckie Sol | Buzz Bronski
Batman Forever: Riddler | Two-Face | Sugar | Spice | NygmaTech (Frogmen) | Neon Gang (Neon Gang Leader) | Salvatore Maroni
Batman & Robin: Poison Ivy | Mr. Freeze | Bane | Snowy Cones Thugs | Golums | Jason Woodrue
Batman Begins: Ra's al Ghul | League of Shadows (Ra's Decoy) | Scarecrow | Falcone Crime Family (Carmine Falcone, Victor Zsasz, & Arnold Flass) | Joe Chill
The Dark Knight: Joker | Joker's Thugs (Thomas Schiff, Chuckles, Kilson, Happy, Dopey, Grumpy & Bus Driver) | Two-Face | Sal Maroni | The Chechen | Gambol | Lau | Bank Manager | Michael Wuertz | Burmese Bandit
The Dark Knight Rises: League of Shadows (Bane, Talia al Ghul & Barsad) | Catwoman | John Daggett | Phillip Stryver | Ra's al Ghul | Scarecrow
Batman v Superman: Dawn of Justice: Lex Luthor | Doomsday | Anatoli Knyazev | Mercy Graves | Cesar Santos | Amajagh | Joe Chill | Zod | Joker | Steppenwolf
Suicide Squad: Eyes of the Adversary (Enchantress & Incubus) | Suicide Squad (Deadshot, Harley Quinn, Captain Boomerang, El Diablo, Killer Croc, Slipknot & Amanda Waller) | Joker's Gang (Joker, Jonny Frost, Panda Man & Monster T) | Griggs
The Lego Batman Movie: Joker | Harley Quinn | Phantom Zone Criminals (Zod, Sauron, Kraken, Lord Voldemort, Agent Smith, Jaws, Gremlins, Medusa, Lord Vampyre, Wicked Witch of the West, Flying Monkeys, The Swamp Creature & Daleks) | Catwoman | Poison Ivy | Two-Face | Bane | Riddler | Salvatore Maroni
Joker: Clowns (Joker, Clown & Ambulance Clown) | Penny Fleck | Wall Street Three | Penny Fleck's Boyfriend
The Batman (2022): Riddler | Falcone Crime Syndicate (Carmine Falcone, Penguin, William Kenzie, Vinnie, & The Twins) | Catwoman | Salvatore Maroni | Riddler's Cult | Pete Savage | Gil Colson | Don Mitchell Jr. | Train Gang | Joker
Direct-to-video Movies
Batman & Mr. Freeze: SubZero: Mr. Freeze | Dr. Gregory Belson
Batman Beyond: Return of the Joker: Joker | The Jokerz (Chucko, Dee-Dee, Ghoul, Bonk, & Woof) | Harley Quinn
Batman: Mystery of the Batwoman: Penguin | Bane | Rupert Thorne | Carlton Duquesne
The Batman vs. Dracula: Dracula | Penguin | Joker
Superman/Batman: Public Enemies: Lex Luthor | Major Force | Metallo | Amanda Waller | Toyman | Solomon Grundy | Gorilla Grodd | Killer Frost | Lady Shiva | Giganta | Mongul | Captain Cold
Batman: Under the Red Hood: Jason Todd | Joker | Black Mask | Ra's al Ghul | Riddler | Ms. Li
Superman/Batman: Apocalypse: Darkseid | Female Furies (Granny Goodness, Gilotina, Mad Harriet, Lashina & Stompa) | Doomsday
Batman: Year One: Batman | Gotham City Police Department (Commissioner Loeb, Arnold John Flass, & Howard Branden) | Falcone Crime Family (Carmine Falcone & Johnny Viti) | Catwoman | Joker
Batman: The Dark Knight Returns: Batman | Joker | Mutant Leader | Ellen Yindel | Harvey Dent | Selina Kyle | Bruno
Son of Batman: Deathstroke | League of Assassins (Ra's al Ghul & Talia al Ghul) | Ubu | Killer Croc | Man-Bats
Batman: Assault on Arkham: Suicide Squad (Amanda Waller, Deadshot, Harley Quinn, Captain Boomerang, Killer Frost, King Shark, Black Spider, KGBeast) | Joker | Riddler | Penguin | Scarecrow | Victor Zsasz | Bane | Two-Face | Poison Ivy
Lego DC Comics: Batman Be-Leaguered: Bat-Mite | Lex Luthor | Joker | Penguin | Man-Bat | Captain Cold | Black Manta
Batman vs. Robin: Court of Owls (Samantha Vanaver, Talon, Owls Lieutenant, & Talon Warriors) | Dollmaker
Batman Unlimited: Animal Instincts: Animalitia (Penguin, Killer Croc, Man-Bat, Cheetah & Silverback)
Batman Unlimited: Monster Mayhem: Joker | Scarecrow | Clayface | Silver Banshee | Solomon Grundy
Batman: Bad Blood: League of Assassins (Talia al Ghul, The Heretic, Onyx, Firefly, Tusk, Mad Hatter, Electrocutioner, Hellhound, Calculator, & Killer Moth) | Black Mask
Batman: The Killing Joke: Joker | Vinnie & Joe | Paris Franz
Batman Unlimited: Mechs vs. Mutants: Penguin | Mr. Freeze | Cheetah | Hush | Mad Hatter | Two-Face | Bane | Chemo | Killer Croc | Clayface | Joker | Dr. Kirk Langstrom
Batman: Return of the Caped Crusaders: Joker | Penguin | Riddler | Catwoman | Archer | Black Widow | Bookworm | Clock King | Egghead | False Face | King Tut | Louie the Lilac | Mad Hatter | Minstrel | Mr. Freeze | Sandman | Shame | Siren
Batman and Harley Quinn: Harley Quinn | Poison Ivy | Floronic Man
Batman vs. Two-Face: Two-Face | Hugo Strange | Catwoman | King Tut | Bookworm | Joker | Penguin | Riddler | Clock King | Egghead | Mr. Freeze | Shame | Harley Quinn
Scooby-Doo! & Batman: The Brave and the Bold: Riddler | Clayface | Joker | Mr. Freeze | Catwoman | Penguin | Harley Quinn | Poison Ivy
Batman: Gotham by Gaslight: Jack the Ripper | Barbara-Eileen Gordon | Selina Kyle | Harvey Dent | Hugo Strange
Batman Ninja: Joker | Harley Quinn | Catwoman | Gorilla Grodd | Bane | Penguin | Poison Ivy | Deathstroke | Two-Face
Batman vs. Teenage Mutant Ninja Turtles: Foot Clan (Shredder & Baxter Stockman) | League of Assassins (Ra's al Ghul & Ubu) | Joker | Penguin | Harley Quinn | Mr. Freeze | Scarecrow | Two-Face | Poison Ivy | Bane
Batman: Hush: Riddler/Hush | Catwoman | Poison Ivy | Bane | Joker | Harley Quinn | Clayface | Scarecrow | Lex Luthor | Lady Shiva | Two-Face | Penguin | Mr. Freeze | Thomas Elliot
Batman: Death in the Family: Jason Todd | Joker | Black Mask | Ra's al Ghul | Riddler | Talia al Ghul | Cheetah | Two-Face
Batman: Soul of the Dragon: Nāga | Kobra (Jeffery Burr, Schlangenfaust, Lady Eve, King Snake & Rip Jagger) | Ben Turner | Shiva | Richard Dragon | Jade
Batman: The Long Halloween: Holiday | Falcone Crime Family (Carmine Falcone, Milos Grapa, Alberto Falcone, Johnny Viti, & Sofia Falcone) | Two-Face | Joker | Solomon Grundy | Salvatore Maroni | Poison Ivy | Penguin | Scarecrow | Mad Hatter | San Ho Hui (Mickey Chen) | Calendar Man | Catwoman

Television
Batman 60s show
Joker | Penguin | Catwoman | Riddler | Mr. Freeze | The Archer | Black Widow | Bookworm | Egghead | Clock King | Queenie Goldstein | Sandman | Dr. Cassandra Spellcraft | Cabala | Minstrel | Shame | False Face | The Siren | Undine | Chandell & Harry | King Tut | Louie the Lilac | Mad Hatter | Cornelia | Baby Jane Towser | Lydia Limpet | Zelda the Great | The Puzzler | Olga, Queen of Cossacks | Marsha, Queen of Diamonds | Lord Marmaduke Ffogg | Lady Penelope Peasoup | Ma Parker | Freddy the Fence | Lola Lasagne | Nora Clavicle | Colonel Gumm | Minerva | Killer Moth | Calamity Jan
1970s Filmation series
Joker | Catwoman | Penguin | Riddler | Clayface | Mr Freese | Sweet Tooth
Batman: The Animated Series and The New Batman Adventures
Joker | Two-Face | Harley Quinn | Penguin | Catwoman | Rupert Thorne | Riddler | Poison Ivy | Scarecrow | Mad Hatter | Killer Croc | Clayface | Ra's al Ghul | Mr. Freeze | Man-Bat | Ventriloquist and Scarface | Roland Daggett | Clock King | Bane | Hugo Strange | Lloyd Ventrix | Kyodai Ken | Baby Doll | Emile Dorian | Red Claw | Boss Biggis | Sewer King | Talia al Ghul | Maxie Zeus | Lock-Up | Professor Milo | Count Vertigo | Daniel Mockridge | Grant Walker | Gil Mason | Arkady Duvall | Ferris Boyle | Arnold Stromwell | Tony Zucco | H.A.R.D.A.C. | Randa Duane | Batman Clone | Calendar Girl
The Batman (2004)
Joker | Penguin | Bane | Catwoman | Mr. Freeze | Ethan Bennett | Killer Croc | Man-Bat | Firefly | Riddler | Punch & Judy | Kabuki Twins | Hugo Strange | Cluemaster | Ragdoll | Temblor | Poison Ivy | Tony Zucco | Count Vertigo | Harley Quinn | Maxie Zeus | Clayface | Gearhead | Francis Grey | Killer Moth | D.A.V.E. | Dracula | Rumor | Toyman | Mirror Master | Lex Luthor | Black Mask | Sinestro | Joker 2.0 | Prank | Killgore Steed | Team Penguin | Julie | Spellbinder | Blaze | The Joining | Cosmo Krank | Marty Slacker | Scorn | Wrath | Metallo | Shadow-Thief
Batman: The Brave and The Bold
Joker | Music Meister | Catwoman | Penguin | Mr. Freeze | Clayface | Riddler | Poison Ivy | Lex Luthor | Flower Children | Harley Quinn | Morgaine Le Fey | Sweet Tooth | Queenie Goldstein | Bane | Kite Man | Black Manta | Gentleman Ghost | Major Force | Mirror Master | Metallo | Brainiac | Flamingo | Mxyzptlk | Toyman | Thinker | Doctor Sivana | Mister Mind | Black Adam
Beware the Batman
Anarky | Ra's al Ghul | Deathstroke | Harvey Dent | Killer Croc | Simon Stagg | Professor Pyg and Mr. Toad | Man-Bat | Cypher | Magpie | Lady Shiva | Tobias Whale | Phosphorus Rex | Lunkhead | Humpty Dumpty | Silver Monkey | Key | Bethany Ravencroft | Daedalus Boch | Junkyard Dog | Sapphire Stagg | Matatoa | Anatol Mykros
Harley Quinn
Harley Quinn | Poison Ivy | Joker | Scarecrow | Queen of Fables | Darkseid | Parademons | Penguin | Mr. Freeze | Bane | Lex Luthor | Killer Croc | Man-Bat | Riddler | Deadshot | Calendar Man | Condiment King | Solomon Grundy | Kite Man | Doctor Psycho | Clayface | King Shark | Nora Fries | Sy Borgman | Doctor Trap | Frank the Plant | Felix Faust | Toyman | Metallo | Livewire | Parasite | Black Adam | Captain Cold | Gorilla Grodd | Black Manta | Cheetah | Giganta | Sinestro | Maxie Zeus | Eris | KGBeast | Two-Face | Catwoman | Nick Quinzel | Sharon Quinzel | Suicide Squad (Amanda Waller) | Clock King | Firefly | Court of Owls
Video Games
LEGO Batman
Joker | Penguin | Riddler | Harley Quinn | Catwoman | Two-Face | Bane | Clayface | Killer Croc | Killer Moth | Mad Hatter | Man-Bat | Mr. Freeze | Poison Ivy | Scarecrow | Ra's al Ghul | Hush
Lego Batman 2: DC Super Heroes
Joker | Lex Luthor | Harley Quinn | Riddler | Two-Face | Catwoman | Bane | Penguin | Poison Ivy | Scarecrow | Captain Boomerang | Clayface | Mad Hatter | Ra's al Ghul | Killer Croc | Bane | Killer Moth | Mr. Freeze | Man-Bat | Hush | Zod | Sinestro | Brainiac | Gorilla Grodd | Captain Cold | Black Manta | Black Adam | Bizarro
Lego Batman 3: Beyond Gotham
Brainiac | Joker | Lex Luthor | Cheetah | Solomon Grundy | Firefly | Killer Croc | Sinestro | Atrocitus | Larfleeze | Star Sapphire | Composite Superman | Bane | Arkillo | Condiment King | Music Meister | Captain Cold | Black Adam | Black Manta | Black Hand | Bronze Tiger Cyborg Superman | Deadshot | Deathstroke | Lobo | Dex-Starr | Doomsday | Gorilla Grodd | Harley Quinn | Hush | Kalibak | Killer Moth | Man-Bat | Mad Hatter | Manchester Black | Metallo | Mr. Freeze | Mr. Mxyzptlk | Parasite | Penguin | Poison Ivy | Polka Dot Man | Red Hood | Riddler | Toyman | The Trickster | Ultra-Humanite | Catwoman | Bizarro | Amanda Waller | Captain Boomerang | El Diablo | King Shark | Killer Frost | Plastique | Terra | Zod | Faora | Joker | Two-Face | Ra's al Ghul | Bane | Catwoman | Scarecrow | Blight | Joker | Mr. Freeze | Arrow Deathstroke | Malcolm Merlyn | Darkseid
Injustice
Superman | Wonder Woman | Yellow Lantern | The Flash | Aquaman | Nightwing | Cyborg | Raven | Solomon Grundy | Catwoman | Bane | Black Adam | Deadshot | Poison Ivy | Scarecrow | Joker | Deathstroke
See Also
Arkhamverse Villains | Batgirl Villains | Batman Beyond Villains | Batwoman Villains | Birds of Prey Villains | Catwoman Villains | Gotham Villains | Harley Quinn Villains | Nightwing Villains | Outsiders Villains | Red Hood Villains | Robin Villains | Telltalle Batman Villains
Villains
Comics
Amanda Waller | Basilisk | Black Mask | Bud and Lou | Catwoman | Calendar Man | Clock King | Dark Knights | Deadshot | Egg Fu | The Enchantress | Female Furies | Floronic Man | Gotham Sirens | Granny Goodness | Harley Quinn | Hugo Strange | James Gordon, Jr. | Joker | Joker's Daughter | King Shark | Lord Death Man | Mercy Graves | Penguin | Poison Ivy | Punchline | Riddler | Scarecrow | Sportsmaster | Suicide Squad | Two-Face | Zod
Movies
Suicide Squad: Eyes of the Adversary (Enchantress & Incubus) | Suicide Squad (Deadshot, Harley Quinn, Captain Boomerang, El Diablo, Killer Croc, Slipknot & Amanda Waller) | Joker's Gang (Joker, Jonny Frost, Panda Man & Monster T) | Griggs
Batman and Harley Quinn: Harley Quinn | Poison Ivy | Floronic Man
Suicide Squad: Hell To Pay: Professor Zoom | Suicide Squad (Amanda Waller, Deadshot, Harley Quinn, Captain Boomerang, Bronze Tiger, Copperhead, Punch, Jewelee, & Count Vertigo) | Killer Frost | Blockbuster | Silver Banshee | Vandal Savage | Scandal Savage | Professor Pyg | Tobias Whale | League of Assassins (Deathstroke) | Two-Face
Birds of Prey (and the Fantabulous Emancipation of One Harley Quinn): Harley Quinn | Huntress | Black Mask | Victor Zsasz | Stefano Galante | Carlo Rossi | Happy | Joker
The Suicide Squad: The Thinker | Starro | Silvio Luna | Corto Maltese Armed Forces (Mateo Suarez & Vera) | Suicide Squad (Bloodsport, Ratcatcher 2, Harley Quinn, Peacemaker, King Shark, Polka Dot Man, Captain Boomerang, Blackguard, Mongal, Javelin, The Detachable Kid, Weasel, Savant & Amanda Waller) | Kaleidoscope | Calendar Man | Double Down | Karma | Ratcatcher | Polka Dot Man's Mother | Bloodsport's Father
Television
Harley Quinn | Poison Ivy | Clayface | King Shark | Joker | Scarecrow | Queen of Fables | Penguin | Killer Croc | Man-Bat | Doctor Psycho | Riddler | Two-Face | Catwoman | Bane | Mr. Freeze | Deadshot | Solomon Grundy | Calendar Man | Condiment King | Felix Faust | Lex Luthor | Toyman | Metallo | Livewire | Parasite | Black Adam | Captain Cold | Gorilla Grodd | Black Manta | Cheetah | Giganta | Sinestro | Maxie Zeus | Eris | KGBeast | Bud and Lou | Nora Fries | Sy Borgman | Doctor Trap | Frank the Plant | Kite Man | Nick Quinzel | Sharon Quinzel | Darkseid | Parademons | Suicide Squad (Amanda Waller) | Clock King | Firefly | Court of Owls
Video Games
Batman: Arkham Knight: Harley Quinn: Harley Quinn | Poison Ivy | Penguin
Injustice: Superman | Poison Ivy | Deadshot | Scarecrow | Wonder Woman | Joker

Villains
Comics
Alex Luthor | Amanda Waller | Amazo | Anomaly | Anti-Monitor | Atlas | Atomic Skull | Ballser | Bane | Barbatos | Bernadeth | Bertron | Bizarro | Black Adam | Black Banshee | Black Mercies | Black Zero | Blanque | Blackrock | Blaze | Bloodsport | Bloody Mary | Brainiac | Bruno Mannheim | Boss Moxie | Bug-Eyed Bandit | Captain Boomerang | Captain Cold | Catwoman | Cheetah | Chemo | Chessure | Circe | Clayface | Coldcast | Commander Gor | Composite Superman | Cyborg Superman | Cythonna | Dabney Donovan | Dark Knights | Darkseid | Dax Novu | Deathstroke | Desaad | Deuce & Charger | Dev-Em | Devilance | The Devastator | Doctor Light | Doctor Manhattan | Doctor Polaris | Donna Troy | Doomsday | Earth-Man | Eclipso | The Enchantress | Epoch | Equus | Eradicator | Eradicator (Dark Multiverse) | Ernest Smalley | Eve Teschmacher | Faora Hu-Ul | Fastbak | Female Furies | Fifth-Dimensional Imps | Forgotten Villains | Francis Redhorn | Funky Flashman | Galactic Golem | Gilotina | Gorilla Grodd | Granny Goodness | Green Man | Glorious Godfrey | Gzptlsnz | H'El | Heat Wave | Hector Hammond | Hellgrammite | Helspont | Hfuhruhurr | Imperiex | Intergang | Jax-Ur | Joker | Jon Lane Kent | Justice League of Earth | Kaizen Gamorra | Kalibak | Kanto | Karkull | Killer Croc | King Shark | Kobra Cult | Ku Klux Klan | Lashina | Last Sun | Legion of Super-Villains | Lex Luthor | Livewire | Lobo | Mad Harriet | Magpie | Major Disaster | Major Force | Malice Vundabar | Manchester Black | Mandrakk | Mantis | Master Jailer | Masters of Disaster | Match | Maxima | Maxwell Lord | Mercy Graves | Metallo | Mister Oz | Mongal | Mongul | Mongul II | Morgaine Le Fey | Morgan Edge | Mr. Freeze | Mxyzptlk | Neron | Neutron | Nick O' Teen | Nimrod The Hunter | Overman | Parademons | Parallax | Parasite | Phantom Zoners | Planeteer | Plasmus | Plastique | Prankster | Preus | Princess Zala Jor-El | Prometheus | Psycho-Pirate | Queen Bee | Queen of Fables | Rampage | Rogol Zaar | Reverse-Flash | Royal Flush Gang | Samuel Lane | Scarecrow | Secret Society of Super Villains | Shockwaver | Shrapnel | Silver Banshee | Sinestro | Sleez | Solomon Grundy | Subjekt-17 | Suicide Squad | Superboy-Prime | Superdoom | Superman Revenge Squad | Superman (Earth-2) | Superman (The Dark Side) | The SuperMan | Spellbinder | Steppenwolf | Stompa | Talia al Ghul | Tarantula | Thaddeus Killgrave | Thunder & Lightning | Titano | Tobias Whale | Toyman | Two-Face | Ultra-Humanite | Ultraman | Ursa | Vincent Edge | Virman Vundabar | Vyndktvx | Weather Wizard | Whirlicane | Whisper A'Daire | William Dunn | Xa-Du | Zod
Theatrical Movies
Superman: Lex Luthor | Otis | Eve Teschmacher | General Zod | Non | Ursa
Superman II: General Zod | Non | Ursa | Lex Luthor | Otis | Eve Teschmacher | Rocky
Superman III: Ross Webster | Corrupted Superman | Vera Webster | Lorelei Ambrosia | Gus Gorman
Superman IV: The Quest for Peace: Lex Luthor | Nuclear Man
Superman Returns: Lex Luthor
Man of Steel: Sword of Rao (Dru-Zod, Faora-Ul, Nam-Ek, Jax-Ur, Tor-An, Car-Vex, Nadira, & Dev-Em II)
Batman v Superman: Dawn of Justice: Lex Luthor | Doomsday | Anatoli Knyazev | Mercy Graves | Cesar Santos | Amajagh | Joe Chill | Zod | Steppenwolf
DC League of Super-Pets: Lulu | Lex Luthor | Mercy Graves | Whiskers

Direct-to-video Movies
Superman: Brainiac Attacks: Brainiac | Lex Luthor | Mercy Graves | Mister Mxyzptlk
Superman: Doomsday: Lex Luthor | Superman Clone | Doomsday | Toyman | Mercy Graves
Superman/Batman: Public Enemies: Lex Luthor | Major Force | Metallo | Amanda Waller | Toyman | Solomon Grundy | Gorilla Grodd | Killer Frost | Lady Shiva | Giganta | Mongul | Captain Cold
Superman/Batman: Apocalypse: Darkseid | Female Furies (Granny Goodness, Gilotina, Mad Harriet, Lashina & Stompa) | Doomsday
Superman/Shazam!: The Return of Black Adam: Black Adam
All-Star Superman: Lex Luthor | Solaris | Parasite | Nasthalthia Luthor | Bar-El & Lilo-El
Superman vs. The Elite: The Elite (Manchester Black, Coldcast, Menagerie & Hat) | Atomic Skull
Superman: Unbound: Brainiac
The Death Of Superman: Doomsday | Lex Luthor | Intergang (Bruno Mannheim) | Mercy Graves | Cyborg Superman
Reign Of The Supermen: Cyborg Superman | Darkseid | Parademons | Lex Luthor | Mercy Graves
Superman: Red Son: Superman | Brainiac | Lex Luthor | Batman | Superior Man
Superman: Man of Tomorrow: Parasite | Lobo | Lex Luthor
Television
1940's Superman
Bulleteers | Inventor | Mechanical Monsters | Mad Scientist | Indian Scientist
Superman: The Animated Series
Lex Luthor | Brainiac | Darkseid | Metallo | Toyman | Intergang (Bruno Mannheim, Spider Spinelli, & Blaine) | Mercy Graves | Joey | Parasite | Dr. Vale | Lobo | Gnaww | Preserver | Kanto | Earl Garver | Jax-Ur | Mala | Prometheon | General Hardcastle | Weather Wizard | Livewire | Bizarro | Kurt Bowman | Luminus | Mister Mxyzptlk | Superman (Brave New Metropolis) | Lex Luthor (Brave New Metropolis) | Titano | Desaad | Kalibak | Joker | Harley Quinn | Karkull | Corey Mills | Suit | Maxima | De'Cine | Steppenwolf | Parademons | Female Furies (Granny Goodness, Stompa, Mad Harriet, & Lashina) | Volcana | Kurt | Starro | Roxy Rocket | Penguin | Bane | Riddler | Mad Hatter | Darci Mason | Sinestro | Unity | Reverend Amos Howell | Society of Shadows (Ra's al Ghul, Talia al Ghul, & Ubu)
Krypton
Brainiac | Zod | Doomsday | Lobo | Jax-Ur | Kol-Da | Lis-Ser | Daron-Vex | Araame | Lyta-Zod Clone
Superman & Lois
Tal-Rho | John Henry Irons | Leslie Larr | Mitch Anderson | Bizarro | Zeta-Rho | Superman (John Henry Irons' Earth) | Reno Rosetti | David Fuglestad | Atom-Man | Zod | Phillip Karnowsky | Kit Faulkner | Inverse Society (Ally Allston, Lana-Rho, Jonathan-El, & Erin Wu) | Intergang (Thaddeus Killgrave)
Video Games
Superman Arcade: Emperor Zaas | Lex Luthor | Metallo | Parasite
Superman: Shadow of Apokolips: Lex Luthor | Darkseid | Metallo | Livewire | Parasite | Kanto | Mercy Graves | Volcana
Mortal Kombat vs. DC Universe: Dark Kahn | Lex Luthor | Scorpion | Shang Tsung | Darkseid
Injustice: Superman | Brainiac | Doomsday | Aquaman | Black Adam | Sinestro | Lex Luthor | Joker | Darkseid
See Also
Legion of Super-Heroes Villains | Lobo Villains | Smallville Villains | Steel Villains | Superboy Villains | Supergirl Villains | Superwoman Villains
Villains
Animated Features
Meowrice | Meowrice's Henchmen | Smaug | Gollum | Sauron | Witch-king of Angmar | Lord of the Lash | Ommadon | Bryagh | Chaplins (Boogaloo Jones) | Officer Shapiro | Rozzie's Dad | Synonomess Botch | Mouse King | Mouse Queen | Joker | Phantasm | Salvatore Valestra | Arthur Reeves | Chuckie Sol | Buzz Bronski | Grundel Toad | Berkeley Beetle | Mr. Mole | Mrs. Toad | Ms. Fieldmouse | Queen Gnorga | King Llort | Drake | Leopard Seal | Mr. Swackhammer | Monstars | Darla Dimple | Max | Mrs. Prysselius | Thunder Karlsson and Bloom | Ruber | Griffin | Ruber's Minions | Bladebeak | Eric Cartman | Saddam Hussein | Sheila Broflovski | Satan | Mr. Garrison | Chef | Randy Marsh | Shelly Marsh | Gerald Broflovski | Kent Mansley | Kralahome | Master Little | King Salazar | The Jokerz (Dee Dee Twins, Chucko & Woof) | Count Grisham | Cheswick | Black Mouth | Brutus | Thrax | Mayor Phlegmming | Thrax's Henchmen | Mojo Jojo | Gangreen Gang | Mr. Chairman | Bob Smith | Robo Dog | Anubis | Seto Kaiba | Dark Yugi | Pegasus J. Crawford | Mokuba Kaiba | Marik Ishtar | Ebenezer Scrooge Puppet | Outback Ollie | Rico and Mikey | Barkis Bittern | Maudeline Everglot | Finis Everglot | Brainiac | Lex Luthor | Mercy Graves | Mister Mxyzptlk | Stan Beals | Wasps | Noah the Elder | Leopard Seal | Killer Whales | Aguila | Stone Generals (Gato, Mono & Serpiente) | Karai | Foot Clan | Grendel | Grendel's Mother | Dragon | Big Black Monster | Count Dooku | Asajj Ventress | Jabba the Hutt | Emperor Palpatine | Eddy's Brother | Kanker Sisters | Kevin | Sarah | Surtr | Nyra | Kludd | Allomere | Jatt and Jutt | Pure Ones | Doomberg | Jimbo Farrar | Lee Mishon | Gil Yepes | Liza Everton | Sammy Goldberg | Harry Sparks | Lorenzo Carvahal and Diaz Arnesto | Jimbo's parents | Lord Business | Super Secret Police (Bad Cop & Sheriff Not-A-Robot) | Duplo Aliens | Mr. Ross | Future Mordecai | Rigby | Benson Dunwoody | Muscle Man | Hunter | Pigeon Toady | Wolf Pack | Penguins | Joker (Lego) | Harley Quinn (Lego) | Phantom Zone Criminals (Zod, Sauron, Kraken, Lord Voldemort, Agent Smith, Jaws, Gremlins, Medusa, Lord Vampyre, Wicked Witch of the West, Flying Monkeys, The Swamp Creature & Daleks) | Catwoman (Lego) | Poison Ivy (Lego) | Two-Face (Lego) | Bane | Riddler | Salvatore Maroni | Count Dracula | Imhotep | Lord Garmadon | Slade (TTG) | Balloon Man (TTG) | Lex Luthor (TTG) | Stonekeeper | Rex Dangervest | Velociraptors (Lego) | Foot Clan (Shredder) | League of Assassins (Ra's al Ghul (Batman vs. TMNT), Ubu (Batman vs. TMNT) & Talia al Ghul (Batman vs. TMNT)) | Joker (Batman vs. TMNT) | Harley Quinn (Batman vs. TMNT) | Scarecrow (Batman vs. TMNT) | Mr. Freeze (Batman vs. TMNT) | Poison Ivy (Batman vs. TMNT) | Bane (Batman vs. TMNT) | Two-Face (Batman vs. TMNT) | Penguin (Batman vs. TMNT) | Hexagon (Trigon (TTG) & Trigon (Original)) | Spinel | Pink Diamond | Scorpion | Quan Chi | Shang Tsung | Goro | Shao Kahn | Kano | Baraka | Reptile | Moloch | Motaro | Dick Dastardly (2020) | Muttley (2020) | Rotten Robots | Dusty | Cerberus | Terrance Mendoza | Butch | Al-G Rhythm | Pete | Goon Squad | Katz | Le Quack | Eustace Bagge | Lulu | Lex Luthor | Whiskers
Live-Action Films
Prince John | Sir Guy of Gisbourne | High Sheriff of Nottingham | Dickon Malbete | Bishop of the Black Canons | Wicked Witch of the West | Kasper Gutman | Joel Cairo | Major Heinrich Strasser | Signor Ugarte | Signor Ferrari | Rhedosaurus | Giant Carpenter Ants | Alex's Droogs (Alex DeLarge) | Billy Boy | Scorpio | Han | Bolo | O'Hara | Billy | Toecutter | Toecutter's Gang (Bubba Zanetti, Nightrider & Johnny the Boy) | Overlook Hotel | Jack Torrance | Hotel Caretaker | Lorraine Massey | Lord Humungus | Lord Humungus' Marauders (Wez) | Roy Batty | Pris Stratton | Leon Kowalski | Zhora Salome | Cujo | Socs (Bob Sheldon, Randy Adderson, Paul Holden & David) | Mrs. Cade | Maximillian Largo | Fatima Blush | Scut Farkus | Grover Dill | David "Noodles" Aaronson | Maximilian "Max" Bercovicz | Frankie Monaldi | Jimmy Conway O'Donnell | Bugsy | Stripe | Ruby Deagle | Gremlins | Mama Fratelli | Jake Fratelli | Francis Fratelli | Mr. Perkins | Troy Perkins | Aunty Entity | Ironbar Bassey | Sam & Sid Sleaze | Francis Buxton | Albert | Audrey II | Orin Scrivello | Gunnery Sergeant Hartman | Private Gomer Pyle | Door Gunner | Mr. Igoe | Max | David | Sergeant Nagata | Peter Dellaplane | Harlan Rook | Beetlejuice | Sandworms | Hughie Warriner | Gale Nolan | Thomas Perry | Richard Cameron | The Joker | Bob the Goon | Alicia Hunt | Carl Grissom | Max Eckhardt | Vinnie Ricorso | Joe Chill | Howard Hyde | Walter Boyett | Zack Gregory | Witches (Grand High Witch, Susan Irvine, Nicola Cuttle, Pamela, Lois Leffour, Mildred, Elizabeth, Henrietta, Jacqueline & Beatrice) | Brain Gremlin | Daffy | George | Greta | Lenny | Secretary Gremlin | Bat Gremlin | Electric Gremlin | Cushing Catheter | Jimmy Conway | Tommy DeVito | Paul Cicero | Henry Hill | Billy Batts | Tuddy Cicero | Parnell Edwards | Fat Andy | Jimmy Two-Times | Robert McMahon | Joe Manri | Frankie Carbone | King Claudius | Michael Franzese | The Devil | Sheriff George of Nottingham | Guy of Gisbourne | Mortianna | Bishop of Hereford | Funekei Yoshida | Sato | Tanaka | Muto | Ito | Hardboy | Hagata | Earl Talbot Blake | Kim | Fence Shooter | Heather Evans | Penguin | Max Shreck | Catwoman | Red Triangle Circus Gang | Charles Rane | Sabrina Ritchie | Forget | Vincent | Matthew | William Strannix | Peter Krill | Daumer | William Foster | Nick the Neo-Nazi | Switchblade Sam | Pod People | Dial | Dr. Charles Nichols | Simon Phoenix | Raymond Cocteau | Frederick Sykes | Sidney J. Mussburger | Aloysius | Ray Finkle | Vinnie and Roc | Samuel Norton | Byron Hadley | Bogs Diamond | Elmo Blatch | Sisters | Lawrence Van Dough | Ferguson | HAL 9000 | Lestat | Armand | Santiago | John Milner | Bill Wilcox | Ilya Pavel Kazak | Rosa | Leonid Volkov | Zhukov | Stefan | Emilio Juantorena | Navigator | Codebreaker | Baker | Clarice Kensington | Miss Minchin | Riddler | Two-Face | Sugar | Spice | NygmaTech (Frogmen) | Neon Gang | Salvatore Maroni | Travis Dane | Marcus Penn | Miguel Bain | Vincent Cadby | Neil McCauley | Waingro | Roger van Zant | Jonas Miller | Daniel Harper | Robert Deguerin | Mr. Swackhammer | Monstars | Martians (Martian Leader, Martian Ambassador & Martian Girl) | Yolanda Saldívar | John Wesley | Wesley's Whalers | Poison Ivy | Mr. Freeze | Bane | Jason Woodrue | John Milton | Christabella Andreoli | Lloyd Gettys | Grant Frost | Dr. Philip Adams | Agent Smith | Cypher Reagan | Agents (Agent Jones, Agent Brown & Agent Johnson) | Dr. Arliss Loveless | Susan McCallister | Jim Whitlock | Mako Sharks | William Wharton | Percy Wetmore | Kathy Morningside | Jeremy Melton | Lewis Strutt | Stanley Jobson | Gabriel Shear | Mr. Tinkles | Calico | The Russian | Thrax | Mayor Phlegmming | Thrax's Henchmen | Alonzo Harris | Roger | Lord Voldemort | Quirinus Quirrell | Draco Malfoy | Severus Snape | Mountain Troll | The Dursleys | Argus Filch | Terry Benedict | Burke Bennett | Frank Stokes | Merv Green | Buggy Ding Dong | Parade of Hope | Rainbow Randolph | Morlocks (Über-Morlock) | Richard Haywood | Justin Pendleton | Walter Finch | Scrappy-Doo | N' Goo Tuana | Zarkos | Demons | Luna Ghost | Akasha | Spiders (Consuela & Tank) | Mayor Wade | Alistair Pratt | Jeannine Richardson | Jack Ferriman | Francesca | Lucius Malfoy | Basilisk | Gilderoy Lockhart | Acromantula (Aragog & Acromantula Colony) | Salvatore Maggio | Frankie Lombardo | Mr. Smith Mr. Gray | Byrus | Machines (The Architect) | The Merovingian | Agent Thompson | Agent Jackson | Twins | Bane | Vamps | T-X | T-1 | Skynet | Deus Ex Machina | Trainman | Mr. Chairman | Bob Smith | Robo Dog | Henry James | Jay McPherson | China | Luther | Martin Asher | Jonathan Jacobo | Peter Pettigrew | Dementors | Marge Dursley | Fiona Montgomery | Shelby Cummings | Stan Shunpike | Patience Phillips/Catwoman | Hedare Beauty (Laurel Hedare & George Hedare) | Clara Dalrymple | Sir Trenton | Trenton's Pride | Gabriel | Mammon | Balthazar | Lucifer Morningstar | Bo Sinclair | Vincent Sinclair | Guy of Lusignan | Raynald of Châtillon | Ra's al Ghul | Scarecrow | Carmine Falcone | League of Shadows (Decoy of Ra's al Ghul) | Victor Zsasz | Arthur Slugworth | Dr. Bernard Merrick | Tom Lincoln | Boss Hogg | Sheriff Rosco P. Coltrane | Barty Crouch Jr. | Nagini | Igor Karkaroff | Rita Skeeter | Bill Cox | V | Adam Sutler | Lewis Prothero | Norsefire | Peter Creedy | Anthony Lilliman | Delia Surridge | Light Yagami | Lex Luthor | German Drinking Team | Cherry | Sister Summersisle | Frank Costello | Arnold French | Colin Sullivan | Captain Vidal | Pale Man | Colonel Coetzee | Captain Poison | Oliver Potter | Walter Sparrow | Zodiac Killer | Arthur Leigh Allen | Xerxes | Willy Bank | Dolores Umbridge | Bellatrix Lestrange | Ministry of Magic (Cornelius Fudge) | Kreacher | Centaurs | Karen Crowder | Sam | Steven Wilkins | Mr. Kreeg | Laurie | Macy | Alpha Male | Darkseekers | Sweeney Todd | Nellie Lovett | Judge Turpin | Beadle Bamford | Jonas Fogg | Adolfo Pirelli | Ellie Layton | Royalton Industries (Arnold Royalton & Cruncher Block) | Snake Oiler | Agent 23 | KAOS (Siegfried) | Dalip | Shtarker | Joker | Two-Face | Sal Maroni | Gambol | Joker's Thugs | Spider | Smokie | Alexa Concannon | Babyface Killer | Wilson Concannon | T-RIP | Serena Kogan | Principal Deedle | Ezekial Gallows | Prudence Prufrock | Lord Henry Blackwood | Lord Coward | Irene Adler | Esther Coleman | Decoy Queen | Mr. Black | Arlington Steward | Rolf Woods | Kitty Galore | Paws | Mayor Brown | Chief of Staff | Carnegie | Wanda Grubwort | Lake Monster | Mal Cobb | Rodney Cole | Martin B | Elizabeth Harris | Blue Jones | James Moriarty | Sebastian Moran | Keith Clayton | Angelique Bouchard | Dr. Julia Hoffman | Collins Family | Bane | Talia al Ghul | Barsad | Catwoman | John Daggett | Hades | Kraken | Acrisius | Medusa | Prokopion | Charon | Kronos | Ares | Cyclopes | Minotaur | Makhai | Azog | Smaug | Witch-king of Angmar | Sauron | Gollum | Mickey Cohen | Tom Buchanan | Jay Gatsby | Myrtle Wilson | George Wilson | Daisy Buchanan | General Fallon | Giants | Lord Roderick | Wickie | Precursors | Kaiju (Trespasser, Knifehead, Mutavore, Otachi, Leatherback, Raiju, Scunner, Onibaba & Slattern) | Bathsheba Sherman | Annabelle the Doll | Pearly Soames | Lucifer | Artemisia | M.U.T.O. | Mimics | Disciples of the Ram (Annabelle Higgins & Thin Man) | Dr. Mann | Balem Abrasax | Titus Abrasax | Immortan Joe | Cult of the V8 (Rictus Erectus, Prime Imperator, Bullet Farmer, People Eater, Organic Mechanic, Coma-Doof Warrior, Nux, Slit, Ace, Morsov & War Boys) | Daniel Riddick | Susan Riddick | Tyler Harne | Deputy Stack | Emilio | Victoria Vinciguerra | Valak | Léon Rom | Lamar Blackburn | Braxton | Gellert Grindelwald | Credence Barebone | New Salem Philanthropic Society (Mary Lou Barebone) | Gnarlak | Skullcrawlers (Skull Devil) | Preston Packard | King Vortigern | Mordred | Wallace Corporation (Niander Wallace & Luv) | Pennywise | Bowers Gang (Henry Bowers, Patrick Hockstetter, Belch Huggins & Vic Criss) | Alvin Marsh | Butch Bowers | Leonard Dekkom | Duncan Taylor | Phoenix Buchanan | Mathias Vogel | Ana Miller | Nolan Sorrento | Innovative Online Industries (I-R0k, F'Nale Zandor & Sixers) | Claire Wyden | Brett Wyden | George, Ralph and Lizzie | Damian Lewis | Jack Morris | Duke of St. Carta | Vinda Rosier | Abernathy | Queenie Goldstein | Gunnar Grimmson | Krall | Carrow | Corvus Lestrange | Shere Khan | Tabaqui | La Llorona | Patricia Alvarez | Howard Clifford | Ditto | Sebastian | Ann Laurent | King Ghidorah | Rodan | Alan Jonah | Asher Jonah | Emma Russell | The Bride | The Black Shuck | The Ferryman | The Samurai | Toy Monkey | Maryville Cemetery Ghosts | Critters | The Banana Splits (Fleegle, Drooper, Snorky & Bingo) | Poppy | Karl | Leo | Cry Baby | Kelly | The Principal | The Biology Teacher | Webby Garton | Steven Dubay | Chris Unwin | Tom Rogan | Arthur Fleck | Penny Fleck | Clowns (Clown & Ambulance Clown) | Wall Street Three | Penny Fleck's Boyfriend | Rose the Hat | The True Knot | Andrei Sator | Priya Singh | Zelda | Consuella | Esmerelda | Saoirse | Terrance Mendoza | Butch | Mechagodzilla | Apex Cybernetics (Walter Simmons, Ren Serizawa & Maia Simmons) | Shang Tsung | Sub-Zero | Mileena | Reiko | Kano | Kabal | Goro | Reptile | Nitara | Shao Kahn | Al-G Rhythm | Pete | Goon Squad | Baron Vladimir Harkonnen | Count Glossu Rabban | Piter de Vries | Helen Mohiam | Gabriel | The Analyst | Riddler | Penguin | Carmine Falcone | Joker
Animated Television
The Grinch | Cousin Mel | I.M. Slime | Snow Miser | Heat Miser | Montana Max | Elmyra Duff | The Brain | Katie Ka-Boom | Satan | Walter Wolf | Sid the Squid | Beanie the Bison | Snowball | General Parvo | Werewolves | General Grievous | Dr. Nuvo Vindi | Wat Tambor | Son | Savage Opress | Riff Tamson | Pong Krell | Keeper Agruss | Darth Maul | Saw Gerrera | North Wind | Hervnick Z. Snerz | Goat | Yes-Man | The Dooka of Yookia | The Dookess of Zookia | Philip Trousers | Marilyn Blouse
Live-Action TV
Jack Mac Gruder | Father Blackwood | Billy Marlin | Madame Satan | Weird Sisters (Prudence Blackwood, Agatha Night, Dorcas Night) | Batibat | Crimson Avenger | Plague Kings (Beelzebub, Asmodeus & Purson) | The Pagans (Pan, Circe & Nagaina) | Green Man | Caliban | Jimmy Platt | Dorian Gray | Bartel | Jerathmiel | Mehitable | Aphophis | Satan
Video Games
Swan | Dark Purveyors (Zed, Vikke, Mariska, Josey & Lewis Legend) | Killabilly | Zombies | Forrest Blackwell | Rex Fury | Sauron | Black Hand of Sauron | Celebrimbor | Tower of Sauron | Hammer of Sauron | Lord Vortech | Children of Arkham (Vicki Vale, Oswald Cobblepot & Blockbuster) | Catwoman | Two-Face | Falcone Crime Family | Joe Chill | Victor Zsasz | Mr. & Mrs. Vale | Gotham Criminal Triumvirate (Thomas Wayne, Hamilton Hill & Carmine Falcone) | The Pact (Riddler, Harley Quinn, Bane, Mr. Freeze, John Doe & Eli Knable) | The Agency (Amanda Waller & Roger Harrison) | Rumi Mori | Willy Deever | S.A.N.C.T.U.S. | Zog the Eternal | Brûz the Chopper | Patricia Rakepick | Merula Snyde
Shorts
Daffy Duck | Sylvester | Tasmanian Devil | Wile E. Coyote | Elmer Fudd | Yosemite Sam | Marvin the Martian | Instant Martians | Gossamer | Tom | Jerry | Spike | Butch
Music
Crazy Taxi Driver | Cry Baby | Big Bad Wolf | Mr. Potato Head
See Also
A. Film Production Villains | Adventure Time Villains | Amblin Entertainment Villains | Aquaman Villains | Archieverse Villains | Arkhamverse Villains | Arrowverse Villains | Batgirl Villains | Batman Villains | Batman Beyond Villains | Batwoman Villains | Ben 10 Villains | Birds of Prey Villains | Black Lightning Villains | Blade Runner Villains | Blue Beetle Villains | Blumhouse Productions Villains | Captain Planet Villains | Cartoon Network Villains | Castle Rock Entertainment Villains | Catwoman Villains | Cats & Dogs Villains | Christopher Nolan Villains | Constantine: The Hellblazer Villains | Danmachi Villains | DC Animated Universe Villains | DC Animated Movie Universe Villains | DC Extended Universe Villains | DC Super Hero Girls Villains | DC's Legends of Tomorrow Villains | Die Hard Villains | Doom Patrol Villains | DreamWorks Villains | Dune Villains | Eraser Villains | Flash Villains | Game of Thrones Villains | Gotham Villains | Green Arrow Villains | Green Lantern Villains | Gremlins Villains | Hanna-Barbera Cinematic Universe Villains | Harley Quinn Villains | Harry Potter Villains | Injustice Villains | Justice League Villains | Justice League Dark Villains | Justice Society Villains | Laika Villains | Legendary Entertainment Villains | Legion of Super-Heroes Villains | LEGO Dimensions Villains | Lethal Weapons Villains | Lollipop Chainsaw Villains | Loonatics Unleashed Villains | Looney Tunes Villains | Lucifer Villains | Mad Max Villains | Melanie Martinez Villains | Metro-Goldwyn-Mayer Villains | Middle-Earth Villains | MonsterVerse Villains | Mortal Kombat Villains | New Line Cinema Villains | Pacific Rim Villains | Peacemaker Villains | Pokémon Villains | Powerpuff Girls Villains | Primal Villains | Regular Show Villains | Rick and Morty Villains | Robin Villains | Robot Chicken Villains | Rush Hour Villains | Samurai Jack Villains | Sesame Street Villains | Scooby-Doo Villains | SHAZAM Villains | Sherlock Holmes Villains | Smallville Villains | South Park Villains | Space Jam Villains | Star Wars Villains | Static Shock Villains | Steel Villains | Stephen King Villains | Steven Universe Villains | Studiocanal Villains | SWAT Kats Villains | Suicide Squad Villains | Supergirl Villains | Superman Villains | Swamp Thing Villains | Syfy Villains | Teen Titans Villains | Telltale Batman Villains | Terminator Villains | The Addams Family Villains | The Banana Splits Movie Villains | The Conjuring Villains | The Hangover Villains | The LEGO Movie Villains | The Matrix Villains | Tim Burton Villains | Tiny Toon Adventures Villains | Tom and Jerry Villains | TMNT Villains | Village Roadshow Pictures Villains | Watchmen Villains | Wild Wild West Villains | Wonder Woman Villains | Xiaolin Showdown Villains | Yu-Gi-Oh! Villains | Young Justice Villains

Villains
Animated Features
Noah the Elder | Leopard Seal | Killer Whales | Surtr | Nyra | Kludd | Allomere | Jatt and Jutt | Pure Ones | Doomberg | Lord Business | Super Secret Police (Bad Cop & Sheriff Not-A-Robot) | Duplo Aliens | Joker | Harley Quinn | Phantom Zone Criminals (Zod, Sauron, Kraken, Lord Voldemort, Agent Smith, Jaws, Gremlins, Medusa, Lord Vampyre, Wicked Witch of the West, Flying Monkeys, The Swamp Creature & Daleks) | Catwoman | Poison Ivy | Two-Face | Bane | Riddler | Salvatore Maroni | Nolan Sorrento | Innovative Online Industries (I-R0k, F'Nale Zandor & Sixers)
Live-Action Films
Toecutter | Toecutter's Gang (Bubba Zanetti, Nightrider & Johnny the Boy) | Lord Humungus | Lord Humungus' Marauders (Wez) | Aunty Entity | Ironbar Bassey | Hughie Warriner | Sala | Sky Bandits | Xander Drax | Charlie Zephro | Skulls of Touganda | Quill | Singh Brotherhood (The Great Kabai Sengh, The Evil Kabai Sengh & Kabai Sengh) | Ray Zephro | Styles | Jack Farley | Morgan | Breen | Agent Smith | Cypher Reagan | Agents (Agent Jones, Agent Brown & Agent Johnson) | Susan McCallister | Jim Whitlock | Mako Sharks | Kathy Morningside | Jeremy Melton | Judith Fessbeggler | Lewis Strutt | Stanley Jobson | Gabriel Shear | Mr. Tinkles | Calico | The Russian | Alonzo Harris | Patrick Koster | Roger | Jacobim Mugatu | Terry Benedict | Lestat | Akasha | Spiders (Consuela & Tank) | Mayor Wade | Jack Ferriman | Francesca | Mr. Gray | Byrus | Machines (The Architect) | The Merovingian | Agent Thompson | Agent Jackson | Twins | Bane | Vamps | Deus Ex Machina | Trainman | Henry James | Jay McPherson | China | Luther | Martin Asher | Patience Phillips/Catwoman | Hedare Beauty (Laurel Hedare & George Hedare) | Gabriel | Mammon | Balthazar | Lucifer Morningstar | Bo Sinclair | Vincent Sinclair | Arthur Slugworth | Boss Hogg | Sheriff Rosco P. Coltrane | Bill Cox | Oliver Potter | Willy Bank | Alpha Male | Darkseekers | Royalton Industries (Arnold Royalton & Cruncher Block) | Snake Oiler | Agent 23 | KAOS (Siegfried) | Dalip | Shtarker | Spider | Smokie | Lord Henry Blackwood | Lord Coward | Irene Adler | Kitty Galore | Paws | James Moriarty | Sebastian Moran | Keith Clayton | Angelique Bouchard | Dr. Julia Hoffman | Collins Family | Mickey Cohen | Tom Buchanan | Jay Gatsby | Myrtle Wilson | George Wilson | Daisy Buchanan | Donaka Mark | Pearly Soames | Lucifer | Mimics | Nicolai Itchenko | Vladimir Pushkin | Slavi | Guy Danlily | Miss Hannigan | Annie's Fake Parents | Balem Abrasax | Titus Abrasax | Immortan Joe | Cult of the V8 (Rictus Erectus, Prime Imperator, Bullet Farmer, People Eater, Organic Mechanic, Coma-Doof Warrior, Nux, Slit, Ace, Morsov & War Boys) | Daniel Riddick | Susan Riddick | Slappy the Dummy | Monsters (Giant Praying Mantis, Will Blake, Lawn Gnomes, Madame Doom, Brent Green, Haunted Car, Count Nightwing, The Haunted Mask, Igor, Headless Horseman, Nila Rahmad, Grim Reaper & Bride of Frankenstein) | Rhonda George | Léon Rom | Rowan North | Mayhem | Martin Heiss | Electrocuted Ghost | Gertrude Aldridge | Marshmallow Man | Bartholomew Bogue | McCann | Denali | King Vortigern | Mordred | Nolan Sorrento | Innovative Online Industries (I-R0k, F'Nale Zandor & Sixers) | Damian Lewis | Arthur Fleck | Penny Fleck | Clowns (Clown & Ambulance Clown) | Wall Street Three | Penny Fleck's Boyfriend | The Analyst
See Also
20th Century Studios Villains | Amblin Entertainment Villains | Batman Villains | Buena Vista International Villains | Cats & Dogs Villains | Catwoman Villains | Constantine: The Hellblazer Villains | Disney Villains | Lantern Entertainment Villains | Mad Max Villains | Metro-Goldwyn-Mayer Villains | New Line Cinema Villains | Paramount Villains | Sony Pictures Villains | Sherlock Holmes Villains | Stephen King Villains | Steven Spielberg Villains | Tarzan Villains | The Equalizer Villains | The LEGO Movie Villains | The Matrix Villains | Tim Burton Villains | Universal Studios Villains | Warner Bros. Villains