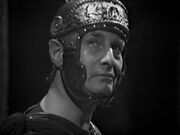 The centurion was a minor character in the 1965 Doctor Who serial "The Romans". He hired the assassin Ascaris, who was mute due to the centurion cutting his tongue out after a previous failure, to kill a musician named Maximus Pettulian, who was planning to assassinate the emperor. Although Ascaris was successful, the First Doctor discovered Pettulian's body and was mistaken for Pettulian by the centurion. The centurion took the Doctor to his camp and told Ascaris to kill him in the night.
As punishment for trying to kill Pettulian, Pettulian's co-conspirator Tavius had the centurion murdered.
Community content is available under
CC-BY-SA
unless otherwise noted.