Jafar says: Read my lips and come to grips with the reality!


This article is a stub and is in need of expansion. You can help Villains Wiki by expanding it.                       
Chae Hee-joo
is villain of 2013  Korean romantic-comedy-fantasy television series
The Master's Sun
is ex girlfriend of Joo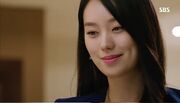 Joong Won and sister to Hanna Brown. Hee-joo and Hanna were twin daughters of Korean mother and English father were poor artists after death of their parents , the sisters were separated when Hanna was adopted by family and Hee-joo was stay Orphanage for many years and the sisters meet again as teenagers when Hanna fall in love with Joo Joong Won and they become couple depiste Joong Won's father opposed their relationship who is touched by her kindness which left Hee-joo jealous because she loved Joong-won then she swicted her name to dated Joong-won as well and Hee-joo had plan to kidnapped Joong-won for his father' pay to money
Hee-joo leaves Hanna at car which kills her by exposition. Hanna's death left Joong-won traumatized to being dyslexic and 15 years later Joong-won become arrogant ceo of Kingdom Group when he met Tae Gong-shil, a young woman who sees ghosts and Joong-won fall in love with her and help to fixed problems with ghosts haunted as well Joong-won's dyslexia
Hee-joo return to South Korea to visited Hanna's grave to disiguied under her name to see Joo Joong-won and his family

as Hee-joo tried fled South Korea at airport .Joong-won comforted her about identity,his kidnapping and Hanna's death
She was arrested and taken to Jail after Gong-sil begged her by pretreated as Hanna and her uncle broken small figurine it revealed it was necklace and taken to jail for good
Before she was arrested she visited Hanna's grave and apologized as Hanna's spirit watch her
Gallery
Community content is available under
CC-BY-SA
unless otherwise noted.