The Sandman Will Keep You Awake - The Loop
Play Sound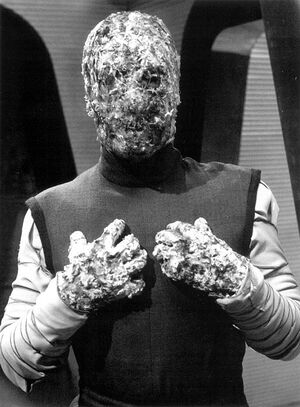 The Chameleons are the main antagonistic faction of the Doctor Who story "The Faceless Ones".
The story was there only appearance on screen but they have made appearances in other media.
History
The Chameleons were all crippled by an explosion on their planet which left them with no individual identities and threatened them with extinction. Their scientists developed a way for them to survive by stealing the identities of others. They travelled to Earth and set up a tour company as a front for the mass abduction of humans, also installing a space station in order to use as a base. Chameleon Tours planes would collect humans from airports but instead of being delivered to their supposed destination, they were miniaturised and taken to the space station where their forms were assumed by Chameleons. The humans were fitted with white arm bands while their duplicates were fitted with black arm bands: Tampering with either could kill the Chameleon.
As part of their operation, a group of Chameleons led by Captain Blade stationed themselves at Gatwick Airport. Although they believed humans lacked the intelligence to discover them, they drew the attention of Detective Inspector Gascoigne who discovered a portion of their plan: Passengers were encouraged to write postcards in advance which were then posted from their supposed destination to make it appear they had arrived safely. Blade's deputy Spencer killed Gascoigne which was reported to the Second Doctor by Polly, who had witnessed it. Both Polly and Ben were abducted by the Chameleons and duplicated but the Doctor and Jamie convinced the airport staff to trust them.
The Chameleons made a number of attempts to kill the Doctor and his friends, including attaching a booby trapped pin to the Doctor and setting up a laser beam to kill them as they lay bound. When the Chameleons pulled out of Gatwick, the Doctor managed to pose as a duplicate of himself to accompany them but was soon exposed. However, he had had the airport staff track down the originals of the Chameleons from Gatwick Airport and threatened to tamper with their arm bands unless the Chameleons agreed to his demands. Blade and Spencer took control, killing the Chameleon Director, and agreed to return all the kidnapped humans. The Doctor suggested he might find another solution for their problems.
The short story "Face Value" saw the Chameleons going back to their old ways. The Sixth Doctor discovered that Blade and some others had taken over management of a leisure planet, replacing the original staff and guests, but had hit trouble because they didn't fully understand the planet's dangers. A Chameleon also appeared in the Big Finish Torchwood play "Dissected" being encountered by Gwen Cooper and Martha Jones.