Jurassic World: Dominion Dominates Fandom Wikis - The Loop
Play Sound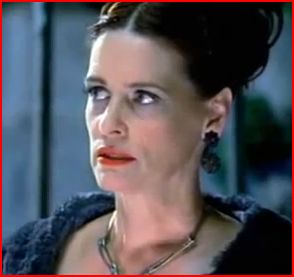 | | | |
| --- | --- | --- |
| " | Good, the class is all here. | " |
| | ~ Chancellor Goodwyn | |
Chancellor Goodwin (fullname: Lwaxana Goodwin), also called Dr. Goodwin, is one of the two secondary antagonists (alongside Dr. Ichabod Grogg) of the 2006 live-action Disney film Return to Halloweentown, the fourth and final installment of the Halloweentown film series.
She is the Chancellor of Witch University and a member of the Dominion.
She was portrayed by Leslie Wing.
History
Goodwin is first seen on a message to Marnie, extending to her a full scholarship to Witch University, saying that it would be an honor to have a Cromwell at her school. However, this interest is not just educational, but because she intends to use her for the Dominions' aims.
She then appears welcoming Marnie to Witch University.
Later, when Marnie is called to the Chancellor's office to discuss her previously hexed paper, Goodwin informs her that she's not in trouble and offers her tea. Marnie asks if they can solve the mystery of her hexed assignment, (even though she's certain it was Scarlett Sinister), Goodwin tells her that while some spells leave a genetic fingerprint, the spell cast was too common, and therefore could have been cast by anyone. She then escorts Marnie to their next class, which is at the dig site. There the box from S. Cromwell, (Splendora Agatha Cromwell, Marnie's grandmother), is found. She later reports this to Silas Sinister, revealing her allegiance with the Dominion.
She asks Marnie to use her magic to open the box. At first Marnie is suspicious of this, because of the rule against it, but Goodwin insists that she have a little fun. Marnie eagerly does so, but cannot succeed in opening it, much to Goodwin's disappointment.
Goodwin and Dr. Grogg, later tell Marnie of the dangerous forces working in Halloweentown. They task her with finding the key to the box and embracing the gift so that Halloweentown will continue to exist in peace.
After Marnie finds the key and opens the box, Goodwin asks to hold on to it for safekeeping. But Marnie, who now knows Goodwin's evil plans, says that it belongs to the Cromwells, but Goodwin simply takes it with her magic.
At Midnight on Halloween, Grogg, Goodwin and Silas undo the dog spell on Dylan so that Marnie will cooperate. But Marnie then has the gift destroyed much to their shock. She and the other Dominion members attempt to escape, but are caught, arrested and stripped of their powers by Agent Persimmon Periwinkle.

Villains