Jurassic World: Dominion Dominates Fandom Wikis - The Loop
Play Sound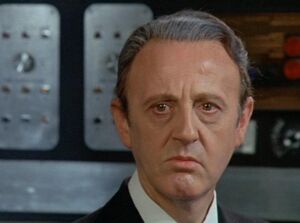 Channing is the main antagonist of the Doctor Who story "Spearhead from Space".
He was portrayed by the late Hugh Burden.
Biography
Channing was an Auton Replica who co-ordinated the first invasion of Earth by the Nestene Consciousness. He gained control of the mind of George Hibbert, the owner of the Auto Plastics factory, and used him to manufacture armies of Autons, as well as creating replicas of a number of key military and government figures under the guise of creating display dummies for Madame Tussaud's. When further units full of Nestene energy arrived on Earth, Channing arranged for their retrieval but failed to locate two units. On learning that the newly-regenerated Third Doctor had been found unconscious in the woods and taken to a local hospital, Channing attempted to kidnap him, feeling he may have information, but the Doctor escaped.
Channing realised that John Ransome, a former employee of Auto Plastics made redundant because of his changes, had seen too much and sent an Auton to kill him. He also had an Auton ambush a UNIT transport containing one of the missing units but failed to recover the second one, which had been found by poacher Sam Seeley and was recovered by UNIT. Aware that UNIT had traced the Autons to the factory and were trying to raid it, Channing sabotaged their attempts to get army support by replacing the Brigadier's superior, Major-General Scobie, with a replica. He then had the fake Scobie requisition the remaining unit. This allowed him to activate a survival tank containing a Nestene creature that would form the focus for all their energy on Earth.
Having activated the other replicas and sent them to replace their originals, Channing also activated Autons disguised as shop dummies who began slaughtering members of the public. Hibbert, who had broken his conditioning, attempted to destroy the survival unit but Channing had him killed by an Auton. UNIT finally launched a raid on the factory and, when the Doctor exposed and deactivated the Scobie replica, the army joined them in battling the Autons. The Doctor made it into the security area and confronted Channing, who unleashed the Nestene creature on him. The Doctor and Liz were able to use a machine they had constructed to destroy the Nestene creature: All the Autons collapsed, as did Channing, who reverted to a simple dummy.