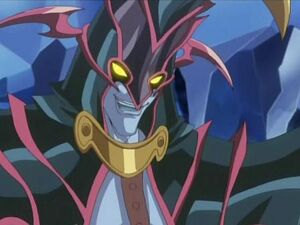 The Chaos Sorcerer is a minor villain in Yu-Gi-Oh! GX. He is one of the minions of the Supreme King.
Appearance
The Chaos Sorcerer is a grayish-blue skin humanoid that dresses in a dark cloak with reddish-pink marking.
Yu-Gi-Oh! GX
The Chaos Sorcerer was one of the Supreme Rulers minion. When Axel, Aster, and Zane were infiltrating the castle, The sorcerer was waiting. Zane and the Chaos Sorcerer dueled each other. Zane almost easily defeated Chaos Sorcerer.
Deck
Though the Chaos Sorcerer's deck is unknown it's possible that he has an insect deck. Because before he lost to Zane, he manage to summon possibly his most powerful card; the Perfectly Ultimate Great Moth onto the field.