Wiki Targeted (Entertainment)
Play Sound
Jafar says: Read my lips and come to grips with the reality!


This article is a stub and is in need of expansion. You can help Villains Wiki by expanding it.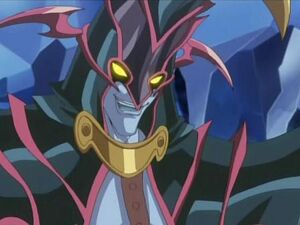 The Chaos Sorcerer, is a minor villain in Yu-Gi-Oh! GX. He is one of the minions of the Supreme King.
He was voiced by Sean Schemmel in the English version, while in Japanese, he was voiced by Hidenobu Kiuchi.
Appearance
The Chaos Sorcerer is a grayish-blue skin humanoid that dresses in a dark cloak with reddish-pink marking.
Yu-Gi-Oh! GX
The Chaos Sorcerer was one of the Supreme King's top 5 minions. When Axel, Aster and Zane were infiltrating the castle, Chaos Sorcerer Pretended to fall for their disguise then halted them and confronted them over Skull Knight's fate. Zane Dueled Chaos Sorcerer and almost easily defeated him thus proving Axel's vows to send Chaos Sorcerer to join Skull Knight.
Deck
Though Chaos Sorcerer's deck is unknown it's possible that he has an insect deck. Cause before he lost to Zane, he managed to summon possibly his most powerful card; Perfectly Ultimate Great Moth onto the field.