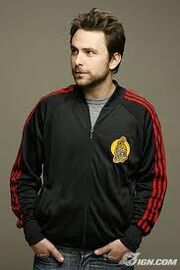 Charlie is a character on It's Always Sunny In Philidalphia. He is portrayed by actor Charlie Day. His list of bad things he did are here. Though he is generally less villainous and the nicer than any other member of "The Gang", he has also done some villainous actions. Though he and Dee arent exactly good friends, he doesnt bully her like the other members do.
Man-Hunting
In Episode 401A, He and Mac hunted humans
Kidnapping
He, along with the rest of the gang, kidnapped a critic who said that Paddy's was the worst bar in Philidalphia in Season 4.
Scam
In episode 401B, he along with Dennis and Mac were selling gasoline barrels from door to door
Other
He tried to hook Frank up with another woman in Season 7.