Jurassic World: Dominion Dominates Fandom Wikis - The Loop
Play Sound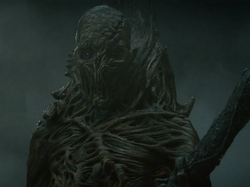 Charon is a minor antagonist in the 1981 movie Clash of the Titans and its 2010 remake. He is the ferryman of the Underworld and a minion of Hades.
Biography
Clash of the Titans (1981)
Perseus and some Joppa soldiers travel to the Underworld to behead Medusa and use her head to petrify the Kraken. Once they arrive at the River Styx, Perseus goes to the edge and calls Charon with a blowing horn. After a short time, Charon comes aboard his boat and Perseus gives him the coin he got from Thallo. Perseus and three soldiers then get on the boat and they are transported by Charon in the Underworld.
Clash of the Titans (2010)
Perseus goes to the Underworld with some Argos soldiers and the Djinn Sheikh Sulieman in order to behead Medusa and use her head against the Kraken. They come at the edge of the River Styx where Sheikh Sulieman throws in the water the coin that Perseus obtained from Zeus, then Charon arrives on his boat pulled by two undeads. The group embarks aboard the boat and Charon carries them to Medusa's lair.
Gallery
Villains

Villains
Animated Features
Stan Beals | Wasps
Live-Action Films
Ra's al Ghul | League of Shadows (Ra's Decoy) | Scarecrow | Carmine Falcone | Victor Zsasz | Arnold Flass | Joe Chill | Lex Luthor | Scrunt | German Drinking Team | Cherry | Xerxes | Theron | Ephialtes | The Immortals | Joker | Joker's Thugs (Thomas Schiff, Chuckles, Kilson, Happy, Dopey, Grumpy & Bus Driver) | Two-Face | Sal Maroni | The Chechen | Gambol | Lau | Bank Manager | Michael Wuertz | Burmese Bandit | Rorschach | Ozymandias | The Comedian | Doctor Manhattan | Moloch | The Flasher | Leslie Chow | Officer Franklin and Officer Garden | Melissa | Sam | Steven Wilkins | Mr. Kreeg | Laurie | Macy | Lord Ozunu | Takeshi | Hades | Acrisius | Medusa | Charon | Prokopion | Dioskilos | Kraken | Quentin Turnbull | Burke | Mal Cobb | Blue Jones | Kingsley | Russian mobsters | Kronos | Ares | Cyclopes | Makhai | Minotaur | Bane | Talia al Ghul | Barsad | Catwoman | John Daggett | General Fallon | The Giants | Lord Roderick | Wickie | Marshall | Black Doug | Precursors | Kaiju (Trespasser, Knifehead, Mutavore, Otachi, Leatherback, Raiju, Scunner, Slattern, Onibaba, Obsidian Fury & Raijin, Hakuja and Shrikethorn) | Artemisia | Artaphernes | M.U.T.O. | Satan | Mehmed II | Master Vampire | Dr. Mann | Mother Malkin | Mutsushiro Watanabe | Elias Kassar | General Lyons | Indominus rex | Vic Hoskins | Henry Wu | Lady Lucille Sharpe | Krampus | Krampus' Elves | Krampus' Toys | Krampus' Gingerbread Men | Gul'dan | The Horde (Blackhand the Destroyer & Orgrim Doomhammer) | Dean Redding | Tao Tei (Tao Tei Queen) | Skullcrawlers (Skull Devil) | Preston Packard | Newton Geiszler | Eli Mills | Ken Wheatley | Gunnar Eversol | Kores Botha | Xia | Mr. Pierce | Ku Klux Klan (David Duke, Felix Kendrickson, Walter Breachway, Ivanhoe & Nelson Walker) | Andy Landers | Connie Kendrickson | Kennebrew Beauregard | Howard Clifford | Ditto | Sebastian | Ann Laurent | King Ghidorah | Alan Jonah | Rodan | Asher Jonah | Emma Russell | Mechagodzilla | Apex Cybernetics (Walter Simmons, Ren Serizawa & Maia Simmons) | Baron Vladimir Harkonnen | Count Glossu Rabban | John Hartley | Nolan Booth | Sarah Black | Sotto Voce | Leatherface
See Also
Amblin Entertainment Villains | Batman Villains | Blumhouse Productions Villains | Christopher Nolan Villains | DC Extended Universe Villains | Dead Rising Villains | Dracula Villains | Dune Villains | Godzilla Villains | Jurassic Park Villains | King Kong Villains | MonsterVerse Villains | Netflix Villains | New Line Cinema Villains | Paramount Villains | Pokémon Villains | Superman Villains | Texas Chainsaw Massacre Villains | The Hangover Villains | The Toxic Avengers Villains | Universal Studios Villains | Warcraft Villains | Warner Bros. Villains | Watchmen Villains